There is a very tiny accessory called storage hanger for Dyson Supersonic, and you can take advantage of it to make your drying process more comfortable with the small band.
The storage hanger is designed for those who need more drying flexibility in the room. To achieve that, the storage hanger offers you an extremely simple way to get your Dyson hair dryer off the ground if you have nails and hooks on the wall.
How to Install Dyson Hair Dryer Storage Hanger
It might be confusing when you first see the tiny string because Dyson could not describe how to install the storage hanger to their hair dryer in their manual. But trust me, you can get the job done in 5 seconds.
First: Find the rubber cord shield base at the bottom of the hair dryer.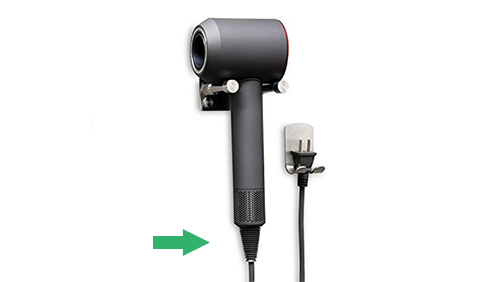 Second: Wrap the hanger's string around the rubber base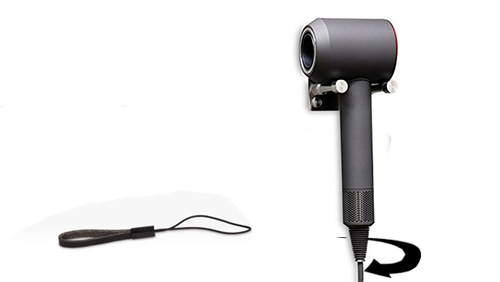 Third: Use the end of the hanger band and passes it through the circle of the string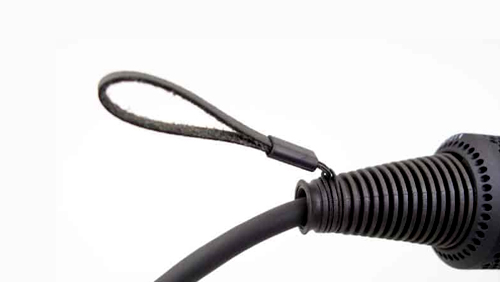 Okay, we are done. You don't need to make any knots to secure the storage hanger and you can hang your Dyson hair dryer anywhere you like.
If there is anything that is not clear enough for you, here is a video for you to learn how to use Dyson hair dryer storage real quick.
How to Use Dyson Hair Dryer Storage Hanger Correctly
After installing the hanger to your Dyson Supersonic, you can mount some hooks in your bathroom or anywhere you like so that you can put the dryer between uses with the hanger.
My recommendation is you should install the wall hooks at a suitable height, make sure the cord of the hair dryer will not touch the floor. Since the bathroom's floor tends to be humid and a wet power plug can lead to a serious safety problem, we should never hang the dryer too low.
If possible, I would hang multiple hooks on the wall at a time. You can use another hook to hold your hair dryer's cable, which makes the dryer more stable on the wall and it looks less messy without seeing the power cord dangling.
For people who has problems in storing hair tools, the storage hanger can also help you out. Buying a wall-mounted hooks rack to display all your hot styling tools is not a bad idea. Or, you can check out our Dyson Supersonic storage bag buying guide.