Which dries and styles your hair better, the affordable original Revlon One-Step dryer brush or the upgraded Titanium edition? If you're buying a new hot hair brush, should you go for the expensive titanium brush? And if you're already a regular Revlon brush dryer owner, are the differences between the new titanium surface and original ceramic barrel significant enough to justify an upgrade? Here you will find everything you need to know to help you decide what's best for you.
Differences between Revlon One Step Titanium and Regular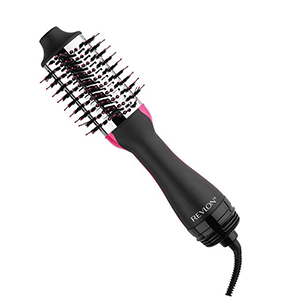 Buy Revlon Titanium Brush on Costco
The One Step Titanium is Revlon's high-end blow dryer brush and has replaced the original ceramic barrel with a titanium-infused surface, which is said to transfer heat quickly. make hairstyle long-lasting, and reduce heat damage. You can easily tell the difference since the barrel of the Revlon Titanium Max One-Step is covered with a shiny metallic coating.
Another difference is that the Revlon Titanium Max One-Step utilizes a smaller brush barrel, which is 2.4 inches wide, while the original Revlon One-Step brush features a 4.2-inch barrel. A bigger brush can style thick and long hair conveniently with its wide and round barrel, and it can hold more hair when you're rolling the brush, and it's easier to create more volume with a big brush. The Revlon Titanium Max One-Step's smaller barrel offers more flexibility and portableness, it's better for achieving precise volume and smoothness.
Revlon One Step Titanium Vs. Regular – Does a high price mean better performance?
The Titanium Edition is more lightweight and flexible than the OG Revlon dryer brush. Thanks to the optimized barrel, the Revlon One Step titanium edition is less heavy than the regular model, and this helps users style hair effortlessly. Also, people are thrilled with the smaller-sized barrel that can get to the roots deeply bristles that are infused with activated charcoal.
Another advantage of the titanium barrel is that it heats up pretty fast, and it gets hot enough even in low-temperature setting. For people who like straightening hair without a flat iron that may burn your strands, this new Revlon One Step titanium brush can give you natural and beautiful straight looks without creating stiff hair, serious heat damage, and burnt smells.
However, the original Revlon is slightly faster when drying hair. The regular Revlon One Step does a better job in spreading and distributing airflow while blow drying hair because of the bigger barrel with more air vents. Although it's not a huge gap, you'll find this old blow dryer dries your hair even quicker than the new expensive titanium edition.
Compare Revlon One-Step Titanium Vs. Regular – Which Should Be Your Choice?
In all honestly, the Revlon One Step Titanium brush does have some improvements, but these improvements are not necessary for everybody. The new barrel will not give you a game-changing performance for straightening, curling hair, but it is more friendly for people with thin, fine, curly, and shoulder-length hair. And it is easier to use and portable compared to the regular Revlon brush.
If you've been waiting this long to buy your first brush and you don't have very thick and long hair, you're probably better off going straight to the One-Step titanium edition if you think the price is acceptable. If you don't need the titanium surface but prefer the portable brush, Revlon also launched a One-Step plus edition, which has a 2.4-inch brush too, and the brush is removable like an attachment.
But if you currently have an old Revlon blow dryer brush, or your hair does need a large brush, you shouldn't purchase the Revlon titanium brush. The affordable and solid OG Revlon One-Step hair dryer hot air brush is still one of the best hair tools on the market.