In 2021, T3 Micro released the latest interchangeable hot air blow dry brush – AireBrush Duo. Will this new hot air blow dryer brush have any game-changing styling features? Or does this hot air brush offer better blow styling experiences? After spending a week using it, we have something to say.
T3 Micro AireBrush Duo Review – Interchangeable Brush Attachments
I always wanted a versatile hot air brush that has paddle brush and round brush attachments both. I know there are a few cheap products online that have plenty of those attachments, but I just don't trust their quality considering their extremely low prices and poor product design.
The Brushes Are Good-Sized
The T3 Micro AireBrush Duo, the first hot air brush product from T3, is finally here. It still has the classic T3 design that comes in elegant white and gold finishes. And it has a pretty big 2.5″ round brush and a paddle brush, both of them have very wide boar bristles.
The two attachments are easy to install, you just need to click in the brush to its handle and slightly rotate it to get secured. And they are decently stable and will not wobble around like those interior magnetic attachments.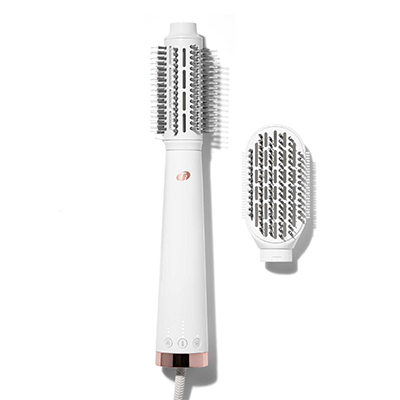 See Details at T3micro.com
Temperature & Heat Settings
As a high-end blow dryer brush that just came out in 2021, the T3 Micro AireBrush Duo has
5 heat and 3 speed settings, which are the most powerful temperature settings that I have seen in a family-use hair tool.
Most importantly, you can control the heat and speeds separately, which means you will get 15 styling combinations. The flexible heat settings are always a reason why I love T3 hair tools, but I've never thought they really add these precise heat settings on a hair dryer brush.
However, there is a small thing that I wanna point out – To adjust the settings including getting the cold air, users need to press the buttons on the bottom of the handle. That said, it might be a bit inconvenient if you need to change the heat frequently since there is no way to maneuver the settings while comfortably drying your hair.
Styling Performance Review & Is It Easy to Use?
How To Use The Micro Aire Brush
Just like regular blow drying brushes on the market, the T3 Micro AireBrush Duo is pretty easy to use. What is surprising is that it can straighten and curl hair both nicely thanks to the two different brush attachments. Unlike old-school hot air brush, there is no heat-up time for this brush, you just need to turn on the power and the hot air will come out through the vents on the brush.
The Hair Dryer Brush Has Premium Hair Care Features
To give hair more smoothness and reduce frizz and dryness, the T3 AireBrush Duo features some exciting hair care technologies, which work really well with most hair types. The T3 IonFlow Technology is used to deliver ion-enriched airstream and your hair will get a softer texture by the negative ions.
Smooth grip bristles and Ceragloss ceramic surface, which are often used to reduce the friction between the brush and your strands, are great for protecting your hair from styling damaged and you will get a better hair styling control for optimal tension.
On the whole, the T3 AireBrush Duo has a solid performance blow drying hair and it takes care of your hair gently even when the airstream is quite hot. And the styling power is decent too, even though it does not shape your style immediately like a flat iron/curling iron, it won't lose to any other blow dryer brushes in 2021. So, it is a nice little versatile tool for me.
It Does Look Like The Dyson Airwrap, But…
I know many people will compare this T3 AireBrush Duo to the Dyson Airwrap since they both have interchangeable attachments. But it is kind of difficult to compare when you put them on the same table.
The attachments of Dyson Airwrap are way smaller but they offer you many more options. Besides various types of brushes, you can use the Dyson Airwrap as a normal hair dryer, or a slight curling wand. The Dyson Airwrap styles your hair based on the Coanda effect, so the Dyson Airwrap may not be as powerful as the T3 AireBrush Duo, which provides 5 heat settings.
Also, if you have to make a choice between the Dyson Airwrap and T3 AireBrush Duo, the T3 AireBrush Duo has a big advantage in price. The Dyson Airwrap starts at $549 based on the product version and attachment set that you buy, and the new T3 AireBrush Duo is only $179.99. The T3 brush may not be as fancy as a Dyson Airwrap, but it is worth its price. And it could be the only choice when choosing a pure blow drying brush from an upscale hair tool brand for now.
T3 Micro AireBrush Duo Review
Product Design

Drying Power

Curling/Styling Performance

Hair Protection

Price
Summary
Pros:
Interchangeable Large Brushes
Powerful & Precise Heat/Speed Settings
Great Styling Performance
Cons:
Adjusting Settings is a bit inconvenient