A hair dryer that delivers negative ions differs from the low-end blow dryers in both hair protection and blow-drying experience. but most importantly, the negatively charged ions have proven to be useful for making damaged hair shiny and smooth after hair drying. That's why people love hair dryers with an ion generator.
But, does your hair always need negative ions? What if you want to turn off the ionic feature to get hot & dry air sometimes? I'm sure it is quite tedious and tough to find a nice hair dryer with a separate ion switch that allows you to turn on/off the ion generators. So, in order to save your time, we've collected the info on the best hair dryer that comes with an ion switch.
Best Hair Dryers with an Ion Switch in 2021
CHI Touch 2 – Touch Screen Hair Dryer with Ion Control
No products found.
CHI is a well-known Houston-based manufacturer of various hair products and hair styling tools. The CHI Touch 2, as a very modern digital hair dryer, comes with a game-changing touch screen.
The CHI Touch 2 does look pretty different from the traditional hair dryers, featuring a concave handle and a tall but compact dryer body, above it, there's the cutting-edge screen that you can control everything with.
By adjusting the settings on the screen, you can control the speeds and temperature digitally. Most importantly, the CHI Touch 2 blow dryer allows you to turn on/off the ions, you can even control the ion levels. Compared to regular ion switch on blow dryers, this feature is obviously more advanced.
To lock in your style quickly, the CHI Touch 2 puts a physical cool shot button on the front of the handle, so you don't worry if this dryer is hard to maneuver when it is working.
Best Affordable Ionic Blow Dryer with Ion Switch – Revlon COS Hair Dryer
Revlon must be a familiar hair tools company for everyone, and this hair dryer from Revlon is a very low-budget hair dryer model that comes with an ion switch.
Similar to regular blow dryers, the Revlon hair dryer is a 1875W blow dryer with 3 heat settings and 2 speeds. It is one of the best affordable ionic hair dryers and Revlon claims that their ionic technology and ceramic coating can reduce much hair damage and gain more smoothness with less frizz.
The Ion button is on the side of the back of the dryer, and Revlon says you can turn off the ion feature to achieve full-body volume more easily.
CROC Hair Dryer with Ion On/Off Switch
The CROC hybrid hair dryer is completely covered by a black finish and it is supposed to be a favorite for people who love simple and compact design. Besides, the dryer comes with a thin and long design, and it is ergonomic design perfectly balance the weight of the heating part. So you won't feel tired when holding its handle.
What is the special feature of this hair dryer is that it comes with an ion switch that allows you to change from negative ions to positive ions. What's the point of this? The negative ions help you to tame frizzy hair and make it smooth, the positive ions can create more hair volume and lift up your strands.
Additionally, the hair dryer combined AC motor and DC motor together. Usually, the DC motors are more lightweight while the AC motors are more powerful. By combining them, this dryer can have great drying power while remaining lightweight.
Harry Josh Pro Tools Pro Dryer 2000
No products found.
If the above picks' colors are not attractive to you, the Harry Josh Pro hair dryer is a great choice. Like the name says, this is a professional hair dryer. And it is a strong competitor to the Dyson Supersonic in the high-end hair styling tools market.
The Harry Josh Pro dryer 2000 lets you have a quicker drying time and a quieter noise level with amazing product weight. The whole product is less than one pound but the motor can reach a speed of 94 mph to dry your hair in a few minutes.
Although its temperature settings and speed settings are not as many as the Dyson's, its long nozzle concentrator works like a charm when directing the airflow to a specific section on hair.
Behind the dryer, you can see there are three buttons under the stainless steel filter. And the first button is designed to turn on or turn off the ionic feature, which helps you to boost your hair or your customers' hair flexibly.
Kristin Ess Iconic Style Professional Blow Dryer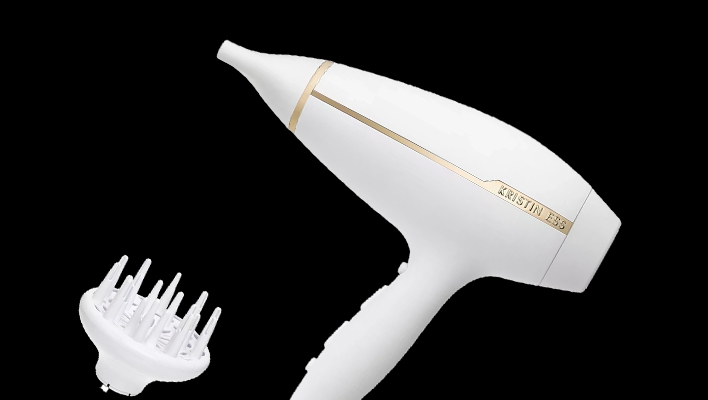 The Kristin Ess Iconic Style Professional hair dryer is built to deliver professional drying results at an affordable price. It has a clean and stylish look on the outside. Its white and gold color combination is my favorite, simple but beautiful.
It is a standard 1875W blow dryer with ion technology. However, it is pretty lightweight and it ensures you a smooth and frizz-free drying result. The blow dryer comes with an ion switch and an illuminated indicator that you can turn on/off the ionic generator.
Overall, this hair dryer is not as fancy as other expensive hair dryers, but it is a budget-efficient blow dryer with a reliable ion switch.