Blow drying with a noisy hair dryer can be extremely annoying. To find out a solution, we need to figure out what factors will make a hair dryer become a loud machine.
Besides, we have reviewed some quiet hair dryer models, so we will also provide you with our 2020 latest quiet hair dryers.
Now, let's cut into the chase and go into today's topic – Pick a quiet hair dryer.
Top Picks of Quiet Blow Dryers:
Why Is My Blow Dryer So Loud?
Internal Structure
Conventional hair dryers usually have a bulky fan in the back, just behind the heating wires.
Because the motor's fan is much larger than the dryer's nozzle, when the fast airflow passes through the narrow vent, the airflow will make a high-pitched sound just like deflating a balloon.
Also, since the speedy airflow will be obstructed by some internal components including heating wires, the airflow will make audible noise too.
So the internal design is the first factor that will impact the sound of a hair dryer.
Having a scientific structure can reduce the noise as much as possible. For example, Dyson Supersonic embed a tiny patented brushless motor in its handle, and they wrap the motor with buffer materials.
With a bladeless body design, the amplified airflow can come out smoothly and offers you the best experience.
Industry Materials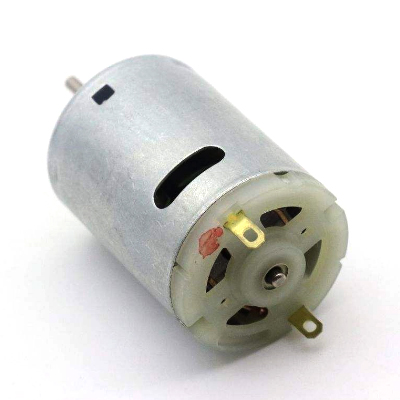 Besides the structure design, delicateness of material can determine a dryer's Decibel too.
From the motor's bearings and impeller to the coating of the dryer, this involves everything inside a hair dryer.
A great hair dryer can ensure you a quieter internal environment even when you set it to high heat, while hair dryers with inferior motors and low-quality components will damage your ear.
DC Motors Are Louder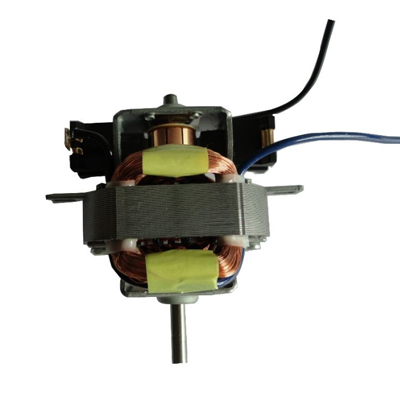 Although three-phase brushless DC motors are more lightweight and smaller, they are louder than AC motors. However, as AC motors are more complicated in structure, they are more powerful, more long-lasting and quieter.
What Negative Effect Does Hair Dryer Noise Have?
Loud Noise Will Disturb People
A noisy hair dryer will interrupt peace as it roars so badly. You may wake your families up just by pressing the switch button.
And I know how desperate it is if I do not have a quiet hair dryer at home. For example, when you are watching a show or a video, a loud blow dryer can ruin everything and you can barely hear a thing.
Especially for people who have thick and long hair that takes a long time to dry, having a quiet blow dryer is not only purchasing a better tool but also doing people around you a favor.
A Loud Dryer May Damage Your Hearing
According to the studies, using a hair dryer whose decibel level is higher than 85 decibels for a long period of time can cause permanent hearing damage. The worst result will be permanent hearing loss.
With extended exposure, we should not use a loud dryer that your ears can not handle.
Once you have an uncomfortable feeling with your ears, you should stop using the dryer immediately. Otherwise, the hair cells in the inner ear can be hurt by the noise produced by your hair dryer.
Best 5 Quiet Hair Dryers That Protect Your Ears From Screeching Noise
Before seeing these products below, there is one thing to be cleared: We do not want you to sacrifice drying performance and experience just for a few decibels.
So, our goal is not to find the quietest hair dryer model on the planet since a small quiet hair dryer with weak airflow does not mean anything.
But we can promise you, the hair dryers that we recommend are more high-performance and quieter than average dryer models.
1. Panasonic EH5305P-T Low-Noise IONITY Hair Dryer
As a well-known Japanese electronics manufacturer, Panasonic's products are famous for their impeccable performance.
The small hair dryer from Panasonic is a decent blow dryer with Low-Noise technology and it creates whispering noise of 70 decibels while other regular dryers are about 80 dB.
Although it is a 1200W dryer that might not offer the most powerful drying velocity, the double ions technology is pretty beneficial for people with damaged hair. As a low wattage hair dryer, it will do the job gently and spectacularly.
If you are not looking for a dryer that has super high heat, then this Panasonic hair dryer will impress you.
2. Dyson Supersonic – Best Quiet & Precise Blow Dryer
If you prefer using a one-step hair dryer with the world's best supreme drying experience that other blow dryers can't compare.
Dyson supersonic is your best choice. I know it's very very expensive with a $400 sales price, but the one and only patented brushless low-noise motor is unique and leading in the whole hair dryer industry.
Unlike other quiet hair dryers that may not have enough torque and rotational speed, Dyson Supersonic comes with a high-velocity drying performance and you even have 4 heat levels to choose from.
As we mentioned in the beginning, Dyson has a bladeless design and an airflow amplify technology that ensures the dryer can run on high heat but keep quiet at the same time (Decibel levels: 79 dB).
Here is a video that explains Dyson' motor:
Ps: You can also consider the Dyson Airwrap that have more attachments than Supersonic dryer, check out Dyson Airwrap vs Dyson Supersonic.
3. Revlon Lightweight Quiet Hair Dryer
If you think Dyson's price is unacceptable like I do, this Revlon lightweight & quiet hair dryer with eye-opening price should be your first choice.
Revlon claims that the 1600W blow dryer has a unique internal fan design that can lower noise levels and give you a quieter drying environment. And the decibel level of this dryer is about 70 dB.
Generally speaking, it does not come with precise airflow buttons and there are only 2 heat/speed airflow levels to adjust. But, if you take a look at its back, you will find the air inlets are u-shaped.
The special design can reduce noisy sound and faster drying time. And it is also a great quiet dryer for dogs, cats, and toddlers so that they will not be scared by a dryer's roaring sound.
4. Centrix Q-Zone Dryer with Insanely Quiet technology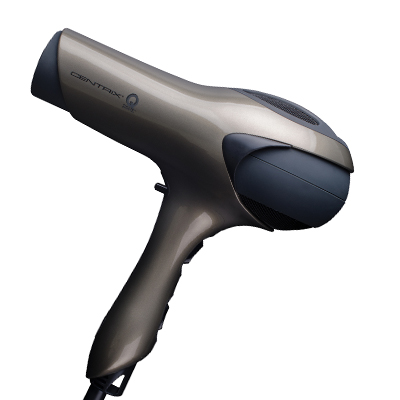 I have to admit Centrix is not the most popular brand in the industry, but it does not change the fact that Centrix Q-Zone dryer is one of the best quiet blow dryers in the world.
When it comes to its advanced quiet technology, the decibel levels of this blow dryer is around 75 dB, which is only slightly louder than normal conversation.
The sound of this dryer is deeper than other conventional dryers, so it does not bother you with high pitched noise.
According to one of the customer reviews: "you can talk while using it". While it features a 1500W motor that may not provide you the quickest drying time.
Besides a quiet design, it's also lightweight and ergonomic so that you can grip the dryer comfortably. And the hair dryer uses multiple technologies, combining ceramic tourmaline and negative ions, building volume and shine on your hair.
5. CHIC REPUBLIC Professional Quiet & Fast Hair Dryer
For dry hair people who need air remedies, the Chic Republic professional dryer may be just the thing they need to hydrate their strands throughout the day.
You can even use the quiet dryer on pets, and their hair can achieve smoothness and silkiness.
With the ultimate ionic technology and ceramic materials, there is nothing to worry about frizz and heat damage.
The dryer combines a quiet & lightweight design so that you will not be awkward even while traveling.
Its contoured shape and anti-slip texture grips are comfortable for your hands to hold even on the go. The decibel level is around 72 dB, pretty quiet.
But you can still get powerful and decent airflow since it features a 1875W motor.
The compact dryer also has a temperature indicator light that will change colors, telling you the current airflow is hot or cool.
In this way, you will be safer when using this blow dryer.
Summary
Having a quiet hair dryer can ease your life and make your drying healthier.
But, keep two things in mind.
Besides decibel levels, you should always check out all the features of a hair dryer before you buy it.
You can see its tech specs including wattage, hair care technologies, heat/speed levels, etc. Nobody wants a silent hair dryer with low-quality drying performance.
Also, here comes another tip for lower the noise of a hair dryer.
Be sure to inspect the filter from time to time.
A clogged filter will degrade your dryer and cause loud noise. Thus, Don't forget to remove and clean the filter once the filter is clogged by dirt and debris.
Lastly, we hope you like these quiet hair dryers that we recommend today. if you have any awesome quiet hair dryer models that you want us to know, please leave your comment below.