Based on a large number of hair care technologies built in the body of a small blow dryer, people probably will get dazzled by these fancy features without knowing what they actually do.
Among popular hair products' technologies, the ceramic material is a commonly used feature in terms of keeping hair healthy & strong at the same time. Here we will explain what a ceramic hair dryer really does and why it is good. Besides, we have come up with the best ceramic hair dryers list that we reviewed for you to get the best insights.
After reading this post, you will surely have no trouble when it comes to picking the right ceramic blow dryer.
#1. What Is A Ceramic Hair Dryer
Ceramic materials are non-toxic and heat-resistant. A ceramic hair dryer refers to the hair dryer's components are made of composite ceramic materials. The ceramic part can be the dryer's body, heating parts, or the coating of its' internal components. So, you can see that a ceramic hair dryer does not mean the dryer is made of porcelain simply and the volume of ceramic materials in different ceramic hair dryers are various.
#2. What Can Ceramic Hair Dryers Do
A great ceramic hair blow dryer will cut your drying time short and it improves your hair quality thanks to its impressive characteristics. Let's see what benefits you can get by having a blow dryer that comes with ceramic coatings.
Release Far Infrared Ray, Keep Your Hair Healthy
Hair dryer's infrared ray is generated by heating the internal ceramic materials or tourmaline. A hair dryer that has an infrared feature can make your hair more smooth and sleek, preventing your hair shafts from getting heat damage, frizz and static.
Dry Your Hair Quickly & Evenly
We've mentioned that ceramics are excellent heat-resistant materials. Thus, ceramic hair dryers have better efficiency when drying since the heat will not be affected by metal components significantly. The airflow will be even and will penetrate your entire hair strands without hurting and giving them damage.
Lower Radiation
If the heating elements are made of ceramic, the EMF radiation will be much lower than conventional hair dryers that generate heat by passing electric current through an alloy wire. Unlike metal wires that will produce strong electromagnetic field especially when turning on/off the power switch, using ceramics as heat elements' materials barely produce EMF radiation because of lack of heating wires.
#3. Ceramic Vs Other Hair Care Technologies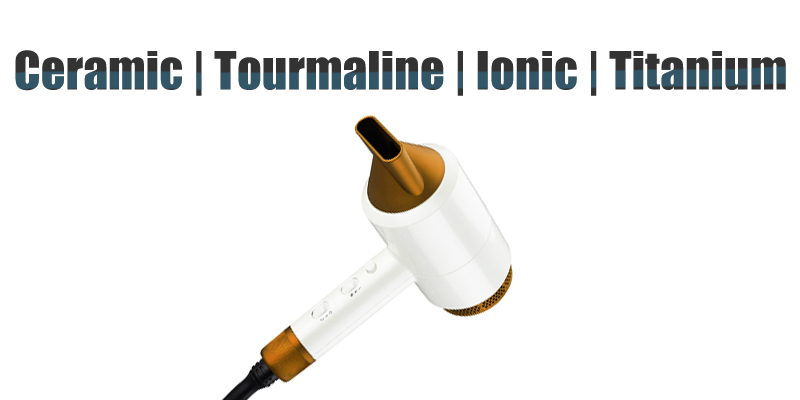 Here we list some most popular hair dryer's technologies in the market, and you can see the differences between ceramic and others.
For your information, good-quality hair dryers will usually combine these features together, so it's not a single-choice question. It's just a guide that helps you to identify the pros and cons of these technologies.
Ceramic vs Ionic
Ions help you dry your hair faster as well, but it does not rely on ceramic powerful infrared penetration. In fact, the negative ions faster the process of globs of water molecules.
Ionic technology aims at neutralizing the positive ions on your wet hair by releasing negative ions. The negative ions will protect hair from frizz and static, hydrating and moistening hair in a top condition.
Ceramic vs Tourmaline
Tourmaline technology is one of the best methods that hair dryers use to generate ions. Tourmaline produces ions that good for hair when heated. Sterically speaking, tourmaline is also an ionic technology.
The main difference is that the ions are not generated by a regular ion generator, so it is more healthy and more environmental. Similar to ceramic composites, tourmaline is a material that can be used in hair dryers' coatings. In fact, some high-end hair dryers' internal components are molded of tourmaline material directly to achieve better performance.
Ceramic vs Titanium
Regarding materials of hair dryers' counterparts, Titanium is a pretty new breakthrough. The famous BaByliss has a model called BaByliss pro nano is the best practice of using titanium. It has a lighter weight and a more efficient thermal conductivity than ceramic. However, ceramics have a better performance when it comes to protection and hair care.
#4. Best 10 Ceramic Hair Dryer in 2020
Now, it's the most exciting part and we will present the top ceramic hair dryers from different reputed brands that we reviewed. Take a look at these blow dryers below and you might get amazed!
1. Infinitipro By Conair 1875W Rainbow Finished Ceramic Hair Dryer
Conair is always one of our favorite hair dryer brands as it offers plenty of compact but powerful hair dryer models. The Infinitipro is the most stylish and functional one from Conair.
It dries your hair like a charm and protects your hair by using ceramic and ionic technologies, giving your hair shine, sleekness, and premium care even you do not have much time to go to the salon.
2. Remington D5950 Ultimate Smooth Dryer
This Remington model is a 3-in-1 blow dryer that has titanium, ceramics, and ionic technologies together inside its small body.
Without fancy talks, the dryer's grill is ceramic coated and has a built-in ion generator. Most importantly, the dryer comes with a titanium technology that reduces drying time substantially while ensuring you a healthy environment to get hair dried with its 1875w powerful motor.
3. BaBylissPRO Porcelain Ceramic Carrera2 Dryer
We know BaBylissPro is well-known for its proud titanium technology. Do you know there is a ceramic version of it?
The dryer has an all-black finish and a pretty cool shape. It's no doubt that the ceramic dryer from BaByliss works perfectly since it uses high-end and durable materials that take away the water molecules healthily and gently. The 1900w motor with 6 speed/heat settings is so powerful that your hair will be dried in minutes. Besides, it comes with a pretty long cord that allows you to dry your hair in a more flexible space.
4. HOT TOOLS Ionic 1875W Turbo CeramicHair Dryer
The long-lasting Hot Tools hair dryer is all about giving you the salon-performance. With ceramic and ionic technologies built-in, the dryer is specifically designed to add more shine and volume to your hair.
Having a concentrator nozzle and diffuser makes it a great choice in terms of a styling blow dryer. That makes curling hair or creating a wavy style is easy. What is also impressive is that this dryer has a pretty comfortable handle to hold, which relieves the tiredness when drying hair.
5. Berta 1875W Professional Ceramic Ionic Hair Dryer
This is another top ceramic hair dryer that will not let you down. You will get this model coming with the best dryer attachment package. It comes with a user-friendly concentrator nozzle, a finger diffuser, and a comb that helps you to straighten your hair.
As for the features, you will also be impressed by its great performance. The dryer comes with a 1875 watts motor and 6 combinations of heat/speed settings, you will feel it was worth spending your money on it as it also provides a 12-month product replacement.
6. Revlon 1875W Volumizing Ceramic Hair Dryer
Revlon specializes in producing budget-friendly hair dryer models with decent quality. The hair dryer may not have the precise temperature & speed settings, but it does get the job done beautifully. For a hair dryer that is under $20, it's probably the best option on the market.
With an ionic generator that can be turned on/off and the 3X ceramic coating, you can be sure to have silky and smooth hair without frizz and split ends.
7. CHI Tech 1875w Hair Dryer with Ceramic & Rapid Clean Technology
The Chi 1875 series hair dryer is a top performance dryer that should not be of any worry. The weight is featherlight and it weighs less than a pound. The heater is made of ceramic materials and you will know how easy to have frizz-free hair after buying this dryer.
This dryer features a rapid clean technology, which enables you to have a cleaner environment when drying hair. There is a blue LED light that comes with antimicrobial properties.
8. Chic Republic Professional Ceramic Ionic Hair Dryer
The Chic Republic offers you a quiet and fast blow drying solution that is super foolproof. They claim that this model is their best ionic ceramic hair dryer ever. What's more, the dryer is designed for making your hair ultra-shiny, smooth, and natural.
There are 2 diffuser attachments included in the bag so that it is a perfect hair tool for people who have curly hair to maintain their looks.
9. JINRI 1875W Ceramic Tourmaline Blow Dryer
Jinri utilizes tourmaline and ceramic both to deliver the best airflow that can keep away heat damage from your hair, you will never be worried about your hair will get burnt. In addition, the ions generator is also included in this model, so it's a pretty competitive model from Jinri.
Jinri claims that the dryer only takes 3 minutes on its fast-drying mode to get your hair dried with high velocity jet of controlled air. But you do not need to worry about if there are any hazards, it's safe and energy-saving.
10. TREZORO 2200 watt Ceramic Tourmaline Blow Dryer
As a hair dryer that has a 2200 watt wattage, the Trezoro blow dryer is a high-performance high wattage blow dryer that enables you to spend less time on drying hair.
Trezoro says that the built-in ions generator is more powerful than other regular dryers that it speed up transferring 10 times more ions. Besides the amazing ionic technology, you can not miss their perfect ceramic and tourmaline material that can deliver shine and moist to your hair.
Conclusion
A number of options exist when choosing a ceramic hair dryer. Having a ceramic blow dryer in place can improve your hair quality. But different brands use ceramic materials in different parts of their hair dryers so the performance will vary. You should choose a decent ceramic hair dryer by its brand reputation, customer reviews, and price to get the best one that works perfectly for you.