Have you seen a hair dryer that has a feature called "Infrared" on its package box?
If you have not known what an infrared hair dryer is, then you will be interested in today's topic. Let's see what benefits infrared hair dryers can bring to you and explore the best infrared hair dryers in 2020.
#1. What Is an Infrared Hair Dryer
Infrared heat is a technology of light, and it is used in hair dryer industry to penetrate people's hair and deliver the heat directly from inside out to get a better drying performance.
In fact, popular hair dryers' technologies such as tourmaline, ceramic are used to generate FIR (far infrared radiation), which emits infrared heat to help you to dry your hair more healthily and efficiently.
#2. How Does an Infrared Hair Dryer Work
Unlike conventional hair dryers that produce convective heat only by passing electric current through a nichrome wire with high electrical resistance. An infrared hair dryer can emit radiant heat energy by using the infrared source such as silicon carbide, tourmaline, ceramic. And the heat generated by the infrared heater has a long wavelength of the spectrum, which can penetrate your hair and can be absorbed by wet hair more effectively than convective heat.
#3. Infrared Hair Dryer Vs Convention Hair Dryer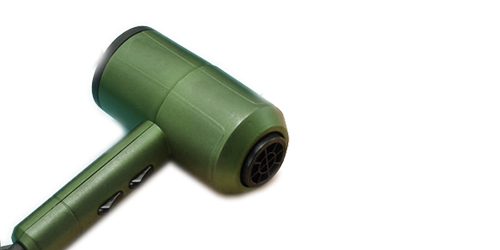 There are plenty of pros of infrared hair dryers.
Shorten Your Drying Time
Infrared dryers can decrease your drying time is because the infrared heat will penetrate your hair shaft and it dries your hair from hair cuticle to the end. If you have used a traditional hair dryer, you will often see the surface of your hair is burnt while the inside is still moist. It's because the heat generated by traditional blow dryer can not penetrate your hair as good as an infrared hair dryer does.
Reduce Heat Damage
Although the infrared heat can give you a short drying time and dry your hair evenly, the temperature is not as high as you think. As a matter of fact, an infrared hair dryer without high watts can work as effective as those high wattage hair dryer. Because of the high drying efficiency, the airflow generated by an infrared hair dryer can protect you from heat damage and burnt smell.
Save More Energy
This makes sense as an infrared dryer does not need a high wattage to get your hair completely dry. Without using a high watt device, you can surely save more energy and electricity.
Reduce Frizz
With some negative ionic technology, infrared hair dryers can give your hair a silky and shiny coating. The negative ions will neutralize the positive ions on the wet hair, reducing the frizz and static on your head. And your protein filament will not be damaged.
Any Cons?
Pricy
The far infrared technology generally used in professional hair dryers. And these types of blow dryers usually come with a high price tag compared with other regular hair dryers.
#4. Best 5 Infrared Hair Dryer Picked by Us
1. Revlon 1875W Damage Protection Infrared Hair Dryer
With a leading infrared heat technology, the Revlon infrared hair dryer can give you a great experience when drying your hair.
It protects your hair with tourmaline and negative ions. With two kinds of hair attachments, you are able to curl your hair with the diffuser attachment and straighten your hair with the styling concentrator. Get ready for a brand new blow drying life.
2. VAV 1875W Far Infrared Professional Blow Dryer
Carrying a powerful AC commercial salon motor, giving your hair a quick dry is easier than ever.
You can blow dry your hair in minutes with the advanced ceramic heater that produces far infrared heat. The three flexible heat settings combine with a cool shot button, giving you more options to style your look. Attach a comb or a concentrator nozzle to the hair dryer, and whether you want to straighten your hair or make your hair wavy, it can get the job done smoothly.
3. BaBylissPRO Tourmaline Titanium 3000 Far Infrared Hair Dryer
BabylissPRO is well-known for it's precise and incredible heat/speed settings. There are three levels for heat and speed to adjust, and you can get a blast of cold airflow with a cool shot button design. And you can maximise the performance with its 1900 watt powerful motor.
The dryer offers fantastic infrared and tourmaline titanium technology that emits gentle infrared heat and tons of ions to give your hair the best care. When it comes to the lightweight hair dryer, you can also find this model stands out by its ultra-lightweight design as a classic hair dryer in the market
4. Wazor Professional Far Infrared Hair Dryer
You may not be familiar with this brand called Wazor, but trust me this infrared hair dryer will not let you down.
As another premium hair dryer that is equipped with ionic and tourmaline technologies, your hair will get 100x more negative ions than usual, and your hair shaft will become silky and bouncy. The powerful infrared heat and fast speed settings ensure you an efficient drying experience. There is interesting data that the airflow generated by this model can reach 90 km/h.
5. MHU Salon Grade 1875 Watt Infrared Hair Dryer
This MHU hair dryer takes the water from your hair efficiently and quickly. No dampness will be seen in your hair after blow drying it with it's far infrared technology.
The built-in ion generator with a fast airflow speed gives your hair a nice and shiny finish. And it's pretty simple to clean the dryer as the filter is removable. If you want a budget-friendly infrared hair dryer with a low-key appearance, then you should check it out.
#5. Frequently Asked Questions About Infrared Hair Dryers
Q: Does an infrared hair dryer have radiation, is it harmful?
A: Infrared hair dryers have radiation, but you do not need to worry that it's going to have negative effects on the human body. Infrared light is invisible, and its radiation is lower than a lamp. Because of the high efficiency, an infrared hair dryer even has a lower EMF emission than regular dryers.
Q: How much should I offer for an infrared hair dryer?
A: The price of an infrared can vary from different brands, features, and materials. But good things do not come cheap. Perhaps you do not need a fancy dryer that has all the features, but I do recommend you to pay more than 20 bucks on your infrared hair dryer to ensure it's quality and lifetime.