Straightening hair does not have to be complicated. Guess what, you can straighten your hair with a blow dryer at home.
Yes, sometimes you do not necessarily need a flat iron or any straighteners to get the job done. And the heat generated by the iron may cause burnt smell & damage on your hair. Why not try to straighten your hair with a hair dryer?
Without further ado, let's see how it works.
#1. What Should I Do Before Straighten My Hair with a Blow Dryer
There are a few things that you do need to know and get prepared for.
Knowing Your Hair Type
Before starting to blow dry your hair to straight, knowing your hair type is the priority. Knowing your hair type will help you to choose the way to blow dry better and get straight hair nicely.
For example, If you have already had pretty straight tresses by nature that you might not need any particular process to get your hair straight except blow drying it normally. But, if you have heavily curly or natural afro-textured hair, you probably need to learn these drying techniques to straighten hair.
Get a Hair Comb or Round Brush
Getting a brush that is comfortable to use helps you to hold your hair firmly while blow drying. And it helps you to straighten your hair more quickly. When you brush your hair in downwards motion, you do not want your hair to slip away from your brush. You can choose a brush that fits your hair type. Let's say you have thick and voluminous hair, a deep teeth bristle brush is your best option.
Hair Products (Optional)
Apply hair products if you like to add some extra care to your hair. You can apply hair prep products to protect your hair from heat damage, frizz, and split ends.
After blow drying your hair, you can apply lightweight oils or serums that keep your mane silky and straight without putting too much weight.
A Hair Dryer with Nozzle Attachment
A hair dryer concentrator nozzle directs airflow to one section precisely. When we are blow drying our hair to get the straight look, we need to do it in sections. That's why a nozzle is an important role in this process.
#2. How to Use a Blow Dryer to Straighten Hair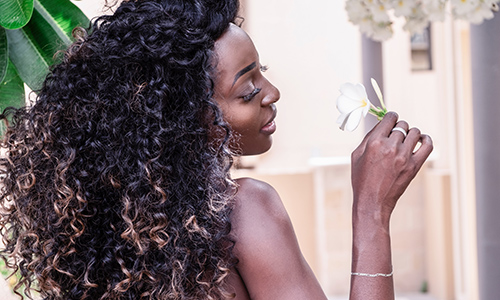 All set? Now, let' start to straighten your hair step by step!
Wash your hair
You can not straighten your hair without washing it. Because it's too hard to be straightened, and unwashed hair is too dry that your hair will be damaged and become brittle after blow drying.
Dry your hair with a towel
You should use a towel or a soft cloth to dry your hair after washing it, but not completely. The perfect hair for straightening with a blow dryer should be damp and will not drip water.
After drying your hair with a towel, you can get your hair conditioned by applying hair care products that protect your hair and keep your hair healthy.
Brush a section
Now, you can start with a small section to brush. Make sure your rest of the hair is clamped up if you have really thick hair as it might affect the airflow that we are going to direct later.
Blow out the section
Set the blow dryer's temperature to a high level and make sure the airflow has a fast speed. Now you can start the blow out process.
You should direct the airflow to the brush when you are brushing your hair section down, and you should use your brush to pull through and straighten out your hair slowly. Move the dryer and the brush in sync to get your hair dry and straight. The secret of straightening hair is all about creating tension.
Repeat the process until the section is completely straight and dry. Do not let the dryer directly touch the hair because the heat will burn your hair out. Make sure the section is already dried and straight before moving on to the next section.
Maintain your straight hairstyle with cool air
After you get all the sections done, there is one last important step. To maintain the hairstyle throughout the day, you need to set your hair dryer to 'cool' and let the gentle airflow close your hair cuticle. You can also use your brush to pull through your hair gently and nicely.
After that, you can apply serum or argan oil to give your hair a silky, shiny finish. And you are good to walk out the door with your beautiful straight hair.
You can also follow the steps in the video below to learn how to use a blow dryer to straighten your hair so that you will not make a mistake accidentally.
#3. Best 3 Hair Dryer for Straightening Hair
If you are not satisfied with your hair dryer, here you also can check out our top 3 picks of hair dryers that straighten your hair.
1. Revlon 1875W Damage Protection Infrared Hair Dryer
To deliver a healthy airflow, the Revlon hair dryer uses infrared heat and tourmaline negative ionic technologies to give your hair maximum protection and shine.
It includes three hair clips and a well-made hair dryer nozzle that allows you do not need to buy any extra accessories to start straightening your hair. You can also create curls with a diffuser attachment when you have the needs.
2. TREZORO Professional Ionic 2200 watt Blow Dryer
The TREZORO blow dryer with advanced ionic technology creates a safe and healthy environment when straightening your hair. And It works like a charm when it comes to straightening hair.
With a powerful motor, you will have enough heat to style your hair easily. And the narrow and wide nozzles included also offer you a more precise option to straighten your hair.
3. Panasonic EH-NA65-K 1875 Watt Professional nanoe Dryer
The Panasonic uses a kind of technology called nanoe moisture technology, saying that it can hold 1000x more moisture than regular ions. That's perfect for straightening our hair.
We know the most annoying enemy when it comes to straightening hair with a blow dryer is the heat damage, and the moisture held by the dryer can fight the heat damage amazingly.
There are also three professional attachments that come with the dryer, providing you the premium drying/straightening experience.