There's nothing like a fresh and fantastic beard to make a man look. But you will not have a fresh and polished beard just by letting it grow. If you have not tried to use a hair dryer to style your beard before, you should probably get started after reading this post.
Below is a guide to the best hair dryer for men's beards, and we will also teach you how to use a dryer to style your beard correctly.
Contents:
#1. Why Do I Need a Hair Dryer for My Beard?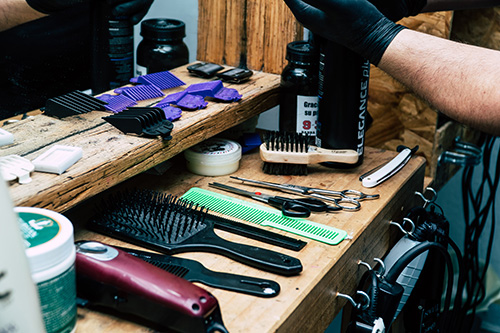 Dry Your Beard Fast
Beard grooming has never been a quick thing. After you wash your beard and get yourself together, you need to wait until the wet beard & facial hair are almost dry to go to the next step. Letting your beard to dry on its own is time-costly, especially when you have a thick and long beard. And having a blow dryer for your beard speeds up the process.
Make Beard Easy to Style
With adjustable heat settings, you can blow and style your beard according to your needs. You can make beard soft & smooth to style by giving them warm and nice airflow. Some negative ionic hair dryers also provide ions to reduce your beard's frizz so that you can comb your beard without feeling any pain.
Add Volume to Your Beard
If you want to have a fuller & longer beard, then a blow dryer can help you to achieve that. A great hair dryer can make your beard and hair voluminous without getting your beard overheated. You can create your beard style while blow drying it, which will make your beard clean and awesome-looking.
Well, picking a hair dryer for beards might sound confusing. Can I just use a regular hair dryer to dry my beard?
Yes, you can. However, there are some dryers' features that are helpful and suitable for blowing your beard. Hair dryers having these features are more friendly to protect and take care of your beard. Now, let's see what they are!
#2. Tips on Buying a Blow Dryer for Beards

Precise Heat Settings
We do not need a high wattage dryer to dry our beards. Using a super hot hair dryer on your beard will cause split ends, that is not what we want. We need to keep a distance to blow our beards nice and gently. If a hair dryer does not have stable and adjustable heat settings, then you will need to use the hot and cold button one after the other, which is not convenient at all. So having a great heating system is quite important for choosing a beard hair dryer.
Negative Ions Technology
Negative ionic hair dryers help your beard to remove static and frizz. If your beard is thick and curly, I believe you will find combing the beard on a daily routine is not an easy task. Today's hair dryers usually come with ion technologies such as Tourmaline, Ceramic, Negative ions generator. All these ion technologies are designed for making your hair, mustache, and beard more smooth and have a fine finish.
Attachment Kits
A suitable attachment for your dryer can get the job done quick and neat. For example, a dryer's comb attachment can deal with beard kinks and curls better and help you get rid of tangles. Or, you want to take out of moisture from a specific section of beard only without getting the whole chin feeling too hot, then a concentrator nozzle that focuses airflow will be your best option.
#3. Top 7 Men's Blow Dryer for Drying Beards
1. Conair 1875 Watt Full Size Pro Hair Dryer for Men's Beards
We pick the Conair hair dryer because it's color and shape design, and the cool and sharp silver and black finish make this model a hit in the market.
With tourmaline ceramic technology, the hair dryer can provide ions to reduce heat damage for your beard.
The great heat settings with cool shot button that locks your beard style in place are comfortable to use, making it a reliable dryer to trust.
2. INFINITIPRO BY CONAIR 1875W Hair Dryer for Beards

The black matte finished InfinitiPro from Conair is a competitive choice when it comes to beard dryers.
The Conair dryer is simple-designed but performs amazingly, with three heat and two-speed settings, you will find it's easy to style your beard healthily with its special ionic technologies.
If you like these types of great low-key hair dryers that can blow dry beard without worries, look no further.
3. NITION Ceramic Hair Dryer for Your Beard
This NITION hair dryer might be an outstanding hair dryer for people who needs to solve their detangled beard or hair problems.
Unlike a high-shine coating hair dryer, this lightweight hair dryer with a grey matte finish is equipped with 3 attachments, with which you can comb and style your beard and hair more smoothly than ever.
The hair dryer coming with a powerful AC motor and reliable temperature settings. It's easy to control and adjust, leaving the beard shape stayed for a long time.
4. Revlon 1875W Volumizing Turbo Hair Dryer for Drying Beard
The unique Revlon Turbo hair dryer has a quick start button for increasing airflow and wind speed instantly.
The grey modern 3x ceramic coating enables you a safe and healthy environment to dry your hair and beard without causing frizz and static.
It adds gorgeous volume and shine to your beard and hair after using this hair dryer, and you should not miss it if this is your type.
5. TREZORO Ionic Ceramic Blow Dryer that Dries Beards Fast
The design of TREZORO hair dryer reminds me of a car's turbo motor. You get a powerful motor too in this blow dryer. Trezoro claims that the hair dryer saves you more drying time than regular hair dryer with a 30% increment of airflow speed.
And it eliminates frizz and static by offering a ceramic tourmaline grill through which the airflow will protect your hair from damage.
Apart from these regular hair dryers, we've also collected two best styler hair dryer for beard. If you want to style and blow your beard in a more delicate way, then this type of hair dryers below is your must-have.
6. INFINITIPRO BY CONAIR Styler Dryer – Detangle Your Beard
This is the most popular and best-selling styler hair dryer online. The Infinitipro series is a smart choice for a beard dryer, and it is our favorite of ionic styler dryer that detangles and volumes beards.
It has a 1875W motor in this compact-sized body, and your beard will get sheen and shine from the airflow. It comes with 3 hair dryer attachment, and each of them has great features. You can use the fine teeth comb to detangle and straighten your beard, and use the brush attachment to create nice curls and waves.
7. Revlon Perfect Heat 1875W Fast Dry Multi-Styler

The Revlon Styler hair dryer basically has all the features that last Conair style dryer has.
You will also receive three styling attachments with this ionic hair dryer, and the speed settings are premium that you have 3 levels, from low to high, to adjust the airflow speed.
Besides, it also comes with a dual voltage setting that allows you to take this hair dryer to any country without worrying about the different voltages.
#4. How to Blow Dry Your Beard? (Text and Video)
Blow dry your beard is simple.
First, you need to get your beard washed, and towel dry your beard.
When your beard is slightly wet and moist, it's time to pull out the hair dryer for your beard.
You can apply some beard products before drying your beard.
Blow dry your beard on a suitable heat and fluff out your beard while blowing. Make sure you don't feel too hot on the face.
Repeat on all sides.
You can also see the video to learn how to blow dry your beard within 1 min: