With the best battery operated hair dryer, you can blow dry your hair without any cord hassle.
These cord-free, wireless battery-powered hair dryers also make your drying process way easier than before. They can save your time and effort when traveling abroad because you don't need to deal with the complicated Compatibility such as voltage settings, plug types stuff.
If you are looking for a hair dryer that uses a battery to dry your hair more conveniently and comfortably, this article will give you a handy guide. We will help you to choose the best fit among various battery hair dryer models and brands.
Therefore, you do not need to do tedious work in searching & comparing different tech specs. We are giving you all the info about battery operated hair dryer here. If you do not want to read the whole article, you can jump to our best picks of battery operated hair dryer to save more time. Here is an overview of batter-powered hair dryers of 2020:
No products found.
#1. What Is a Battery Operated Hair Dryer?
Cordless battery-powered hair dryer is the most convenient hair dryer for outdoor use.
Battery operated hair dryers do not come with a cord or wire because they use rechargeable Lithium batteries instead of a power plug to get functioning.
To some degree, a battery operated hair dryer is like a double-sided sword. On some occasions, it's your hair's life savior when you don't have sockets around. But some people consider cordless hair dryer as weak and unuseful gimmicks. If you want to know what is happening in detail, keep on reading.
#2. Why Do We Need a Battery Operated Hair Dryer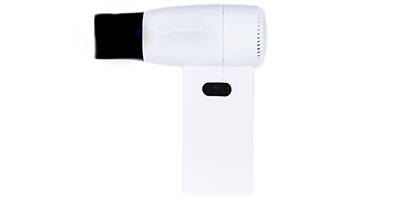 There are many advantages you will have by purchasing a cordless hair dryer that uses batteries to work.
No Electricity? Still Works!
Even there is a power cut, you can still blow your hair as usual when you have a battery operated hair dryer at home. For outdoor activities lovers, taking a cordless hair dryer with no plug with their off-grid devices together ensure they can still live a modern life when they do not have sockets in nature.
Portable & Lightweight
Compared with regular hair dryers, battery operated hair dryers are light and compact because the long and heavy-duty cord no longer exists. So it's more convenient to pack them in the suitcase. If you are looking for more lightweight travel hair dryers? You can click here to know more.
Low Wattage
Hair dryers that work with batteries are typically a type of low wattage hair dryer. It's because that battery powered hair dryers are designed for travel or outdoor activity. To extend the battery life, the dryers offer a low wattage (usually under 600 watts), enabling you to save more watts and power. And it also gives a safe environment for you to operate the blow dryer by using low wattage.
No Plug & Voltage Converter Needed When Travelling Abroad
We've mentioned that European & Asian countries require different types of hair dryer in our previous posts, and having a hair dryer that is operated by battery solve all the problems. But there is a thing, according to the regulations, you need to take this type of dryers in hand luggage because of the lithium batteries.
#3. Do Battery Operated Hair Dryers Have Any Cons?
But, some drawbacks are commonly said about battery operated hair dryers
Weak Airflow & Heat
Due to a limited wattage, the battery can not work as a powerful motor that delivers super hot & fast airflow to your hair. So it may take longer to make your hair completely dry. If you have short or thin hair that can be dried within 45mins, then you can give these dryers a try. If not, then go for a high wattage hair dryer might be more suitable.
You Need to Charge the Batteries
If you are thinking you can use the dryer many times after recharging it, then you might be disappointed. Battery operated hair dryers in today's market can only work for about 45 mins after fully charged. But you can set the temperature to cold, and then they will work for about 4 hours averagely. Usually, the charging time should be at least 2-3 hours to get a dryer fully charged, which is a bit long compared with its working time. You'd better be aware of these limits before you buy it.
#4. Best 5 Battery Operated Hair Dryers with No Cord to Buy
Not all the battery powered hair dryers are the same, so they vary from design, features. Picking a battery operated hair dryer that suits your needs becomes an important thing. You can check out the below models that we selected freshly.
1. Manli Cordless & Wireless Battery Powered Hair Dryer
The Manli battery powered hair dryer is a great one that you can buy for drying your kids' hair.
Coming in a portable, lightweight design, you can fold the handle and take this dryer wherever you want without any burden.
This battery operated hair dryer is equipped with a small 2000mAh Lithium polymer battery. Thus it only has a low wattage cool setting. The dryer needs 3.5 hours charging time, and it can continuously work for 30 minutes. It's not a good idea to buy this as a long-distance travel hair dryer, but it can work perfectly when you only need short-time blow drying. For example, it's a helpful & useful tool for parents who are taking their children to swim.
2. WHS Cordless Rechargeable Lithium Battery Operated Hair Dryer
The WHS battery-powered hair dryer with a DC motor is a good fit for families that are taking an outdoor adventure.
With a stylish look, you would not expect this dryer can work without electricity. The built-in 5000 MAH lithium batteries enable you to dry your short & thin hair quickly. The dryer can run 3 hours in a cold setting, but only 15 mins in a hot setting. For thin or short hair, it's a pretty useful tool to dry your hair in the wild.
3. Red Shore Cordless Battery Operated Blow Dryer
With a conductive 5000MAH battery, you won't be encounter trouble with the restraint of a cord by buying this blow dryer from Red Shore.
This dryer comes with an elegant look and a stylish charging base. You have two temperature settings to adjust. And it can work is 200-240 minutes for cold air, 16-25 minutes for hot air.
If you have a dryer like this when you are camping or hiking, then your trip is going to be fun & safe.
4. LXB USB Battery Operated Portable Hair Dryer
The LXB hair dryer's batteries are removable and you can use them to charge your phone alternatively.
You can have 3-4 hours cordless drying experience after charging the dryer for about 4 hours with USB output. With a dryer nozzle attachment, you can precisely dry a section of your head and style your hair easily. Want to dry your hair in places that do not offer a socket, why not try this one?
5. WanFei Cordless Portable Battery Powered Hair Dryer (Red)
This low noise hair dryer gives you two options when it comes to power. You can use battery or the standard plug, which makes this blow dryer versatile and practical.
You can use the battery case as a plan b when the power is cut, and you are able to use the dryer with 8 batteries for 50 mins. And the best part of it is that the batteries are not built in the dryer, so you do not need to recharge the battery frequently if you have extra batteries. You can even use a solar panel to charge some rechargeable batteries, and then you will make this a solar battery hair dryer.
#4. Any Recognized Brands Have Cordless Hair Dryers?
You may ask: "I have not heard of these battery-powered hair dryer brands above, why?"
Unfortunately, you cannot find any cordless hair dryer model that is from famous hair dryer brands, such as Dyson, T3, GHD.
Most people tend to assume that Dyson should be the expert on high-tech hair dryer so there must be a Dyson cordless hair dryer, but the truth is that how to make a battery hair dryer long-lasting and powerful is still a problem that is hard to tackle in the industry.
So most cordless hair dryers these days are just for emergency use.
Conclusion:
Generally speaking, if you only want to dry your hair a couple of times in areas that don't have sockets & outlets, a battery operated hair dryer can be your emergency savior. However, it might not perform well on you if your hair is too thick & long, and you should always think twice before you place the order.
Feel free to tell me if you have any questions, and I will be happy to answer them.