Are you having problems with hair kinks or tangled hair? Are you hoping to straighten your curly hair by using a blow dryer?
If so, then a hair dryer with comb attachment may be a good fit to solve your problems. Let's learn in what ways these hair dryers with combs can help you and how to pick a good-quality hair dryer to brush your hair together!
If you do want to save your time, you can directly jump to our 2020 best hair dryers with comb attachments product recommendations in part 3. We've prepared the most worth buying options that are available for you, so you do not need to search online.
Table of Contents:
#1. What Is a Comb Attachment?
A comb attachment is a useful accessory for hair dryer, and it basically looks like a concentrator nozzle but with teeth. Unlike diffuser attachments that curl your hair, on the contrary, people use comb attachments to make hair smooth & straight. A comb attachment for hair dryer usually come with fine teeth and many airflow vents to detangle hair while blow drying, so you do need another extra comb to do this for you.
#2. What Does a Comb Attachment Do?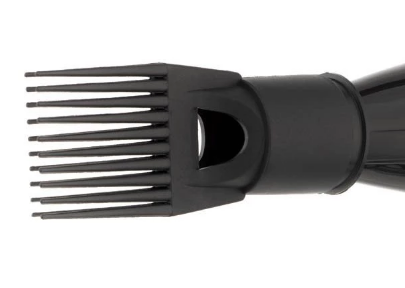 A hair dryer comb can help you style your hair in many ways.
Detangle Your Hair
Thanks to the fine teeth that come with the comb, using a comb attachment while blow drying your hair can help with detangling your hair. You can also use the comb attachments to deal with random kinks and waves in the end. That enables the airflow to takes away water from hair faster, so it will speed up the drying time on weaves, wigs.
People will not need to hold their combs with another hand. These comb attachments make you have one hand free so that you can dry and brush your hair less painfully and tiredly.
Make Your Hair Straight
Whether you have curly, black, natural, or any type of hair, we know that the first thing to do is to brush your hair if you want to keep hair straight.
Now the comb attachments show up, and it becomes quite easy to have a straight hairstyle just by blowdrying hair. For people who want to maintain straight hair, using a comb attachment while blow drying helps straighten up their hair. And it works better than regular handhold combs because the airflow outlets will deliver the airflow directly to the hair section where you are brushing.
Soften and Smoothen Your Hair
When you are using a negatively ionic hair dryer with a comb attachment, the comb's vents will direct the negatively charged ions to your wet hair more closely and precisely to neutralize positive ions that cause frizz and static. That explains why some people still got silky hair that has the sheen and shines even they did not go to the salons.
#3. Best Hair Dryers With Comb Attachment of 2020
1. Nition Negative Ions Hair Dryer with Diffuser & Comb Attachment
Starting off, Nition hair dryer is one of the reputated brands that attract our attention.
With a full set of attachment, the hair dryer from Nition will meet your expectations with great performance and quality. You will get a diffuser, a comb, and a concentrator nozzle come with the dryer, these three attachments ensure you can style your hair in any way you want.
Although it is a lightweight hair dryer, it still comes with a powerful 1875 watts motor. It's impressive to see a hair dryer that only weighs 1lb can have 3 adjustable heat settings, which enables you to shine your hair like its shiny ceramic coating.
2. VAV 1875W Ionic Far Infrared Hair Dryer with Comb Attachment
The VAV hair dryer comes in a shiny pink color, which looks vibrant and energizing.
With a ceramic heater built-in, your hair can be protected by non-damage infrared and negative ions. The wattage of this hair dryer will not let you down that it uses a professional AC 1875 watts salon motor to deliver fast and hot airflow to you, and you can change these 3 heat settings at any time.
The comb attachment is well-made with dual teeth design, which can go deep into your hair roots and help you to smoothen and detangle your hair more efficiently.
3. Gold 'N Hot Professional 1875-Watt Turbo Dryer with Comb Attachment
The low-key Gold 'N Hot is a versatile hair dryer with its' black lacquered finish.
There are three settings for your styling needs, and the cold shot button helps you to maintain your hair style longer. It's is easy to clean the device due to the fact the rear grill filter is removable.
Drying with its' comb attachment cuts the drying time and simplifies the drying process. Clearly, buying this fantastic hair dryer can step up your life.
4. Berta 1875w Hair Dryer with Diffuser and Concentrator & Comb
Berta blow dryer is a professional one that can dry your hair fast and easily. Although the black finish does not look as fancy as other dryers, you will be amazed by its' reliable features and long-life motor.
The Berta hair dryer is equipped with far infrared & tourmaline technology to remove static and frizzy kinks. With a comb attachment included, you will find smoothening hair is no longer a pain in the neck. Besides the comb, you can also change your hair style with the diffuser or the nozzle. Understandably, it worth the price.
5. Conair INFINITIPRO 1875W 3-in-1 Ceramic Styler with Combs

When you have pretty thick and hard hair that is difficult to detangle, probably you need to consider buying a wider dryer. The Conair dryer is specially designed for detangling and straightening your hair, and you will be delighted after seeing its' features.
Conair claims that its' ionic technology in this hair dryer can reduce 75% frizz, and your hair is going to be silky than ever. The attachments are also made for people who have tangling problems, you will have 1 dual fine-tooth straightening comb, and 1 wide-tooth detangling comb help you to style a beautiful straight look. And the bristle brush can also be used for creating curls and waves.
It also has great settings like other blow dryers do, the 3 heat settings and 360-degree swivel cord make you can dry your hair according to your custom needs.
6. Andis 1875-Watt Styling Hair Dryer with Comb Attachments
Apart from Conair, Andis is also playing an important role when it comes to styling hair dryers.
Drying hair with Andis' Tourmaline + ceramic + ionic technologies is a blessing, a silky, bouncy finish on the hair cuticles can be achieved in your house. The 3 air heat and the cool shot settings help you to style and lock without worries.
You also have three types of combs and brushes attachments included in the box; all of them are made for taking away water faster and giving your hair an undetangled healthy look.
#4. Can I buy a separate comb attachment for my hair dryer?
Of cause, you can also buy a standalone universal comb attachment that is suitable for most of the hair dryers.
You can see this Segbeauty Blow Dryer Comb Attachment below.
The comb can be easily attached to your hair dryer, and you have a dual way to comb your hair and remove those annoying tangles and frizz within minutes.
Although it's a universal comb attachment, one thing that should be mentioned is that there are certain criteria for your hair dryer. Before you buy this attachment, make sure your blow dryer meet these criteria:
You blow dryer should have a round shape front end whose diameter should be shorter than 5cm, and your dryer's wattage can not be too high (over 2000W)
ps: you can see the wattage of a hair dryer use here.
#5. How to Dry & Comb with a Comb Attachment
Wash You Hair & Towel Dry It
Before we use the dryer, we should get the hair towel-dried first, and make sure the water does not drip.
Attach the Comb Attachment to Your Hair Dryer
After that, set the hair dryer to a gentle and warm temperature. We do not need to make it too hot and fast. Because when you are using a comb attachment, the dryer will get very close to the scalp and hair.
Pick Up a Section and Comb Your Hair From the Roots to the Ends
Then you can start to comb your hair like you usually do, and repeat the process till you have your hair all straight and nice.
If you want to see the tutorial of a video version, check out the video below: