#1. What's a Hair Dryer's Dual Voltage Setting
Dual voltage is an important hair dryer feature for people who need to travel internationally a lot. Let's say you are going on a vacation overseas, then you should know that American devices can not be working properly for two main reasons.
The first one is that the plug shapes are different, US devices use type A plugs which have 2 thin mental pieces. However, some other countries use Type C whose plugs are cylinder-shaped. Thus, European hair dryers have a different plug from ours.
And the second reason is the voltage, we American homes' voltage is about 110v – 125v. But in Asian and Europe, their voltage is 220 volts. Thus, the dual voltage setting allows you to change the voltage of your hair dryer from 110v to 250v input. This makes your blow dryer can work in anywhere in the world.
With a dual voltage setting, you do not need to buy a voltage converter before you start your trip. By the way, we have seen some brands claim that a voltage converter will damage their units. ps: a power adapter is still needed.
We'have covered more detailed info in our previous post – Things you need to know when taking a hair dryer to Europe.
#2. What Features Are Necessary for a Travel Hair Dryer?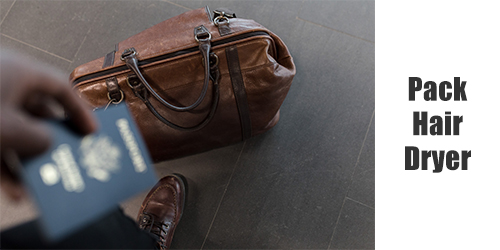 Besides the dual voltage setting, there are a few things you should pay attention to when choosing a travel hair dryer.
Size
Travel hair dryers are made for people who need to travel around the world. So they must be easy to carry and portable, you should be able to pack the dryer in the luggage without any pain. The space of your bag and suitcase is limited especially when they are full of clothes and shoes. There is not much room for a dryer that has a bulky body. Thus, a compact mini hair dryer is perfect because it can fit in any narrow space.
Weight
While a blow dryer has a smaller size does not always mean its weight is lighter. Because of the different materials and structure of the body of the hair dryer, the weight of hair dryers can be various. To get a relaxing travel experience, we are always fond of a lightweight hair dryer with dual voltage whose weight is around 1 pound. This ensures you will not have a large burden during the trip.
Cord Length
I usually prefer a hair dryer with a short cord when I traveling abroad. Although a longer cord hair dryer gives me more convenience at home, wrapping a long cord is pretty annoying for me when traveling. You should choose a suitable cord length that suits your needs. For example, a hair dryer with retractable cord & dual voltage is a pretty smart choice when you are not good at organizing cords.
Is It Battery Powered?
You may be wondering if there is a power-operated travel hair dryer that can work without electricity. Yes, you do not need to care about the voltage or plug shapes by using a cordless hair dryer that uses batteries.
However, the battery-operated blow dryers nowadays are expensive and short-lasting. It can only be used once or twice. After that, you need to recharge the batteries. The lithium batteries included in the dryer are regulated so you can only take the dryer in hand luggage, but not carry-on luggage.
#3. Best 7 Hair Dryers with Dual Voltage
Below hair dryer modles are the ones we find that you can adjust the voltage settings from 110v – 250v. All these hair dryers can be used worldwide, but you need to remember the speed setting should be set to 'low' when using 250 volts for safety concerns.
1. Conair 1600 Watt Compact Dual Voltage Travel Hair Dryer
The cute blue dual voltage portable hair dryer is from Conair, the whole design is compact and neat, giving you no worries to take it to travel. The handle is foldable and it becomes extremely small after you fold it. The weight is surprisingly light and it only weighs one pound.
Do not be deceived by its look. Though the dryer has a small size, it has a powerful 1600 watt motor that offers you strong and stable airflow. The power cord is 5 feet long, short and easy to warp. Drying hair is no longer a tough thing to do.
2. Andis 1600-Watt MicroTurbo Dual Voltage Hair Dryer
The Andis travel hair dryer has a pretty similar look to Conair's dryer. It also has a powerful and strong 1600 watt motor that provides 2 heat/speed settings, and the weight is around 1 pound as well.
Although it seems that the dryer does not have a foldable handle. But Andis claims that they have a quieter design for this travel hair dryer. The ultra-quiet motor allows you to dry your hair without disturbing others. In addition, they have lifeline shock protection technology to protect the dryer from getting damaged on the trip.
3. Revlon 1875W Compact Travel Hair Dryer with Dual Voltage
The Revlon travel dryer is probably the best lightweight dual voltage hair dryer in its' price and size.
The portable dryer has an ionic generator and a ceramic coating with which you can even give your hair the best care when traveling. There is a smoothing concentrator nozzle in the box so that keeping away frizz and static becomes effortless.
One reason that it stands out among mini hair dryers is that it comes with a cool shot button for styling and cooling. It is hard to see this feature in a small and cheap blow dryer.
4. BaBylissPRO Tourmaline-Titanium Dual Voltage Travel Dryer
Compared with the above items, This BabylissPro dryer may not have a high wattage (1000w), but it's trusted and reliable when it comes to worldwide dual voltage travel hair dryer.
It's ultra lightweight, perfectly functional, super easy to clean. and the built-in tourmaline titanium technology & far-infrared heat is an important reason why we can keep our hair silky and sleek on the road.
5. Hot Tools Ionic Dual Voltage Travel Dryer with Diffuser Attachment

The Hot Tools hair dryer features a folding handle & a universal dual voltage, allowing you to plug in anywhere. The 1875 watt motor provides powerful styling control and versatility with 2 temperature settings and a cool shot feature.
As the website shows, the product only weighs 8 ounces, so it's a pleasure to take it to places like the gym, hotel. What's more, there is a diffuser that comes with the dual voltage dryer. To create or maintain a curly hairstyle, you do want to miss the attachment.
6. InStyler Turbo Mini Ionic Dual Voltage Hair Dryer
InStyler has 2 versions of its turbo hair dryer, and the one with the dual voltage feature is called 'mini' version. As the name implies, the dryer has a travel size which is small and compact. As a mighty travel companion, it only weighs 8 ounces but has a professional concentrator.
The mini dryer volumizes and shines your hair with the latest tourmaline ceramic technology, which hydrates your hair and keeps your strands healthy and natural.
7. VAV 1875W Compact Dual Voltage Hair Dryer
Coming with 120-250v/50~60Hz worldwide dual voltage, you probably don't know this vintage-look blow dryer has a high-speed 1875 DC motor. VAV utilizes a lightweight design and ALCI safety plug to ensure a safe trip. You get a salon-quality airflow and a styling concentrator for drying hair efficiently. Also, the negative ionic technology smooths and moistens your hair even on the go. Just remember one thing, VAV stresses that you should use low speed when using 250v.