If you are planning your Europe trip and looking for a hair dryer that can work perfectly in Europe, then you are smart because you are reading the right article.
What we will talk about today is the difference between European plug & American plug, and we share our top recommendations of hair dryers with European plug. Keep reading, and we will explain everything.
#1. What is European Plug Hair Dryer
Unlike regular American hair dryers that have thin & plat pins, a hair dryer that uses European plug will have a Type C plug, which has 2 rounded pins that are compatible with European sockets and voltage.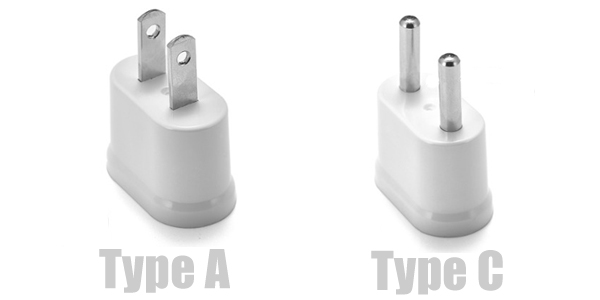 #2. Why Do We Need a Blow Dryer with European Plug
The reason why we need a hair dryer with European plug is that Europe uses a different electrical system from ours.
Voltage
If we use a regular American plug hair dryer whose that only runs on 220 volts in Europe, your hair dryer won't work and might be damaged because of incompatible voltage.
Plug Shapes
And another reason you can not use your American hair dryer is that they have a different plug shape. Like we said at the beginning, America uses Type A plug while European countries use Type C plug.
However, you do have some DIY solutions to resolve these problems if you want to take your American hair dryer with you. You can also see our post on how to take your hair dryer to Europe to get more info. If you do not want to be bothered, then buying a budget-friendly hair dryer with European plug is your best choice.
#3. Best 4 Hair Dryers with European Plug
1. Panasonic 1500 Watts Powerful Hair Dryer with European Plug & Cord

The Panasonic EH-ND52 is a solid-made hair dryer that designed for Europe and Asian.
It only works on 220 voltage, so it is not compatible with the American socket. Featuring a silent 49db low noise mode, you can blow your hair without being disturbed.
With a decent 1500 watt motor, you can get powerful airflow and excellent drying experience even when you are in another country.
2. Mannice Dual Voltage Hair Dryer with European Plug
Compared with the first product, the Manice travel hair dryer can be used anywhere in the world as it includes a European plug & a detachable US plug. So you do need to worry if the hair dryer will be useless when you are back in the states.
The hair dryer has 2 speed settings and a cool shot button, but I personally think this is not great enough, and they can do better in their speed/heat adjustable levels.
Regarding their technology, this negative ionic hair dryer uses tourmaline ceramic technology to release natural negative ions that fight frizz and static. That enables you to have a shiny and smooth hair during the trip.
3. Conair Travel Smart Hair Dryer with Tmvel Worldwide European Plug Adapter
I believe most of you have heard the famous hair dryer brand Conair, but this product that I list here is not a regular Conair travel hair dryer. It's because this includes a European plug adapter, so you do need to buy an extra one.
This Conair hair dryer is a smart choice when it comes to picking a travel hair dryer. It's lightweight, compact, and the dual voltage feature allows you to use it in the US & Europe both.
The only con that I need to mention is that it only uses 1200 w per hour. A low wattage hair dryer can save you more energy but might not have high-speed and hot airflow.
4. Tmvel Dual Voltage with Worldwide European Plug Adapter
The hair dryer comes with a powerful wattage (1875 watt). And it also has a dual voltage function that allows you to get this hair dryer working in Europe.
With an advanced ionic and 3X ceramic technology, you can protect and take good care of hair when you are travelling in Europe. The travel hair dryer is perfect for carrying as it has a folding handle and a compact design. The smoothing nozzle attachment is also a great addition for styling hair.
#4. Can I Use My American Hair Dryer Instead of Buying a New One with European Plug?
Yes, you can.
I believe most of you have noticed that if your hair dryer has a dual voltage feature, then you only need a European power adapter to get your hair dryer working properly in Europe.
You can check out this TESSAN International Power Plug to do the job for you.
What If My Hair Dryer Does Not Have Dual Voltage?
If your hair dryer does not work on 220 volts and does not have a dual voltage function, then you need another appliance that is called voltage converter. You should buy a 220V to 110V voltage step-up converter to convert the voltage for your hair dryer.
#5. What Features Should You Look for in a Hair Dryer with European Plug?
Dual Voltage Options
Dual voltage is important since you can adjust the voltage settings to get your hair dryer working on different US & European voltages. If you have a European plug hair dryer with dual voltage settings, then you can also use it in America with an American power adapter.
Compact & Mini Size
A small sized hair dryer makes your trip easier. You do need to worry the hair dryer will take up much room in your luggage, and you can elegantly take the hair dryer in hand luggage when you are taking the plane to Europe.
Lightweight
Lightweight is also vital for a portable travel hair dryer. Besides the size, don't forget to check the weight before you buy a new hair dryer for your Europe trip. A small hair dryer does not always come with a lightweight material body. So you need to check if it is a lightweight hair dryer before you buy it.