Have you seen a sizeable stand up hair dryer on wheels at salons? They usually have a vintage heavy-look hood and a base with wheels. And it seems that these hair dryers have professional features and are more advanced.
So, what is special about this kind of stand up hair dryer? What is the difference between the stand-up hair dryers and the small handheld blow dryer that we use every day? Don't worry. We will break it down for you today. You will find all the answers here, and you will find out if you need a stand-up hair dryer in the end. Let's begin!
Content:
What Is Stand Up Hair Dryer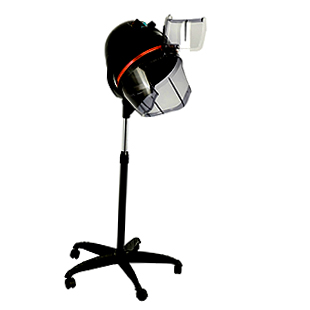 Stand up hair dryer is a type of professional hair dryers that can dry people's hair precisely and efficiently. And stand up hair dryers are commonly used at professional salons for its advanced features. You can sit under the dome and enjoy blow drying pleasantly.
Unlike the portable hair dryers that are commonly seen, a stand-up hair dryer consists of 3 main parts: a hair dryer hood, a stand, and a sturdy base. The stand can be adjusted to get a proper height to dry people's hair, and the base usually comes with several wheels for people to move the hair dryer conveniently.
What Is Good About a Stand-up Hair Dryer
Professional standing hair dryers stand out in the hair drying industry for many reasons, and stand up hair dryer beats portable blow dryer in some aspects.
The advantages of standing up hair dryers:
Dry Your Hair in a Better Way
With a front visor and a large bonnet, the hair dryer can deliver the heat to your hair directly. And the airflow from all the directions will dry your hair better if you have dense hair, it's because you do not need to move the hair dryer crazily to dry one area each time. Using a stand up hair dryer saves more time, especially for thick hair, and it will not ruin your hairstyle.
More Flexible Heat & Speed Options
When we are using a regular home use hair dryer, we usually have 2 or 3 speed/heat levels to adjust. The settings are enough for daily use. However, a professional salon needs more than that.
A professional stand up hair dryer have more options in heat/speed settings. Some models even enable people to set a custom temperature and a timer that allows the stylist to dry people's hair precisely.
Release More Ions
Some freestanding hair dryer that uses tourmaline or ionic technology will be more effective when it comes to releasing ions.
Because of a powerful Ion generator is built in the large & heavy hood, compared with a lightweight hair dryer, it performs better in reducing frizz & statics, giving you a smooth finish.
Hands-Free Experience
If you are buying a stand up hair dryer for your own use, the best part is that you do need to blow hair with one hand holding the dryer and another hand handling your hair. You are all set by putting your hair inside the hair dryer cap.
Should I Buy a Stand up Hair Dryer for My Home?
Normally stand up hair dryers are used at salons for color processing & drying dense hair in a comfortable way.
If your hair is not that thick, or you want to style your hair by blowing your hair with a concentrator nozzle, then a handheld blow dryer is probably a better choice for you as it is more portable and budget-friendly.
But if you have really thick hair, and you need to spend more than half an hour on drying your hair out, a stand up hooded hair dryer can make your life easier. You just need to sit under the bonnet dryer, the stand up totally free your hands, and you can watch several videos until your hair is dry. So it's also a perfect hair dryer for wash and go.
Top 5 Stand-up Hair Dryer on Wheels
Here, we've collected the best 5 stand up hair dryers on wheels on the market, let's see what they are!
1. Nova Microdermabrasion 1300W Stand Up hair dryer with rolling base & Wheels
This model from Nova Microdermabrasion is one of the most popular stand up hooded hair dryers. If you scroll down the product page, you can see it has tons of positive reviews left by real customers.
You can adjust the temperature from 0 to 75℃ according to your needs, and you also have a timing function of 0~60 Minutes to make the hair drying or hair styling process more convenient.
This stand up hair dryer's height is controlled by a knob, and you can adjust the height from 48 inches to 63 inches. If you need to move the heavy-duty hairdryer, that would be easy thanks to the design of the Omnidirectional wheels.
2. Giantex 1300 watts Adjustable Stand up Bonnet Dryer on Wheels
As a competitive stand-up hair dryer, the Giantex hair dryer also has adjustable height, temperature & time functions.
You can adjust the temperature from 40 -60 degrees, and the time range is in 60 mins. The height and the lamp's position can also be changed easily. On the bottom, there are five wheels to make sure you can move the bonnet dryer as you want.
For people who are looking for a decent flexible stand up hair dryer on wheels, it's definitely a solid option.
3. Gold 'N Hot Elite 1875 Watt Stand Up Bonnet Dryer on Wheels
With a powerful motor, the Gold 'N Hot Elite Ionic stand up hair dryer is a hot item for many professional salons.
You can see the wattage is higher than the last two products, and it can generate more heat than regular models.
You have a built-in ionic generator that can release ions, and the switch allows you to decide if you need to get this function working. What's more, the Tourmaline technology is also adopted to help you reduce frizz.
The only drawback of this hair dryer model is that it does not come with a timer, so it might cause some inconvenience for people who need a timing function.
4. 1875 Watt Stand up hair dryer on wheels by Hot Tools
This Hot Tools stand up hair dryer use 1875 watts per hour, which dries your hair faster and better.
You will not get a frizzy hair after drying hair with this great stand up hair dryer as it uses the tourmaline and ionic nano technology to protect your hair.
You have 2 speed settings and 4 heat settings to adjust. Unlike regular blowers, the stand up hair dryer usually does not come with a cold airflow setting. You only have the option to change the temperature from "warm" to "less warm".
The two lockable wheels design makes the hair dryer easy to move, but they also can be placed stably.
5. BabylissPro Ionic Stand up Hard-Hat Dryer on wheels
The BaBylissPRO standing hair dryer, with a 2000 watt AC motor, is a pretty high wattage hair dryer for standing dryers.
The claims that the hair dryer is easy to assemble and super quiet when working. You have 2 speed / 3 temperature settings to adjust, and there is an Auxiliary input with which you can play music.
The model features 2 locking wheels so the base will not move while in use.
There is a built-in diffuser that comes with the package to shine your hair. What's more, your hair will look silky and soft after being taken off by the Ionic Technology.
However, the only thing we don't like is the price. It is a bit pricey for family use.
How to Choose the Best Stand up Hairdryer
Wattage
We've mentioned that the wattage is an important factor when it comes to picking a good hair dryer, and it's vital for stand up hair dryers too. A powerful motor usually has a high wattage, which will generate more heat so that it can dry your hair out in a short time.
Timing Function
You should always remember to check if there is a timer when buying a hooded stand up hair dryer. For professional salons, this feature is necessary. Because it will be very useful when multiple clients are styling their hair at the same time. So the stylists do not need to deal with the time on their own.
Wheels' Quality
Well-made wheels are essential if you need to move your stand up hair dryer every now and then. Solid wheels can help you to move your bulky hair dryer smoothly. And that will be even better if your hair dryer base has some wheels that can be locked, which will prevent the hair dryer from moving accidentally.
Well, that's pretty much it of today. If you have any idea or question about buying a stand-up hair dryer that has wheels, feel free to comment below!