Hot air brushes have always been an important part of the hairstyling routine and they can be bought from drugstores to fancy malls. I'm pretty sure that Babyliss is a go-to brand for many people.
The problem is that there are too many models when it comes to picking the right hot brush. If this problem is bothering you too, we are here to let you know which Babyliss hot air brush should be your favorite and best choice.
Best Hot Air Brush from Babyliss – Which Is Your Type?
BaBylissPRO Nano Titanium 2″ Rotating Hot Air Brush – Best Model in 2021
The BaBylissPRO nano titanium hot brush is a go-to classic if you're looking to have a reliable tool for a better styling experience. It's one of the most popular models among Babyliss hot air brushes, and its classic appearance – just like other Babyliss hair tool series. The product has a US version and a UK version, the only difference is the color.
If you've ever used a BabylissPro product, you will know how effective it is when it comes to styling power. The BaBylissPRO Nano Titanium hot air brush offers 3 temperature options, and the highest temperature can make the barrel extremely hot, and you can even get your wet hair dried with this hot brush. A brush with such a high temperature can easily curl or straighten your strands and make them manageable, but don't forget to use this brush with a heat protectant to avoid frizz and damage.
What makes the hot brush stand out is that this is an automatic rotating hot air brush. To get your hair curled, the barrel can be controlled by two buttons on the hand. And you can adjust how tight the curls will be with the forward/reverse buttons. This makes curling hair with a hot brush safer and more efficient.
The BaBylissPRO nano titanium brush should be the overall best BaByliss hot air brush is because the product is suitable for almost all hair types. It's got perfect temperature settings, and the 2″ brush barrel is good for most hair lengths. Most importantly, it does not deliver severe heat damage to ruin your hair's texture, Babyliss claims that the ceramic brush is hot enough but can provide 100x more conditioning ions to lock in moisture to keep hair bouncy for exceptional volume, sleekness, and shine.
BaByliss Air Style 1000W Hot Air Brush Combo – Best Versatile BaByliss Brush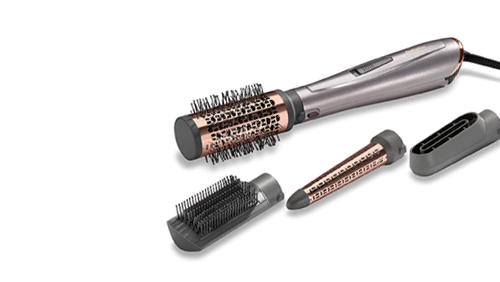 People who think Dyson Airwrap is not worth it may consider this BaByliss Air Style styler. It's a hot air brush, but it is not only a hot air brush. You can dry, curl, straighten, and brush your hair with this all-in-one hair tool.
This Air Style styler is a versatile styler with 4 interchangeable attachments. It comes with a 1000W motor to make sure the product can successfully manage your hair with hot temperatures. As a hot air brush, this product has a 50mm volumizing brush attachment. Although the bristles are not as dense as regular BaByliss brushes, it has larger openings and it can also get the job done quickly with the hot air.
Besides a hot air round brush, the BaByliss Air Style styler can also work as a hot air paddle brush, which is designed for smoothing and straightening hair without using a hot flat iron that may damage your hair.
And the product also comes with a conical curling rod that turns this product into a small curling wand. And this product can replace your hair dryer as it also features a blow dryer nozzle-like attachment.
It might not be the fanciest hot air brush from Babyliss, but it is definitely the best hot air brush that delivers various hair looks. What is more surprising is that it does not cost more than an expensive blow dryer! (I only found this product is selling in the UK. Sisters from the states, I'm sorry)
BaByliss Hydro-Fusion Air Styler – Best Protective Hot Air Brush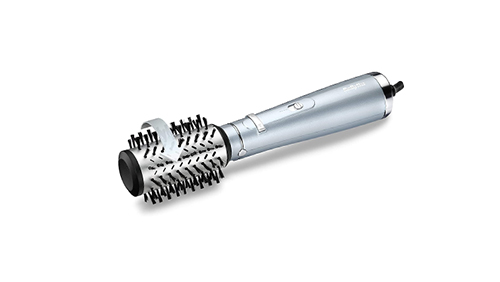 This is another hot selling and innovative BaByliss styling brush in the UK too. I think part of what makes hot air brushes so popular because you don't get much heat damage while you can still achieve a pretty good salon-grade hairstyle.
If you want to get one step higher for protecting your hair from being stiff and damage, this new BaByliss Hydro-Fusion hot air brush is something that you want to look at.
It looks pretty much the same as a regular Babyliss rotating hot air brush, and it also features two directional buttons and three heat settings. However, it is designed for people who want premium hair protection – Its dual ionic system combines both positive and negative ions for less frizz and smoother hair conditions.
According to Babyliss, 70%-80% of the users said that this hot air brush did a better job in reducing frizz and adding moisture.