If you have done some research on the Dyson Supersonic hair dryers, you may find there are some negligible details that may confuse you.
For example, a lot of people are wondering why Dyson blow dryers have different model names such as HD01, HD02, HD03. Although these Supersonic hair dryers look exactly the same from the outside, is there any difference behind them?
Updated in 2022: We've added Dyson HD04, HD07 and HD08 at the bottom of this post
Which Dyson Supersonic Model Is The Best?
Dyson Supersonic HD01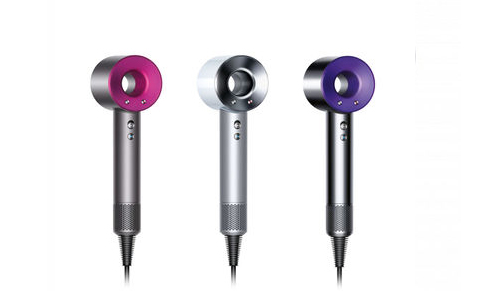 The HD01 model is the best seller hair dryer for Dyson Supersonic, and it is the most commonly seen Dyson product.
Dyson Supersonic HD01 is the oldest hair dryer model, the model was released in 2016. It has the most color options (pink, red, blue, purple, black, silver …). If you see a Dyson hair dryer with vibrant color, it is very likely a Supersonic HD01.
Dyson Supersonic HD01 carries a 1600w v9 brushless motor that can blow dry your hair quickly and quietly, which makes this dryer a very popular choice on the market. The dryer feature a smart detection that detects the temperature 20 times/second to protect your hair and the dryer itself.
The HD01 blow dryer contains three attachments: a styling nozzle, a smoothing nozzle, and a diffuser. And you have 4 heat settings and 3 speeds to control the airflow for styling and drying with these attachments.
Dyson Supersonic HD02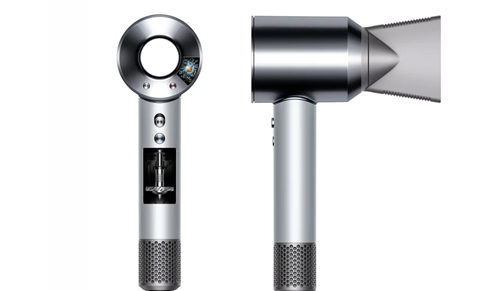 Dyson Supersonic HD02 is also called the salon professional edition. And we have posted a comparison before on Dyson dryer professional edition vs normal edition.
In short, the dryer is only available for salon owners and you need license verification to buy this hair dryer.
The main improvements of Supersonic HD02:
HD02 has 2 filters that are designed for salons while HD01 only has one. The filter of HD02 is removable and washable, and you can satisfy your customers' drying needs conveniently.
To give you a more efficient drying process, HD02 is equipped with a professional styling nozzle. The nozzle is wider and thinner than HD01's, and it can faster the drying time and be more accurate when styling.
Last, the HD02 has a very long cord for salon use. Normal HD01's cord length is 9 feet while the professional HD02 has an 11 feet longer cable that allows for freer movement around clients.
The most important thing is that you can get a very friendly price if you have a qualified salon license.
Unfortunately, Dyson Supersonic HD02 only has one color (silver white) to buy. If the appearance is a big deal to you, you probably should turn to other Supersonic models.
Dyson Supersonic HD03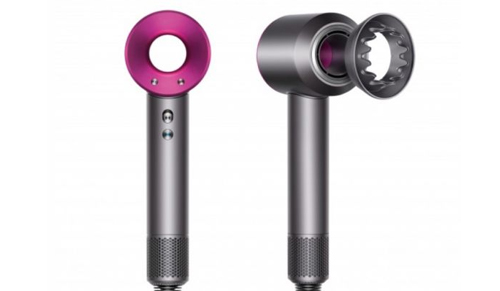 When it comes to the upgraded Supersonic HD03 hair dryer that is unveiled in 2019, the core technology does not have many changes. The dryer motor is still the same v9 brushless motor in HD01 & HD02.
Compared with HD01 & HD02, Dyson Supersonic HD03 has better temperature detection ability. HD01 & HD02 can detect the temperature 20 times while HD03's new smart heat control system measures air temperature 40 times a second.
Besides, HD03 has a new accessory in the box – the gentle air attachment. The gentle air attachment is used for lowering the drying temperature and dispersing large-area airflow. So your hair won't feel too hot when using this attachment, it is a good fit for people who want to reduce heat damage.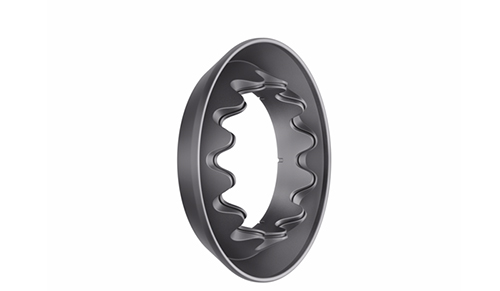 If you have the HD01 model and want to upgrade your drying experience, the attachment is sold individually at a price of $40.
Additionally, HD03 also has a styling nozzle that is wider and thinner than HD01. And the teeth of the diffuser are longer than the old diffuser, the new diffuser can handle more hair volume to define your curls.
What's more, the HD03's has a better performance when securing the attachments, all these nozzles and diffusers won't fall off easily.
However, as the latest Dyson Supersonic model, the HD03 model is the most expensive Dyson hair dryer as well.
Conclusion:
Frankly speaking, although these Supersonic hair dryer models are slightly different, it does not change the fact that they are all expensive. Here is a table of the info we summed up:
Dyson Supersonic
HD01
HD02
HD03
Feature Differences
Best Seller Model
Spare Removable Filter
Thinner & Wider Styling Nozzle
Most Color Options
Thinner & Wider Styling Nozzle
Securer Magnetic Attachment
Longer Cord (11 ft)
Gentle Air Attachment
Cheaper Price for Salon Owner
More Powerful Smart Detection
Higher Price
For family use, the HD01 is highly recommended. It is easy to buy and the most popular Dyson hair dryer model. If you are a salon owner, the professional HD02 edition is going to be your perfect choice as you can get some advanced features at a cheaper price. If you can buy the latest HD04 for exclusive stylists, it is also a good choice! If you don't care about pricing and want to get the latest Dyson technologies, then just go for a new HD03 Supersonic.
Updated in 2021: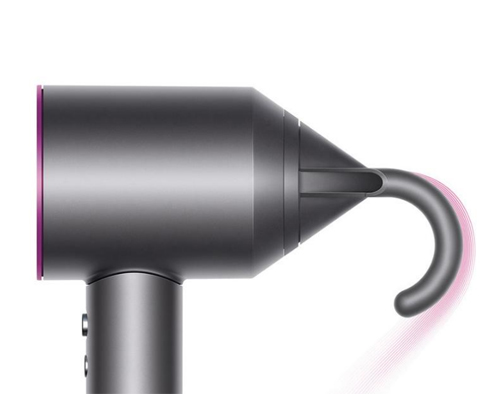 Dyson just launched a new Dyson Supersonic HD08 this July in Asian regions, which is said to be the upgraded version of the HD03. However, it does not have many new features, it only adds a Flyaway attachment to the dryer. The flyaway attachment is also available in the US, Canada, and Mexico since August 31, 2021. The HD08's new Flyaway attachment is designed for people with long hair to make their strand more smooth and they can reduce flyaways thanks to the shape of the attachment. And the new HD08 model in Asian countries is about 30 dollars more pricey than the original HD03 for the attachment. But the price in America stays the same at $399.
Updated in 2022: 
The Dyson Supersonic HD07 is identical to the HD08. They have different model names for different regions. For example, the new model is called HD07 in the UK while it is called HD08 in Hong Kong. If you are looking for the result of hd03 vs hd07: the only difference is the Flyaway attachment.