Pink has been dominating in the hair tools industry. Who can refuse a cute & attractive blow dryer that is coated with candy pink?
However, choosing a hair dryer is not as easy as buying a hair clip. If you want to buy a pink hair dryer with fantastic design and amazing performance, your options are actually limited.
When it comes to pink hair dryers, T3 Micro is the brand that you can not miss since most dryer models from T3 usually has a pink option to buy. So, you can coordinate your favorite color, dryer design, and features all at the same time.
Top Picks of T3 Pink Hair Dryers That Are Available Right Now
There are many options when you decide to buy a hair dryer from T3, each hair dryer has different features and target customer.
But you don't have to worry, after seeing these the most popular pink T3 hair dryer models, I believe you will make a smart move.
1. T3 Pink-Colored Cura Hair Dryer – Rose Collection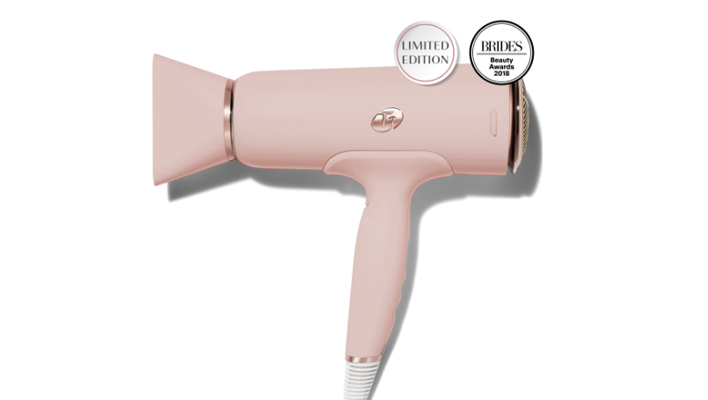 The Cura hair dryer is definitely the most popular hair dryer among T3's products, and this powerful blow dryer provides us with a beautiful pink colored option so we had to add it to our round-up.
It's a product from T3's rose collection, and the whole dryer body is coated with light pink. It does not give you a boring design as their nozzle brim, back filter, and the center logo are rose gold.
The pink hair dryer is a limited-edition, and this T3 Cura dryer is the winner of 2018 BRIDES beauty award. Now, let's find out why this cute pink dryer is beloved by many stylists.
T3 Cura hair dryer is equipped with T3 Digital IonAir, which allows you to control the temperature digitally. The built-in ion generator helps you to neutralize positive ions on wet hair and boost hair volume and natural shine.
With an 1875 watts long-life motor, the dryer offers 3 heat & 2-speed settings + a cool shot button for you to style your hair better. Although this Cura dryer does not offer extremely hot & fast airflow, its gentle airstream is going to make you fall in love with blow-drying your hair every day.
Besides, its lightweight design and the quiet motor will make your drying process much comfortable. Your hands won't be tired and there is no much noise that makes you feel annoyed.
2. T3 Featherweight Compact – Pink – Rose Collection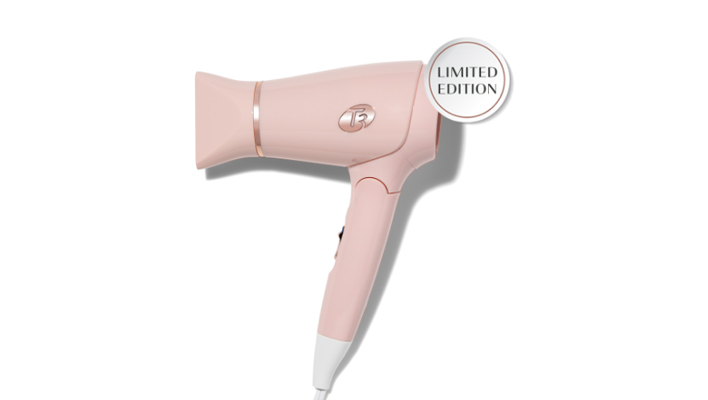 The T3 Feather Compact is a travel blow dryer, equipped with the folding handle & dual voltage. The model is available in a variety of colors, including pink, just like the above T3 Cura hair dryer.
The Feather Compact hair dryer is worth mentioning as it gives you a whole different experience when you are on the road. Although the product is the cheapest hair dryer model from T3, it is not a weak blow dryer at all.
First, it is an extremely lightweight blow dryer and it only weighs 0.86 LB. With a foldable handle, the hair dryer can become a mini tool that can perfectly fit in your luggage case. Also, for those that need to take hair dryer in hand luggage, this pink Featherweight Compact dryer is perfect.
When it comes to drying performance, this small hair dryer is also of high quality. The dryer is engineered with T3 SoftAire technology that boosts your hair volume and dries your hair quickly even on the go.
To protect your strands better, the dryer carries ceramic coated elements, which is beneficial for your hair as ceramic materials can give your hair more shine and less frizz.
As a travel blow dryer, the dual voltage feature allows you to go to any country without worrying about the appliance voltage compatibility.
The dryer is a good travel partner, but the cons are obvious too. It may not give you the hottest airflow as the wattage of its motor is only 1200w and you only have two settings to adjust the temperature & airflow speeds.
Some T3 Pink Hair Dryers Are Currently Out of Stock
Actually, T3 has more options in pink hair dryers but some of them are not available to buy now. Since their official website is not promoting these models, I believe these pink hair dryers models are discontinued.
For example, the T3 Featherweight 2 used to have 2 pink models: a light pink model and a super pink model. You can see how they look like in the picture below.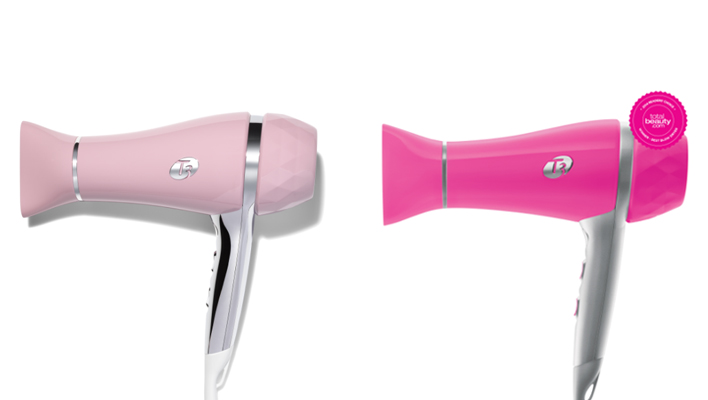 In spite of these cute pink colors and the two Allure Best of Beauty Awards they woned, the Featherweight 2 model is a very old version of T3 hair dryer so it does not feature many high-end hair care technologies. And the best choice of T3 pink hair dryer nowadays is still Cura or Featherweight Compact.