Let's be honest, a pink hair dryer with advanced features is hard to find on the market, isn't it?
Besides T3 Micro's pink rose collection, lucky for you there is another company out there manufacturing pink blow dryers with excelllent quality.
If you are interested in investing in a high-end pink hair dryer, you'd better take a look at these ghd pink hair dryers.
Top 2 ghd Pink Hair Dryers for Sale in 2020:
Unfortunately, ghd does not have many pink blow models available to buy. But luckily, the 2 pink models they are selling right now are the most advanced & the latest among their hair dryer products.
1. ghd air® by Lulu Guinness – Black & Pink Gold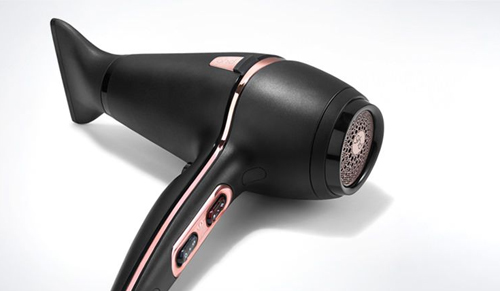 One of the best things about the ghd air is that you can buy a styling and professional blow dryer without spending hundreds of dollars. The dryer is decent and affordable.
While this dryer isn't offered in a true pink version, you can see from the picture, the ghd air by Lulu Guinness features pink accents that are pearlescent and shiny. The black and pink combination is beautiful and it does not give you a cheap feeling at all.
As far the dryer itself is concerned, We think it is one of the most cost-efficient upscale hair dryers in 2020. This pink blow dryer with a professional-strength motor that offers a decent blow dry that you can only experience in the salon before.
With a built-in ionic generator, the hair dryer can give your hair a shiny and protective finish during the blow drying process. Besides, the lightweight design is not causing you any hand or wrist fatigue even after using it for a long time.
Furthermore, the blow dryer is well-packed in a pink gift back with a special dust bag. Giving this complete gift set to your sisters is definitely going to make them super happy.
2. ghd helios Hair Dryer in Powder Pink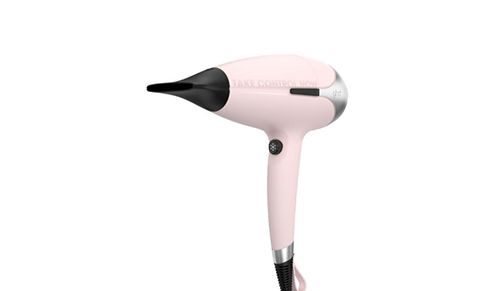 The ghd helios is one of the most high-end ghd hair dryers of 2020, and it's still a pretty good choice if you are looking for a professional salon-grade handheld blow dryer.
Fortunately, they are offering the ghd helios hair dryer with a pink coated version, meaning that you can get an adorable hair dryer without sacrificing any drying performance.
The bad thing is I could not find this pink blow dryer on their US website, but you can find they listed this model on all their websites except the US. This is quite confusing.
This helios hair dryer from ghd's pink collection is a limited edition, the product is designed for marking the 16th year of support for breast cancer charities. According to ghd, a donation from every sale of this ghd blow dryer pink model will go to the National Breast Cancer Foundation.
Pink finish aside, the powder pink ghd helios hair dryer is a solid pick for one of the best blow dryers in 2020 for homes and salons. With a 2200W drying motor, the hair dryer can faster the drying process drastically.
ghd says helios blow dryer can channel a focused airflow traveling at 120kmph by using the unique Aeroprecis technology. And you can style your strands precisely and make them more manageable easier with ghd's bespoke contoured concentrator nozzle. Also, with an advanced acoustic system, this quiet blow dryer won't create much noise during use.
Although ghd helios is an advanced model, it does not give you a heavy feeling when you hold it. The helios blow dryer only weighs 0.78kg so it is a very easy-to-use product actually. Additionally, thanks to its ergonomically balanced handle, you won't feel any pain when using this lightweight hair dryer.
We're seeing the helios blow dryer being offered by ghd on its official US web store at $249, it's pretty expensive but it's worth it.
Further readings:
ghd Helios Hair Dryer vs Dyson Supersonic Blow Dryer
ghd Hair Dryers vs T3 Hair Dryers