People who know luxury hair tools well must be familiar with these two brands: ghd & T3 Micro.
Besides Dyson, ghd and T3 are popular brands that specialized in manufacturing high-end hair tools.
A lot of people may hesitate when choosing a hair dryer between these two brands because they both seem renowned and good quality.
If you are facing the same problem, we are here to help. We will offer the most detailed ghd & T3 hair dryers comparison here.
T3 hair dryer vs. ghd hair dryer, let's see who will win the battle of the upscale hair dryers.
How Many Hair Dryer Models Do ghd & T3 Micro Have?
If you go to ghd's official website and open the tab of their hair dryer category, it looks like they have plenty of hair dryer models that are currently on sale.
However, if you look closely, you will find many of them are special editions or discounted bundles, the truth is that many hair dryers are actually identical except their colors.
Despite the various colors, ghd currently has 3 available hair dryer models as of May 2020. Helios professional hair dryer, which is the most expensive hair dryer from ghd. ghd Air hair dryer, a solid model for homes. And flight travel hair dryer – the mini dryer with dual voltage for travelers.
It is much more simple when it comes to T3's blow dryer product line. T3 also has 3 models on their site currently: Cura Luxe, Cura, and Featherweight Compact. And each product model has three colors to choose from.
It's not hard to see the product level of T3 is identical to ghd's. Overall, the targeting audiences of ghd and T3 are pretty much the same and their product positioning is quite alike.
Regarding their product series' design, ghd has more colors for you to choose from, especially the model of Helios blow dryer. While T3 is more low-profile and their dryers are all come in classic colors.
ghd Helios vs T3 Cura Luxe – Who Is The Most Powerful Luxury Hair Dryer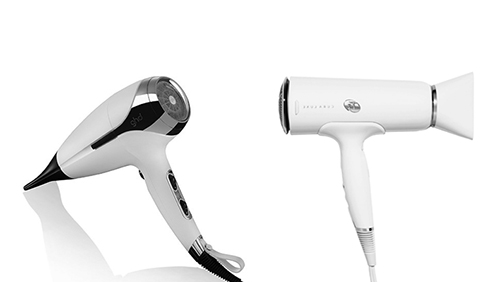 As the most expensive model from both sides, Helios and Cura Luxe should be the best hair dryer among their styling tools. Both of them are reward-winners and they are designed for professional use.
Let's see the feature table first.
Hair Dryer Model
ghd Helios
T3 Cura Luxe
Maximum Wattage
2200W
1875W
Motor Type
AC Motor
AC Motor
Weight
3 LB
2.4 LB
Ionic Technology
YES
YES
Heat/Speed Settings
3 Heat & 2 Speed
5 Heat & 2 Speed
Cable Length
9 Feet
9 Feet
Other Features
Aeroprecis Technology

Bespoke Acoustic System Technology
T3 Digital IonAir

Auto Pause Sensor

Volume Booster Switch
Where to Buy

No products found.



Buy at ghd

Amazon Store

Buy at T3 Micro

As the table is shown, we can see that ghd Helios should be the hotter one as it comes with an extremely powerful high wattage motor. And Cura Luxe has standard wattage for regular blow dryers: 1875 watts.
Although ghd Helios blow dryer may offer you stronger and hotter airflow, T3 Cura Luxe surprisingly has 5 heat settings and a well-functioning lock-in cool shot button.
This means you are able to precisely control the heat while blow drying with T3 Cura Luxe. If you are a stylist that needs to create various hair looks by a blow dryer, T3 should be the winner for you.
These two blow dryers are both equipped with advanced ionic technology, providing you comfortable drying experience and protecting your hair from heat damage.
As for their technologies, the ghd Helios blow dryer utilizes Aeroprecis technology, which is a patented technology that combines internal aerodynamic design with a special nozzle. This technology can make the airflow more concentrated for styling and faster drying time. Also, ghd features a Bespoke acoustic system, which can lower the noise of the dryer.
Cura Luxe from T3 has its own way to control the airflow – T3 DIgital IonAir. They said the technology can offer precise, digitally-controlled heat so that your hair can maintain healthy and shiny while blow drying. Also, there is a volume booster switch for you to create a voluminous hair look. And its auto-pause function is great for securing your safety while drying your hair.
According to the prices on their websites, the price of ghd Helios is about $30 higher than T3 Cura Luxe. It's not a huge gap, but buying ghd Helios is definitely a big investment for a blow dryer.
ghd Air vs T3 Cura Blow Dryer – Which Is Better for You?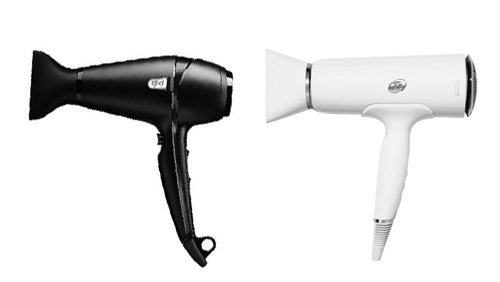 Hair Dryer Model
ghd Air
T3 Cura
Maximum Wattage
1600W
1875W
Motor Type
AC Motor
AC Motor
Weight
3.2 LB
1.75 LB
Ionic Technology
Yes
Yes
Heat/Speed Settings
3 Heat & 2 Speed
3 Heat & 2 Speed
Cable Length
9 Feet
9 Feet
Where to Buy
Amazon Store

Buy at ghd

Amazon Store

Buy at T3 Micro

Although ghd has a very powerful motor in the first round, the ghd Air blow dryer only carries a 1600-watt motor while T3's Cura also has an 1875-watt standard motor.
According to their product description, the most obvious difference between these two professional hair dryers is that ghd Air is way heavier than T3 Cura.
This is a bit strange actually. A high-end blow dryer is usually heavier because of its powerful motor and advanced heavy-duty components. However, the fact is that ghd Air blow dryer is slightly heavier than ghd Helios hair dryer.
Luckily, the ghd Air and Cura T3 are both equipped with an ergonomic handle, which will not make your wrist and shoulder sore while blow-drying.
The heat/speed settings are basically the same. But T3 utilizes one-button design and digital lights to indicate the airflow status and ghd air blow dryer uses traditional switch buttons.
Although ghd air blow dryer and T3 Cura are both ionic models, they don't have many hair care technologies actually.
As a cheaper version, ghd air has no Aeroprecis technology and Bespoke Acoustic System technology. The same goes for T3, Cura is not as luxury as Cura Luxe as it does not have Auto Pause Sensor and Volume Booster Switch.
T3 Cura blow dryer is currently the best seller among all the T3 dryers, even though T3 Cura has a slightly higher price than ghd Air blow dryer. But the dryer is worth every penny for its reliable quality.
ghd Flight vs T3 Featherweight Compact – Battle of Travel Hair Dryers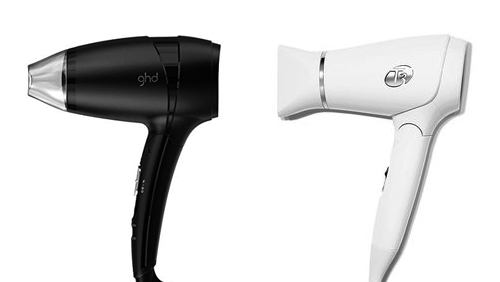 Hair Dryer Model
ghd Flight
T3 Featherlight Compact
Maximum Wattage
1200W
1200W
Weight
1.2 LB
0.86 LB
Folding Handle
Yes
Yes
Ionic Technology
Yes
Yes
Dual Voltage
Yes
Yes
Heat/Speed Settings
2 Heat/Speed
2 Heat/Speed
Cable Length
5.9 Feet
9 Feet
Where to Buy
Amazon Store

Buy at ghd


No products found.



Buy at T3 Micro

ghd Flight blow dryer and T3 Featherweight compact are both designed for travelers.
They are pretty lightweight and small-sized. And they all have dual voltage feature so you can use them everywhere in the world.
They both come in a blow dryer storage bag, and you can easily put them in your luggage as they have a foldable handle. The main difference is that ghd flight travel dryer has a shorter cord for easy storage while T3 has a 9-feet longer cable that has more flexibility.
Even they are affordable and mini, they still have ionic technology to give your hair protection on the road.
The ghd flight travel blow dryer and T3 Featherweight compact are very simple models, and you will not get the performance that a professional model can offer. But they are durable and easy to carry. If you'd like to pick a lightweight dryer that makes your trip easier, these two models are great fits.
As for the price, ghd travel light is much more friendly to customers as it is only half the price of T3 Featherweight Compact.
Summary:
ghd and T3 have pretty similar blow dryer product lines.
If you think a blow dryer should be stylish, you have more color options in ghd's Helios, which is the most expensive model and most powerful from ghd.
Although the luxury version Cura Luxe might not have the most powerful motor, its controlling system will not let you down. You can digitally control 5 heat settings, which can be the most precise setting on the market.
If you'd like to know the result of ghd Air vs T3 Cura, I personally think T3 Cura wins. T3 Cura has a lighter dryer body and it does not sacrifice its decent airflow system and Digital IonAir technology, but you can get it at a much cheaper price.
Besides, T3 Cura series have two concentrators for you to style your hair better while all the ghd blow dryers have one nozzle in the box only.
When it comes to their travel blow dryers, ghd flight travel hair dryer and T3 Featherweight Compact are both doing okay. But you can not say they have amazing performance as they are just like other regular blow dryers.