Have you thought about air-drying your hair without any hot styling tools?
If you think air drying takes too long to make your hair dry, today I am going to show you two ways of how to air dry your hair overnight.
By following the tutorial, you can achieve a great hairstyle conveniently & easily without a blow dryer.
How to Air Dry Hair Overnight By Making Hair Buns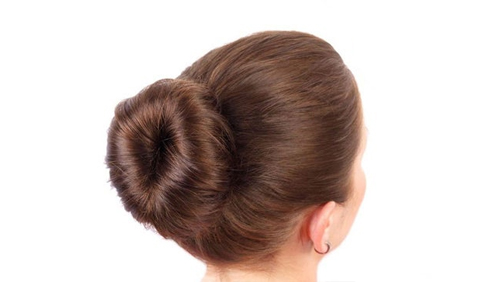 Step 1. Towel Dry Some of Your Hair
We will not go to bed if our hair is soaking wet. After getting your hair freshly washed, use a towel to gently dry some of your hair first.
You can put the towel on your head and squeeze the water out of your strands. Do not rub or twist the towel too hard as it will cause frizz and damage to your hair.
When your hair stops dripping water, use some fresh parts of the towel to absorb the water from your hair sections where are still pretty wet.
Once your hair is damp but not super wet, the towel drying process is finished.
Step 2. Apply Your Hair Products According to Your Hair Type
If your hair is the type that is easy to have frizz occurred, to reduce frizz and static, you can try to use a leave-in conditioner or air dry styling cream to get your hair more manageable and more smooth.
But usually you just need a lightweight hair spray to make sure your hair is shiny and healthy when you wake up.
Step 3. Tie Your Hair into Buns with Hair Ties/Scrunchies
For people who don't have huge hair volume, you just need one hair bun. If you have a pretty voluminous hair texture, I recommend you tie your hair into several buns to faster the drying time.
Tieing your hair helps to prevent your hair from becoming crazy while sleeping because nobody wants crazy bed head hair.
Step 4. Wrap Your Hair in Another Towel & Go to Bed
This is the last step before you go to bed, and the towel should be soft and anti-static so that your hair quality won't be hurt.
To secure the towel, you can use a hair clip or you can just make a top knot.
We need to wrap your hair in another towel because it can make your hair dry quicker. And damp hair will create friction against your pillowcase and your hair will be frizzy without a buffer.
PS: If you think your pillow is silky enough and friendly to hair, you can also sleep with your wet hair without a towel too. But the moisture in your hair can penetrate the pillow and it may cause mold.
Step 5. Fluff Your Hair in the Morning
On the next day, remove the towel and the hair ties. Fluff your hair with your hands to make it more natural and you are good to start your morning routine.
How to Plop & Air Dry Curly Hair Overnight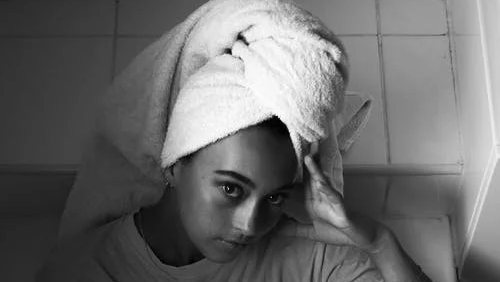 For people who have curly hair and want to achieve defined hairstyles by air-drying overnight, here is the best way: Sleep in the plop.
Step 1. After Showering, Squeeze the Water Out of Hair Gently
To shorten the drying time and make the result perfect in the morning, it's better to squeeze the water out before start plopping.
Otherwise, an 8-hour sleeping time might not be enough for getting the job done completely because the spiral shape curly hair can contain much water.
Step 2. Apply Your Styler on Your Hair
You should apply hair products when your hair is wet but not soaking wet.
You can use your favorite leave-in conditioner that moisturizes hair when plopping. Also, using Air-Dry creams that help you to define curls is another great idea.
Step 3. Get a Long Towel or a Dry T-Shirt and Put It On the Chair
I personally recommend you go for a microfiber towel that is specially designed for plopping curly hair since T-shirts are no that comfortable to use. And harsh fibers can cause frizz and static, giving your hair damage.
Step 4. Put All Your Hair to the Front and Cover It with The Towel
Bend over and flip your hair over and onto the center of the towel, and cover your curls with the towel.
Grap the two sides of the towel and get up. And then make them secure by making knots or using a rubber band.
If you are not sure what to do, here is a video tutorial:
Step 5. Remove the Towel in the Morning
My hair usually looks great and fine after I air dry my hair overnight, but some people with thick curly hair will find their hair still has some moisture when they wake up.
Don't worry. Scrunch the curls with the outside of the towel till they don't release any moisture. Or you can just air dry the hair naturally, which can preserve curly hair's health and integrity. You can also see more info in our post of air drying curly hair.