You can turn to plenty of hair tool brands if you're shopping for one of the upscale blow dryers. However, if you are looking for the latest high-end dryer model, the ghd Helios should be worth-considering.
You might be wondering how great the dryer is compared to the most expensive Dyson Supersonic blow dryer, so we decided to write this comparison between these two models.
ghd Helios vs. Dyson Supersonic – Tech Specs Comparison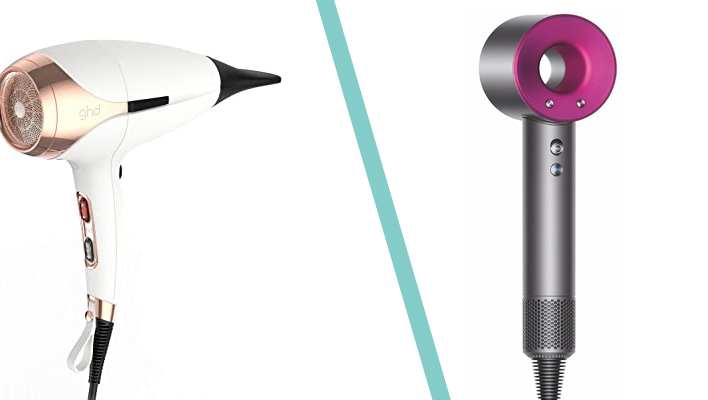 Brand/Model
ghd Helios
Dyson Supersonic
Wattage
2200W
1600W
Heat/Speed Settings
3 Heat & 2 Speeds
4 Heat & 3 Speeds
Weight
3 Pounds
1.8 Pounds
Technologies
Direct Ion Technology

Aeroprecis Technology

Bespoke Acoustic System Technology

Air Multiplier Technology

Ionic Technology

Intelligent Heat Control

Attachments
Styling Concentrator

Smoothing Concentrator

Smoothing Nozzle,

Styling Concentrator,

Diffuser

Cord Length
9 Feet
9 Feet
Where to Buy

No products found.

To the shop
You can tell from the table that both hair dryers are quite mature at this stage, having featured the best technology & design on the market.
Still, however, each has its own strengths, and there are some reasons you might want to pick one over the other.
So, next, we will take a look at the respective advantages of each hair dryer model, and you can choose the right one.
ghd Helios vs Dyson Supersonic – Strengths of ghd Helios Hair Dryer
No products found.
The Drying Power Is Better Than Dyson Blow Dryer
The ghd Helios has featured a very powerful AC motor that allows you to get the most satisfying blowouts, and the 2200W high wattage model can certainly cut your drying time significantly.
If you search some regular blow dryers for home use online, you will find their wattages are usually between 1600W to 1875W. A powerful motor provided by ghd Helios makes it a perfect fit for professional stylists and salons.
According to the ghd website, they claim that this dryer's brushless motor can deliver a 75mph airflow, which is a top-notch performance in the industry.
So, the ghd Helios can be the better dryer than Dyson Supersonic when it comes drying time.
And you don't have to worry about if it's a noisy monster. By using a special technology called Bespoke Acoustic System, it is actually quieter than a regular blow dryer.
Advanced Ionic Technology
Another one of our favorites is the Direct Ion Technology, which can make your strands smooth and silky during the blow drying process.
If you having problems like hair frizz or split ends, this feature is a critical feature that you really need. Besides using hair products that give your hair nourishment, a good blow dryer can also protect your hair from getting frizz and static.
ghd Helios's Price Is Lower Than Dyson Supersonic
Although ghd Helios is the most expensive model from ghd, the price is still much cheaper than Dyson Supersonic.
Buying a brand new Dyson Supersonic hair dryer can cost your around $400, while you can get the latest ghd Helios at only $249.
No matter how much you are willing to spend, choosing a cost-effective hair dryer can never be wrong.
ghd Helios vs Dyson Supersonic – Strengths of Dyson Supersonic Hair Dryer
Dyson Supersonic Has a Better Design
Though both ghd Helios and Dyson Supersonic have a pretty and stylish look, Dyson Supersonic has always had a reputation for being the most futuristic blow dryer.
The Dyson Supersonic comes with a bladeless design, which offers an extremely clean look and you won't see extra visible components such as heating wires and heating fan — which you can always find on other handheld blow dryers.
The secret is that Dyson put the motor inside of the handle, which significantly changes the look of a traditional hair dryer.
With a perfectly compact design, Dyson also made the Supersonic blow dryer a very lightweight model. Compared to other high end dryers on the market, Dyson Supersonic only weighs 1.8 pounds, which is really amazing and impressive
Advanced & Precise Heat/Speed Settings
Everybody knows that Dyson has the best digital-controlled temperature settings.
From the dryer body to its buttons, Dyson has made every product a very unique and beautiful piece. And these small rounded buttons on Dyson Supersonic are not just good-looking, you will have the most precise airflow that comes with the clean design as well.
Usually, a blow dryer has 3 heat settings, and you can choose from cold, warm and hot. Dyson has 4 heat settings, and each time you press the button, the smart LED lights will show you the level of the heat on the handle.
Besides 4 heat settings, you are able to adjust the speeds freely. Dyson Supersonic has 3 speeds for you to choose from, and you can get the most precise and the most decent airflow by using the heat button and the speed button together.
Dyson Supersonic Has More Attachments
Finally, as the most luxurious hair dryer brand, Dyson will provide you with the most solid attachments.
If you purchase ghd Helios, you will only have one nozzle in the package. However, you will have 3 different attachments for various styling use if you choose Dyson Supersonic.
These attachments are all magnetic and easy to attach. That's an amazing benefit, and you won't see them falling off easily.
Additionally, the diffuser attachment is certainly a friendly tool for people with curly hair. If you happen to have curly hair, the attachment is the best fit to define your curls.
Final Verdict:
If you know you want to buy a luxury hair dryer model but aren't sure which model to get, both hair dryers are great!
The ghd helios is an extremely powerful dryer that can shorten your drying time sharply with an acceptable price.
But if you would like to go for the most luxury hair dryer, Dyson Supersonic is still the top recommendation as it comes with cutting-edge design and the best temperature control system.