Most of the handheld hair dryers today only have 2 speed settings, which might not be accurate and precise enough for people who need to adjust the airflow speed frequently, such as professional salon staff or fashion stylists.
However, we are excited to let you know that we've gathered the best hair dryers with 3 speeds in this article. Thus, if you are searching for a hair dryer model that has a more precise speed controlling feature, you do not need to look around anymore.
Things About Hair Dryers' Speed that You Should Know
How Does A Hair Dryer Generate Different Speeds of Airflow?
When you press the button on the hair dryer to adjust the airflow speed settings, what is really happening inside the dryer's body is you are commanding the motor to work at different speed rates. The motor will drive the propeller, which is attached to the motor to spin just like a fan. So you get continuously wind from the hair dryer opening because the propeller keeps spinning and working in the back end.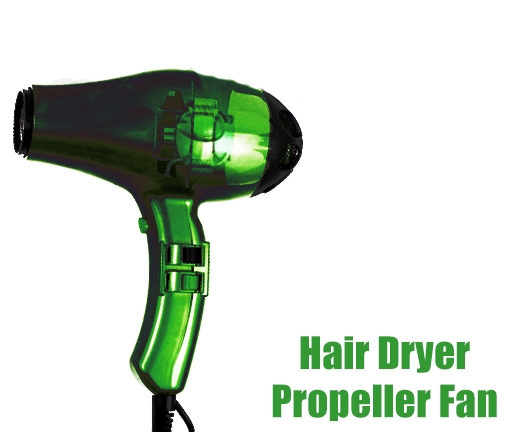 What Will Affect the Airflow Speed?
There are many reasons that hair dryers have different speeds, and blow dryers sometimes become slower than before due to the below reasons.
DC motors have better and powerful airflow than AC motors, and high end hair dryers usually use DC motors, which are heavier but more effective to save more drying time. A DC motor has a faster rpm, while AC motors' rpm is only 1/3 of DC motors' normally. The wear and tear inside the motor, such as motor wire, carbon brush, will also degrade the speed of your hair dryer.
A lot of people will ignore cleaning the blow dryer filter, which is another reason the airflow is getting weaker. Do not forget to clean the inlet of the hair dryer, or it might block the air circulation.
Fastest Airflow Rate of Hair Dryers In the World
When it comes to the airflow speed, there are two metrics that hair dryer usually use. They are MPH and RPM, miles per hour, and revolutions per minute. They are metrics at different levels, so they can not be simply compared. The MPH is about the airflow speed that comes out from the dryer, but RPM is related to the motor's efficiency.
According to our research, we've found the Remington claims that their AC9007 model has 99 MPH airflow rate with its turbo boost function, which is the fastest blow dryer MPH rate that I've seen online. Unfortunately, this does not have 3-speed settings. Correct me if you know there is a faster model.
If you are talking about the king in RPM, Dyson Supersonic says they have a technology to let the motor spins at Dyson also says the motor spins at 110,000 revolutions per minute while other hair dyers only have an average 25,000 RPM rate.
Why People Love Hair Dryers with 3 Speeds
For people who love styling their hair, having a three speed settings can help them in many aspects.
Pros of Hair Dryer with 3 Speed Settings:
Having a 3 speed adjustable settings allows you to have more options in styling. You can have extra airflow options to blow dry precisely and lock your hairstyle in a very short time. Thus, it will save you more time to dry, and the hairstyle will maintain longer periods with blow drying with cold air.
Cons of Hair Dryer with 3 Speed Settings:
However, high speed means a high wattage usage, and this costs you more electrical energy. Moreover, if you keep blowing your hair at high speed, the hair dryer motor will spin too fast, so the noise is louder.
Best 3 Hair Dryers with 3 Speeds
If you want a hair dryer with more speed settings to control, it's time to upgrade your blow dryer to a model that comes with 3 adjustable speed settings.
1. ProVersa JHD66 Turbo 1875w Hair Dryer with 3-Speed
The ProVersa JHD66 is one of the most popular 3-speed hair dryer in the market. It comes with 3 temp settings and 3 speed settings individually, and it results in more precise options in adjusting airflow.
The Tourmaline negative ionic technology adds value to its powerful airflow speed, enabling your hair will still be shiny and healthy even after blow-drying. To extend its feature for you to have a better hair styling experience, it also includes a concentrator nozzle. What's more, the dryer gives you a 1-year limited warranty freely so you won't worry about wasting your money if you are not familiar with the brand.
The only thing I might complain is that the cord of this product is only 6 feet long, this is shorter than regular blow dryers.
2. Revlon 1875W Brilliance Turquoise Volume Styler Hair Dryer – 3 Speeds

The Revlon Brilliance Turquoise hair dryer can make your hair in tip-top condition in a few minutes. Coming from a famous hair dryer manufacturer, the hair dryer won't let you down by offering you a precise 3-speed/heat button to change the temperature and the wind at the same time.
It's lightweight and compact, and blowing cool air is easy with its cold shot button. For people to keep the dryer working strong, the end cap is designed to be removable to clean. Also, a concentrator is included for you to dry and style sections by sections.
However, it's a double-sword that they combine the temp settings and the speed settings together. The design makes you lose some options to customize your heat/speed settings.
3. Dyson Supersonic Iron/Fuchsia Hair Dryer with 3 Speed Settings
Who does not want a Dyson? We know Dyson is famous for its premium feature and elegant design, so the 3 speed feature is surely available to find in the Dyson Supersonic.
But, Dyson is not just about 3 speed settings. Dyson's heat settings have surprisingly 4 levels for you to choose from, and you have 2 ways to get a blast of cold air immediately.
The attachment included in Dyson's package is also impeccable, there are two nozzles for styling and drying, and a diffuser for creating curls. Beyond that, Dyson even has an advanced version of Supersonic hair dryer called Airwrap, which comes with eight attachments to style your hair beautifully every day.