Revair has released its reverse-air hair dryer for more than a year. During this year, we have received many true reviews from purchased customers. So, today is the day we share these insights into the Revair hair dryer with you. And we will also write a detailed review based on the true tech specs & features. If you are considering buying a Revair Hair Dryer, then this is something you must read.
#1. What is Revair Reverse-Air Hair Dryer?
Revair is a pretty new hair product brand that was established in 2017. Among all the products that Revair produced, the reverse-air hair dryer is the most high-profile one. By far, it's still the best-selling hair dryer device that Revair is proud of.
If you take a look at the Revair hair dryer, what you can see obviously is the difference of the look. Unlike other lightweight handheld hair dryers that has a compact and mini size, the Revair hair dryer will give you a bulky feeling at first sight. You might think it is a vacuum cleaner without knowing it is for drying your hair.
Revair claims that their dryer model is the first and only reverse-air dryer in the world. You use the Revair hair dryer by putting your hair into the wand instead of blow-drying your hair. In other words, it creates a vacuum environment for your hair and dries long & thick hair faster than standard blow dryers.
#2. Revair Hair Dryer Components – How to Assemble Them?
If you buy a standard package, you will see below items in the box:
A Motor Base
A Hair Dryer Wand
A Vacuum Hose
A Filter
A Wand Holder
How to Assemble the Revair Hair Dryer:

It's pretty easy to assemble them in 3 steps as it shows on its manual.
You just need to put the filter into the base first. It's simple as the base has a round area that perfectly matches the shape of the filter.
And then attach the hose base to the motor base.
Finally, connect the dryer wand to the other side of the vacuum hose. Then you are good.
#3. What Features Are Highlighted In This Revair Hair Dryer
Reverse-Air Technology
The most discussed feature of the Revair hair dryer is the reverse-air technology undoubtedly. It dries your hair in a third of the time because of its high efficient vacuum drying environment.
7 Speed Controlling Settings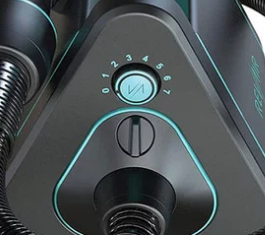 People who are familiar with hair dryers will know that it's impossible to have 7 speeds even for salon professional dryers. Usually, a hair dryer that comes with 3-speed settings will be considered as a product that has powerful speed control.
#4. Advantage of Revair Hair Dryer:
Save More Drying Time
On Revair's website, they say the dryer can be 3 times effective than regular blow dryers. Thanks to the vacuum environment, you will not lose heat and airflow during the process of drying hair. Therefore, you can thoroughly dry your hair in a more efficient way.
But, after our test, the saving time depends on how long & thick your hair is. If your hair is pretty thin or short, it's not recommended to buy this dry as you won't feel any difference about drying time and it's even more annoying to insert your hair into the wand. It does dry hair more effective when you have long or thick hair, especially you find it is hard to completely dry your curly & wavy natural hair since only the surface of the hair is dried every time.
Easy to Straighten Your Hair
Another pro that I like is that you do not need to use a brush and a blow dryer to straighten your hair simultaneously. This saves you a lot of work. To maintain a beautiful straight look, you just need to insert the strands into the wand and let them dry in minutes.
Dry Your Hair Without Damage
Even you run the dryer on its highest heat, the wattage is only 800w. Thus, your hair will not be damaged by heat and crazy airflow. It smoothens your hair in the
natural direction of cuticles. Also, because of the low wattage, the dryer is more environmental than other dryers that consume much more energy.
#5. Disadvantages of Revair Hair Dryer:
Loud Noise
The reverse-air hair dryer will have a loud noise even you set it to the lowest speed. It has a high-speed airflow-like noise. Luckily, the sound is not that annoying as other normal blow dryers. For a realistic sound performance, you can check out the review video below.
Pricy
The price is a big issue for Revair. I did not see many negative reviews on its drying performance, but I've seen many people complaining about the expensive $400 sales price. It's definitely not a budget-friendly option compared with other dryers.
#6. Revair Hair Dryer Review (Video Version)
This is a video review of Revair that created by a Youtuber. You can watch how it works before you make your choice.
Final Verdict
So, if you are a person who has problems with drying hair effectively or you love investing money in high-end hair tools. You can give it a try. The Revair revese-air hair dryer offers a 360° coverage of airflow, which helps you add more shine to your strands with protection. However, do not purchase the dryer on a sudden impulse since it's not cheap. You do not want to get pissed by your impulse later on.
Revair Reverse-Air Hair Dryer Review
Power

Temperature Settings

Noise Level

Technology

Price
Summary
Revair Reverse-Air hair dryer is a cutting edge model that can completely change your drying method and drying experience. If you have pretty long & thick hair that is hard to dry, using this dryer may surprise you.