If you have pretty short hair or you decide to chop your long hair off, then a hair dryer brush can simplify your morning routine.
Why is that?
Short hairstyles like short bob or side-swept bangs usually need a bit of a curvy look, so you probably need brushes and combs to work with your dryer.
A hair dryer brush is a hair tool that combines a blow dryer and a round brush together. That is to say, you can style and dry your hair at once, and you don't have to use a blow dryer and a brush separately.
But, what is the best blow dryer brush model for short hair on the market? Let's find out!
The Best 5 Hair Dryer Brushes for Short Hair of 2022
1. Revlon One-Step Plus Hair Dryer & Volumizer Brush
As the most popular hair dryer brush, the Revlon One-Step is certainly one of our recommendations for you. And the new Revlon One Step Plus with the smaller barrel is perfectly used on short hair.
Why do we think it is a good fit for short hair?
The Revlon One-Step is a lightweight product weight is only 1.63 pounds. It does not cause hand fatigue when you reach your hair sections in the back.
And the oval body's size is also great to work on short hair, you can easily wrap your hair around the brush and create hairstyles easily.
Besides, the tufted bristles are equipped with boar technology to detangle your hair effortlessly. And the dryer body is coated with ceramic material, protecting you from high heat and making your hair dry faster.
The dryer brush has additional settings, which is a big improvement compared to the original One Step.
To make your hair more smooth and shiny, the hair dryer brush features ion technologies that can hydrate your strands and prevent your hair from getting hurt by the high heat damage.
Although everybody is talking about this blow dryer brush, the price is actually friendly. Besides this round brush version, Revlon also has a blow dryer paddle brush, which is designed for straightening hair.
To learn how to style your short hair, please see the video below:
2.
Hot Tools Signature Series One-Step Round Brush Dryer
The new Hot Tools  round brush is a versatile brush dryer for short hair, and it has multiple sizes for you to choose from, which means that you can always find the one that perfect for your hair length. The smallest size offers a 1.5″ barrel, and it is specially designed for short to medium-length hair.
Just like the old Hot Tools brush, the new dryer brush for short hair also features the Direct ion Technology to add more shine and reduce frizz. And it is designed with thermaglide ceramic coating, which is said to deliver heats evenly and healthily for shiny and smooth styles also.
The advantage of this new round brush hair dryer and volumizer is that it is now detachable. That is to say, you can remove the barrel easily and pack the barrel and the stand easily in your luggage when traveling.
3. Hot Tools Professional Charcoal Infused One Step Blowout
If you need a more advanced all-in-one hair tool to take care of your short hair, this Hot Tools blow dryer brush is going to be the most accomplished model.
It should come as no surprise that the Hot Tools One Step Blowout is one of the best hair dryer brush for short hair. After all, the dryer brush comes with its special 24k gold technology and infused charcoal that can give your hair shine and nourishment.
It stands out from other hair dryer brushes by having direct ion technology that leaves the hair looking conditioned and smooth. And it also helps you reduce hair frizz and static.
As a result of all this, the blow dryer brush is great for styling all kinds of hair. So a short hair hairstyle is a piece of cake for this Hot Tools styler.
The price of the model is slightly higher than Revlon One Step styler, but Hot Tools offers a 7-year warranty so you don't have to worry about their after-sales services.
Read More: Our Review on Hot Tools One Step Blowout
4. Drybar Single Shot Blow Dryer Brush for Short Hair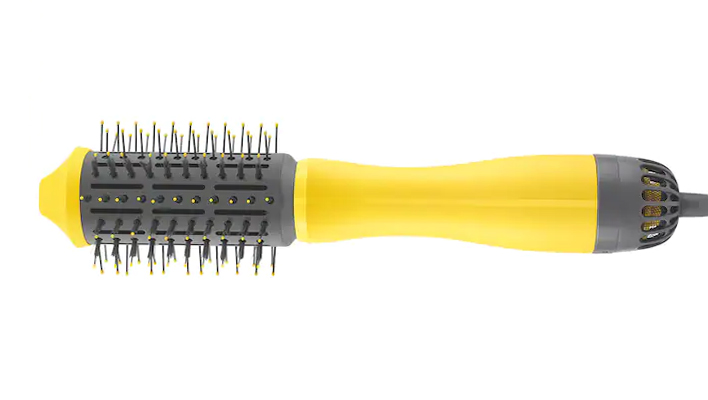 Drybar's latest Single Shot is their best blow dryer brush for short hair in 2022. Compared to the Drybar Double Shot blow dry brush, the new Single Short can help short hair to get more bounciness with its smaller round barrel with wider air vents.
To be honest, the product is not cheap, but it is worth the money. If you have tried the old Drybar Double Shot hot air brush, you will know how powerful their product is. You can blow-dry and style your hair in half an hour. With this new blow dry brush for short hair, you can even faster the styling process. Most importantly, the round brush hair dryer can curl your short hair precisely and flexibily. If I have to review this product, I would definitely say this is one of the best hair stylers for short hair in 2022.
5. Dyson Airwrap Complete Styler – for Multiple Hair Types & Styles
The Dyson Airwrap isn't the newest blow dryer brush any more but it's still the most powerful versatile styler.
Thanks to its magnetic attachments, the styler can be used as various hair tools. By replacing the attachments, you can use the Dyson Airwrap as a blow dryer, a curling wand, a hair dryer round brush, and etc.
The dryer brush is a good fit for professional use, so it can finish the job of styling & drying short hairstyles perfectly.
The Dyson Airwrap is a high-end device, with 3 heat settings and 3 speeds. It is the most precise hair dryer brush in the world as well.
Another big feature of the Dyson AirWrap is intelligent heat control, the heat control feature can measure the airflow temperature constantly while you blowdrying your hair and adjust the heat automatically to make sure your hair's safety.
Obviously, the biggest disadvantage of this Dyson multi-tools styler is that it is too pricy for most of us. Although the Airwrap can be used as various hair tools, I would rather go for these tools separately as it might be even cheaper than purchasing a Dyson Airwrap.
You can see the differences between Dyson Airwrap & Supersonic if you want to know more.