Hot Tools' hair tools are incredible as they are professional and easy to use. Most importantly, you don't need to spend tons of money because their products' prices are fair.
There are a lot of great Hot Tools blow dryers, but which one should be the best Hot Tools of 2020? We are here to help you to decide!
Best 3 Hot Tools Hair Dryers At a Glance:
Comparison Table of These Best Hot Tools Blow Dryers: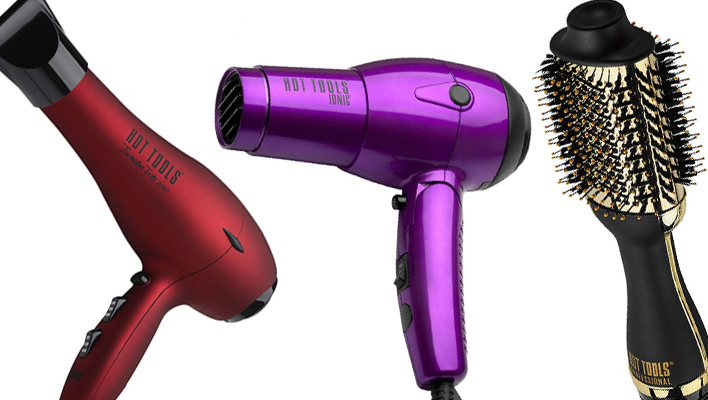 (Scroll the table if you are a mobile device user)
Hot Tools Dryer Model

Tourmaline Tools 2000
Travel Hair Dryer
One Step Blowout
Wattage

1875W
1875W
1100w
Weight

1.5 Pounds
1.5 Pounds
1.6 Pounds
Direct Ion Technology

Yes
Yes
Yes
Heat/Speed Settings

3 Heat Settings / 2 Speeds
2 Heat/Speed Settings
Rotating Temperature Control / 3 Speeds
Attachments

Diffuser
Concentrator
Comb
Diffuser
Concentrator
None
Other Features
Tourmaline Technology
Dual Voltage

Folding Handle
24K Gold Technology

Charcoal-Infused Bristles
1. Best Overall – Hot Tools Tourmaline Tools 2000 Blow Dryer
Dimensions: 10.8″ x 4.6″ x 9.9″
The tourmaline tools 2000 is the best and the most powerful Hot Tools handheld blow dryer that you can buy right now.
It's also the most popular Hot Tools blow dryer model and it has hundreds of postive feedbacks online.
The dryer is loved by professional stylists and hairdressers as it provides staggeringly good drying experience and it features multiple advanced hair care technologies.
Being the flagship blow dryer of Hot Tools, the model has an eye-catching red finish with some black elements.
It features 3 heat settings and 2 speeds when it comes to its drying power and there is an individual cool shot button that allows you to get cold airflow conveniently.
When it comes to the technologies, this hair dryer packs a direct ionic generator, offering your hair enough moisture while blow drying so that your strands won't be burnt.
And you can tell by its name that this blow dryer contains tourmaline, which is a natural material that can boost your hair volume, preventing your hair from getting much heat damage caused by the dryer.
The Hot Tools Tourmaline Tools 2000 also packs various attachments to fulfill your drying needs perfectly. Inside the box, there is a Finger Diffuser for creating curls and volume, a comb attachment for detangling hair knots, and a concentrator that is the best fit for styling your hair.
You might think a professional hair dryer is usually heavier than regular blow dryers, but this Hot Tools Tourmaline Tools 2000 only weighs around 2 pounds. It won't give your hand or wrist any pain or sore while blow-drying.
However, as one of the most advanced hair dryers of Hot Tools, this hair dryer price is relatively higher than normal dryers. Luckily, compared to luxury hair tools such as T3 or Dyson, the dryer is still considered to be affordable.
Pros of Hot Tools Tourmaline Tools 2000
Lightweight
Powerful Airflow
Ionic & Tourmaline Technologies
3 Attachments Included
Cons of Hot Tools Tourmaline Tools 2000
A Little Pricy
The Dryer Body Gets Hot On Heat Mode
2. Hot Tools Ionic Travel Hair Dryer – A Great Value Dryer for Travelers
Dimensions: 7″ x 3.5″ x 10.1″
The Hot Tools Ionic travel hair dryer is one of Hot Tools's more affordable models, yet it still features direct ion technology that can hydrate and protect your tresses.
Although the dryer itself is very small and compact with a folding handle, it also packs a powerful 1875W motor, providing strong and hot airflow even on the go.
Plus, unlike regular blow dryers for home, the Hot Tools travel hair dryer comes with a universal dual voltage feature that allows you to use this dryer in any country without worrying about the voltage.
When it comes to the drying experience, this travel dryer is not as precise as professional dryers as it only has 2 heat/speed settings. But, the Hot Tools travel blow dryer comes with 2 attachments, a diffuser, and a concentrator. Styling your hair while traveling is easy.
Pros of Hot Tools Travel Blow Dryer
Lightweight & Compact
Direct Ion Technology
Budget-Friendly
Cons of Hot Tools Travel Blow Dryer
3. Best Hot Tools Blow Dryer Brush – One Step Blowout
Dimensions: 6.6 x 11.3 x 10.1 inches
Unlike other hot air brushes, this is a real product that combines blow dryer and a round brush and it can dry your hair efficiently just like regular blow dryers.
Coming in a stylish design, the One Step Blowout is the newest and one of the best blow dryer brushes on the market. With a superb heat system, you can rotate the bottom to adjust temperature and you have three-speed settings for ultimate styling control.
The Hot Tools One Step blowout is equipped with direct ion technology, ensuring your hair is anti-frizz & smooth while blow-drying and styling.
Although the model might take longer to dry your hair, its special-designed airflow vents are great for styling and drying your strands gently and healthily.
You may find the finish of the blow dryer brush is kind of shiny. Actually, it is called the 24K Gold Technology, which can deliver even heat distribution and give you consistent results.
You can expect to get excellent styling results, the brush utilizes charcoal-infused bristles and a unique versatile oval design that is perfect for refreshing hair.
To get a hair tool that can dry and style your hair at the same time, this blow dryer brush must be the best Hot Tools product.
Read More: Hot Tools One Step Blowout Blow Dryer Brush Review
Pros of Hot Tools One Step Blow Dryer Brush
Lightweight
Direct Ion Technology
Versatile Use
Cons of Hot Tools One Step Blow Dryer Brush
Summary
Hot Tools has become one of the most famous hair tool brands. It's easy to see why, as the firm serves up great budget blow dryers with decent hair care technologies.
Not sure where to start though? Tourmaline 2000 is the most popular & advanced blow dryer from Hot Tools, it's professional and reliable for meeting almost all the drying needs.
To find the best Hot Tools travel dryer, then you can not miss the Hot Tools compact travel dryer. It's a lightweight mini model with dual voltage. You can take it to anywhere in the world to have decent blowouts.
If you are looking for the best hair dryer brush from Hot Tools, the One Step Blowout should be your first choice. The dryer brush can deliver hot airflow when you are styling your hair, then you can make your traditional styling process much simpler.