So you need an upscale hair dryer – a T3 blow dryer, specifically. But you don't know what models you should go for? Don't worry, we are here to tell you which one is your best fit.
T3 Micro, as a luxury hair tool brand, is considered to be many people's first choice when buying expensive high-end hair tools. If you ask people what blow dryer should be the best in the world, you probably will get two answers: Dyson & T3 Micro.
From the Cura Luxe to the Featherweight Compact, you have quite a few options to choose from. Wanna know their differences and their strengths? Let's get started.
Best T3 Micro Hair Dryers Currently For Sale – Cura Luxe, Cura, Featherlight Compact, Fit
Updated Content (Updated in July 2021):
T3 just launched a new compact blow dryer in 2021 – T3 Fit hair dryer, and it's like a mini version of the professional Cure Luxe dryer. The new Fit dryer has three heat settings and two speed settings. It's more affordable than the Cura series but its power will not let you down.
The new compact fit blow dryer is not a complete upgrade to the old Featherweight compact dryer as it does not have dual voltage and a folding handle, it is great for people who like a portable dryer that can be carried upstairs and downstairs. And it's very lightweight and mini. If you are looking for a small blow dryer with flexible settings and powerful airflow, this is it!
Original Content:
If you go to T3's official website, you will find there are only 3 models listed on their pages. And each model has 3 colors. You usually have pink, white, and black to choose from, but sometimes there is a limited edition that comes with a special finish.
T3 Cura Luxe – Premium Professional Hair Dryer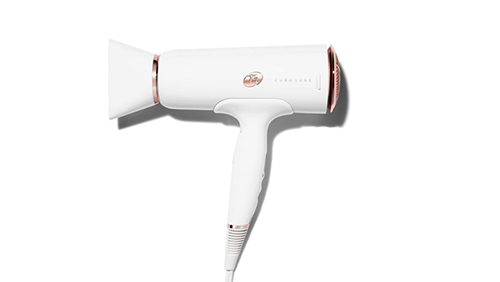 Cura Luxe is the most expensive hair dryer model from T3, and it is one of the most advanced blow dryers with premium features on the market.
Although T3 Cura Luxe has a pretty high price, it is still loved by professional stylists and beauty salons as it is definitely one of the most powerful hair dryers in the world.
T3 Cura Luxe has 5 heat settings, which is the most precise handheld blow dryer that you can find. This is quite impressive, you may not know that famous Dyson Supersonic only has 4 heat settings even Dyson utilizes their patented motor.
As the most high-end hair dryer, T3 Cura Luxe has some technologies that normal blow dryers don't have, such as volume booster & smart auto pause sensor.
Learn how to use the blow dryer in a minute:
T3 Cura – Advanced Blow Dryer
T3 Cura is more like a less luxury version of Cura Luxe, you can get it with a more friendly price if you don't want to spend too much on a hair tool.
However, T3 Cura is not going to let you down as a professional blow dryer as well. Although it does not have features as many as Cura Luxe, T3 Cura has the same Digital IonAir technology, which is can help you hydrate and smooth your hair cuticles while blow drying.
Despite the fact that T3 Cura may not have the most advanced features, this Cura blow dryer is a solid-quality and worth-trying professional hair dryer.
Here is a quick T3 Cura tutorial:
T3 Featherweight Compact – The Best Travel Blow Dryer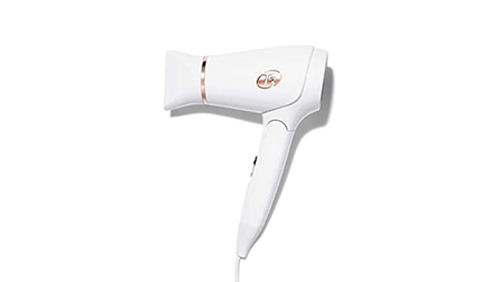 For people who need to go travel with their own hair dryer, T3 has this travel dryer called Featherweight Compact designed for them.
The Featherweight Compact blow dryer looks like a lightweight and mini model of its Cura series. What is even great is that the dryer has a dual voltage feature. that is to say, you don't need an extra voltage converter to get this dryer working in a country that requires different device wattage.
Although this little blow dryer is very small and not as powerful as Cura, the price is not that cheap. Its price is only slightly cheaper than the T3 Cura. It might be the best fit for travelers, but it is not the best model for family use.
Here is a quick video introduction to T3 Featherweight Compact:
You May Find More T3 Old Models Elsewhere
Actually, there are some models such as Featherweight Luxe 2i and T3 PROi that are not listed on their official store right now, but you can still find them on google/Amazon when you search the model name.
These T3 blow dryers may not have the best performance and not as popular as the above models. If you want to check more details or purchase them, you can go to Amazon or Sephora.
T3 Cura Luxe vs Cura vs Featherweight Compact
To know which model is the best for you, you can check out the comparison table below first.
| Blow Dryer Model | Cura Luxe | Cura | Featherweight Compact |
| --- | --- | --- | --- |
| Wattage | 1875W | 1875W | 1200W |
| Weight | 2.4 LB | 1.75 LB | 0.86 LB |
| Heat/Speed Settings | 5 Heat & 2 Speed | 3 Heat & 2 Speed | 2 Heat/Speed |
| Cool Shot Button | YES | YES | YES |
| Digital IonAir | YES | YES | NO |
| Volume Booster | Yes | NO | NO |
| Auto Pause Sensor | Yes | NO | NO |
| Folding Handle | NO | NO | Yes |
| Dual Voltage | NO | NO | Yes |
| Cord Length | 9 Feet | 9 Feet | 9 Feet |
You can clearly see from this table that Cura Luxe is the most expensive model from T3 for some reason.
The T3 Cura Luxe has the most advanced and precise temperature settings. Besides, compared to regular Cura hair dryer, Cura Luxe has two other strengths.
You have a volume booster switch for professionally styling your hair with the blow dryer. And it is the safest hair dryer as it has an auto pause sensor that can detect your action and protect you smartly during the blow drying process. When you release the handle, the blow dryer will stop working and it will resume airflow when held again.
However, besides its eye-popping price tag, Cura Luxe is the most heavy-duty one, and this is probably the only disadvantage.
It's a little unfair to compare Featherweight Compact with Cura blow dryers because the mini Featherweight Compact is designed to be as portable as possible.
With that being said, the Featherweight Compact is the weakest in drying performance. You can see from the table that this small dryer only weighs 0.86 LB and it has a folding handle to minimize its size.
When it comes to drying technologies, you won't find any advanced high-tech features in this travel dryer. You don't even have the digital LEDs that show you the airflow rate like Cura Luxe and Cura. That's why you should not buy this model as a blow dryer for your family.
But, the Featherweight Compact must be the best partner if you are planning on a trip abroad. It has a dual voltage feature that allows you to use it in most countries and it is very space-saving.
Summary
The only con for these 3 T3 blow dryers is that all of them are very pricey, even the cheapest travel blow dryer will still cost a pretty penny.
If you are willing to invest in a hair dryer that can be used for a very long time, T3 Micro is a reliable brand to go for.
If you are looking for the best luxury T3 dryer, the extremely powerful and advanced Cura Luxe should be your first option.
Too pricy? You can purchase the regular T3 Cura blow dryer, it's also professional but more budget-friendly than Cura Luxe. We think Cura is the best cost-effective T3 hair dryer.
The best travel hair dryer, Featherweight Compact, is a lightweight and small mini dryer that can be your best travel hair tool. But you should know the dryer might not provide you very strong airflow.
You might be interested: How to Remove the Concentrators from Your T3 Hair Dryer?