Having a blow dryer brush allows you to dry and detangle your hair simultaneously.
Then you don't need to hold your dryer with one hand and hold the comb with another anymore. Hot Tools just announced its new product in the 'hair dryer & volumizer' category, a blow dryer brush, which is called Professional Charcoal Infused One Step Blowout.
So, today we are here to offer you the latest review on the new Hot Tools One Step Blowout dryer brush. Let's reveal its mask with us.
1. HOT TOOLS One Step Blowout Design Review
When it comes to the appearance, the Hot Tools One Step Blowout gives you two color options this time. A 24k gold model and a black gold model. The bling-bling 24 gold one has a dazzling gold finish while the black & gold model is more low-profile and compact-designed.
The blow dryer brush's barrel is oval-shaped, which helps you to create curls and waves smoothly. The whole piece uses a round-edged design, making the brush more comfortable to hold and you will not feel tired when using it.
Frankly speaking, although the dryer does not come with a creative and innovative look that can surprise me, I will still give it a 9/10 as the non-slip coating's texture is smooth and comfy.
If you are familiar with hot air brush, you will know this new Hot Tools hair dryer brush looks pretty similar to the Revlon one step blow dryer brush. So we will also compare these two blow dryers and see which one is better in this article.
2. HOT TOOLS One Step Blowout Technical Specifications
Hot Tools One Step Blowout Blow Dryer Brush
Wattage
1100 watts
Weight
1.6 Pounds
Speed Settings
3
Features
24K Gold Technology
Direct Ion Technology
Charcoal-Infused Bristles
Cord Length
8 ft
Warranty
7 years
Price
Check Price On Amazon
After checking out the table of specs and features of this Hot Tools brush, you will find it does not come with a high-velocity motor. But it is not a big problem since you should use the blow dryer brush when your hair is half-dry.
The motor enables you to have 3 different temperature/speed settings: cold, warm, and hot. It's average when it comes to preciseness but still acceptable for daily family use.
Thanks to its compact and lightweight design, the ergonomic dryer is easy and comfortable to hold, so it does not strain your wrists and arms. Thus, If your hair is pretty thick and long, this is a saver for straightening your hair or creating curl ends.
As for the technology, Hot Tools claims that they use the 24K Gold Technology to deliver even heat distribution, it sounds pretty similar to an infrared technology that can fight heat damage and hair surface burning.
The direct ion technology emits negative ions, protecting your hair cuticles and hydrates your stands. Besides, according to our research, infused charcoal is a substance that helps to absorb deep-rooted impurities and refresh your hair more.
Lastly, some customers said the finish is ceramic, but we can not confirm if it is true, since we could not find solid proof on their website.
3. Drying & Styling Performace

We recommend you to use the Hot Tools One Step Blowout Dryer after a rough blowout. Because it does not generate powerful airflow that can dry your hair quickly, and you will spend hours on blow-drying if you do not use a traditional hair dryer first.
Although the drying performance is not as efficient as a conventional blow dryer, it is indeed a high-quality brush dryer.
It has a strong tension and comfy grips when getting through hair, this is great for detangling and fixing hair knots. And the result seems pretty decent, your hair will be smooth and voluminous after drying with this brush.
4. HOT TOOLS One Step Blowout vs Revlon Blow Dryer Brush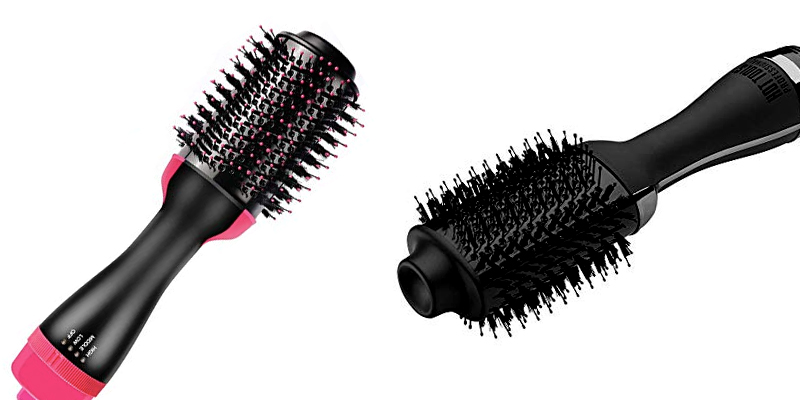 I'm not sure if Hot Tools and Revlon used the same all-purpose mold since they share an identical design from my perspective.
They both have 3 heat/speed settings and oval shape design to work as a straightener and a volumizer.
The only difference that I found on the outside is that the Revlon's swivel cord is 6ft, while Hot Tools cord is 8ft. And Revlon clearly claims their coating is made of ceramic materials, which is a method to emit infrared ray that evenly disperses the heat without causing high heat damage.
Hot Tools One Step Blowout might look more advanced because of its 24k gold technology and charcoal-infused coating.
But the features did not show us an obvious effect compared to Revlon's drying result. Nevertheless, we've seen some customers said Hot Tools blow dryer brush made their hair more smooth and kept hairstyle longer.
As for the price, the Hot Tools Professional One Step Blowout is slightly more expensive than Revlon hot air brush. Revlon is about $20 cheaper, it's not a huge difference though.
For a video version review & comparison, you can check out the below Youtube video.
Conclusion:
As one of the most popular hair dryer brushes in 2020, the Hot Tools Professional Charcoal Infused One Step Blowout is a great combination of blow dryer, straightener, and hair volumizer. It's a nice device for people who need to create straight and wavy hairstyles more effectively and it's not a highly-priced item that people can not afford. If you are looking for a new hot air blow dryer brush, give it a try!
If you want to know more about Hot Tools appliances, see our best Hot Tools blow dryer buying guide.
Review on HOT TOOLS One Step Blowout
Design

Technology

Drying Performance

Drying Time

Price
Summary
HOT TOOLS One Step Blowout is a worth-trying hair dryer brush of 2020.
If you have not had a hair dryer brush, you should take a look at it.