As more and more high-end hair dryer brands rapidly make their way into the public consciousness, it is actually getting harder when you really need to choose one on the market as there are too many specs and technologies out there.
Whether you're familiar with upscale blow dryers or not, Dyson and Drybar are two brands that are worth considering for sure.
If you only heard of their names but don't know which one should be your final decision, we are here to help by breaking down their best selling blow dryers – Drybar Buttercup & Dyson Supersonic.
Drybar Buttercup vs. Dyson Supersonic: Specs Comparison
Hair Dryer Name
Drybar Buttercup
Dyson Supersonic
Image
Wattage
1875W

1600W
Weight
1.1 Pound
1.8 Pound
Heat Settings
3
4
Speed Settings
2
3
Attachment
Wide Nozzle

Narrow Nozzle
Smoothing Nozzle

Styling
Concentrator

Diffuser
Technology
Ionic Technology
Air Multiplier Technology

Intelligent Heat Control

Heat Shield Technology
Cord Length
9 Feet
9 Feet
Where to Buy
To the shop
To the shop
Who Has The Better Design? Dyson Supersonic!
The Drybar Buttercup and Dyson Supersonic have a totally different body design.
You can see that the Drybar Buttercup is still using a traditional handheld blow dryer design, nothing particular.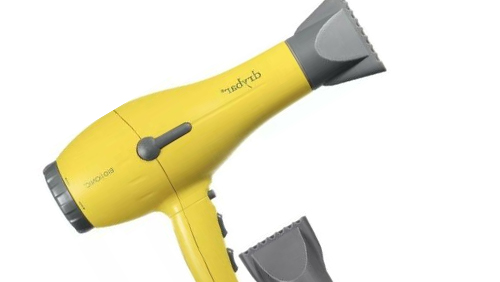 Luckily, the bright yellow finish with grey accents makes this blow dryer a pretty stylish hair tool.
What's more, the Buttercup hair dryer is lightweight (1.1 Pounds) and ergonomic, so you won't feel tired and painful when blow-drying your hair with this hair dryer.
Speaking of design, the Dyson Supersonic is a game-changer in the industry. They embed the brushless motor in the dryer handle, making the dryer bladeless on the outside and there is no visible fan or wires.
You can also see the minimalism when you take a look at the Dyson Supersonic's buttons, the small round buttons are well-designed and easy to use.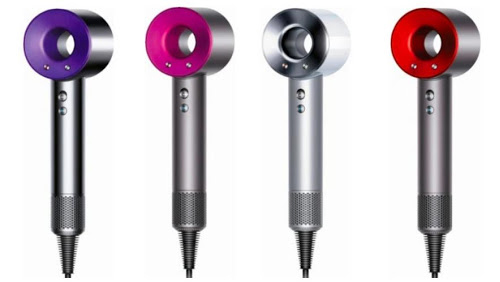 The dryer appearance aside, the Dyson Supersonic has many more color options to choose from. If you like to buy a hair tool with vibrant colors, Dyson's official website has various Supersonic models for you from pink to black. (The Supersonic professional edition only has one color to choose, see professional edition vs regular edition).
Is Drybar Buttercup Weaker than Dyson Supersonic? No Really.
If you are talking about the drying time, actually the Drybar Buttercup and Dyson Supersonic both have a great performance.
Drybar Can Do A Good Job Delivering Concentrated Air
The Drybar's motor wattage is slightly higher than the Dyson Supersonic. With special ionic technology, the Buttercup hair dryer can ensure your hair will be dry quickly and healthily.
According to Drybar, this Buttercup can faster the blow drying process by 20% than other traditional hair dryers.
Besides, thanks to the traditional long dryer body, the airflow coming from the nozzle of Buttercup is more concentrated than the Dyson Supersonic.
Here is a video that shows you how to dry your hair with the Buttercup dryer and a round brush that is available in the Drybar store too.
Dyson Supersonic's Got More Smooth Breeze
When it comes to the Dyson Supersonic's drying performance, we have to mention its patented brushless motor first.
The v9 brushless motor is hidden in the dryer handle, and it is completely different from any other blow dryer motors in this world.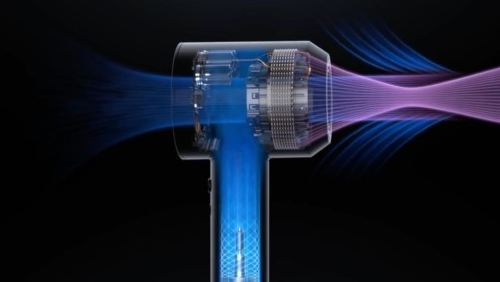 Besides the magical motor, the impressive Air Multiplier Technology is another secret.
With this technology, the airstream is more smooth and the heat is constant, which gives you a more comfortable blowout than other regular dryers.
Obviously, the Dyson Supersonic is a powerful blow dryer even though the dryer motor's wattage is only 1600w.
Drybar Buttercup vs Dyson Supersonic: Features & Technologies
First off, the Dyson Supersonic has more settings and more air speeds to adjust since regular blow dryers only 3 heat settings and 2 speeds including the Drybar Buttercup.
Both hair dryers can emit negative ions, which can reduce frizz, static, split ends effectively. But we feel Dyson does not emphasize on the ionic feature, whereas Drybar Buttercup says their negative ion generator can blow billions of negative ions into hair to seal the cuticle.
But, if you are looking to get your hair well-protective by just using a blow dryer, that might not be enough. Choosing a heat protectant that suits your hair type is also vital.
Apart from that, the Dyson Supersonic has a smarter temperature detection feature, which can detect the temperature 20 times per second to ensure the dryer is not overheated and the airflow is constant. (The newest Dyson Supersonic HD03 model can reach 40 times/s)
Additionally, Dyson has a smart Heat Shield Technology. You may think those metal-textured magnetic attachments will become super hot after a blowout. But actually they won't, you can easily take them off the dryer.
Dyson Supersonic Is Way More Expensive Than Drybar Buttercup
No doubt, the Dyson Supersonic ($399) is twice as expensive as the Drybar Buttercup ($199). But I think it's understandable & reasonable as the Dyson Supersonic is the top one luxury hair dryer brand in the world currently.
But we can't help but remind you that the Dyson Supersonic hair dryer comes with more technologies and accessories such as a diffuser, a storage hanger, and a non-slip heat mat.
Besides, the great thing is you can make easy monthly payments over 3, 6, or 12 months on Dyson's official store so you won't have too much pressure.
Final Verdict:
If you just want to find a blow dryer that can give your hair more beautiful without spending a lot, a Drybar Buttercup is perfect. The Drybar Buttercup's ionic feature is excellent for eliminating dull hair and heat damaged hair. And in the drying power category, we feel that this blow dryer is very powerful at the moment.
When you are not limited by budget and looking for the most aesthetic blow dryer in the world, the Dyson Supersonic still takes the lead. It comes with the smartest hair dryer technologies to ensure you undefeatable user experience. Although it does not perform significantly powerful when compared to other high-end dryers, it's still a solid choice that delivers decent blowouts.