Which blow dryer is right for your hair? There are many factors to consider before making a purchase, but a good-performance dryer never come cheap. Different high-end blow dryers have different capabilities, so knowing what you are paying for is important.
If you're looking to invest in a pricey dryer, you'll probably notice two popular models that have similar price tags on the market. There is no doubt that the ghd Helio professional hair dryer and the classic Harry Josh Pro Dryer 2000 are both attractive, but what's the difference between the two?
Let's cut the crap, here's is what I can tell you: The winner of 2022 is clearly ghd Helios, let me explain the reason.
Design Comparison – ghd Helios Hair Dryer vs Harry Josh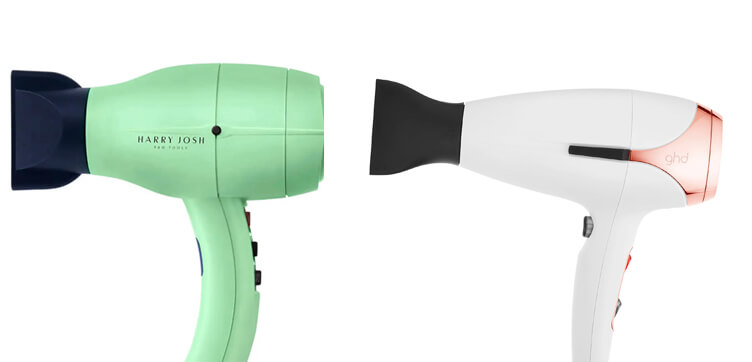 Let's start by talking about their looks. The Harry Josh Pro Dryer 2000, came out in 2013, has a traditional hair dryer design with balanced hair drying component and a curved handle that makes your hand less tired. The fresh green finish looks pretty cute and the chubby dryer body will let you to have the powerful airflow instantly.
You can see the obvious difference when you look at the new ghd Helios dryer, which has various color options to buy in their store. The ghd Helios combines a glossy dryer finish with a metal filter, which looks more modern and stylish. And the dryer body is clearly more narrower and longer than the Harry Josh dryer. In addition to the above, ghd allows you to personalize the Helios hair dryer with engraving text on their site, and you need to pay an extra $15.
But they do have something in common: Both Harry Josh and ghd decided to put their control buttons on the back of their handle, meaning you can easily operate the dryer and change the settings with your thumb.
Features & – ghd Helios Wins Clearly
Since the ghd Helios is a fairly new product that was launched in 2020, you will find many things that the old Harry Josh dryer can't provide. ghd claims that they utilize Aeropreci technology and Bespoke acoustic system in the ghd Helios hair dryer to make you have more precise control and less noise.
Both ghd Helios and Harry Josh 2000 have ionic technology, leaving your hair hydrated, shiny, and frizz-free. But I do like one thing about the Harry Josh pro dryer regarding the ionic feature – The dryer has an independent button for turning on/off the function of the negative ion. And you can turn it off if you want the airflow to be dry and powerful.
Blow Drying Performance – I like the ghd Helios dryer more, but Harry Josh is still great!
As a 10 awards winner, the ghd Helios did not let me down. It does have a powerful motor that dries hair pretty quickly and leaves no damage and frizz by using its ionic technology. During the blow drying process, the dryer did perform a bit quieter than the Harry Josh Pro Dryer 2000. What surprised me the most is that the ghd Helios dryer comes with a very easy-to-use nozzle that directs high-power airflow to anywhere I want, and you can't have this level of styling precision with any other regular dryers.
Although the ghd Helios is better than the Harry Josh Pro Dryer 2000 in precise styling, Harry Josh is not necessarily weaker than the ghd Helios when it comes to drying power. According to the official specs, they are both 1875W but the ghd Helios delivers airflow up to 75mph while Harry Josh claims that the dryer can dry hair at up to 94 miles per hour. Moreover, the Harry Josh Pro Dryer 2000 is slightly lighter than the ghd Helios even though the Helios dryer is only 1.7lbs.
Pricing – Two Expensive Hair Dryers
Another area that factors into the appeal of buying a high-end dryer is the price. Even though the Harry Josh Pro Tools Pro Dryer 2000 is a fairly old model, the price is still pretty high in 2022. It is recommended to buy this dryer at dermstore.com since the price on the site is $249, which is the lowest after we searched on multiple platforms.
It's interesting that the new ghd Helios dryer is actually cheaper than the Harry Josh. I just check the official store (2/27/2022), and you can get it at $$223.2 for a regular version that is not personalized.
Conclusion – I would recommend the ghd Helios Hair Dryer in 2022
If you ask me which dryer is better in 2022? My answer would be the ghd Helios hair dryer for sure. It's a new model that has advanced technologies and it has a stylish design, and it is even more affordable than the Harry Josh Pro Dryer 2000. Moreover, the ghd brand is more popular among stylists nowadays. If you want to purchase styling tools and styling hair products to work with the Helios hair dryer, it's so easy to find on their site.