What should we look at when buying a blow dryer – Weight? Portableness? Drying efficiency? The Sam Villa dryer seems an ideal and high-end choice for these purposes and you don't have to pay a large amount of money. Here we will compare Sam Villa's hair dryer with one of the fanciest dryers – Dyson Supersonic, let's see if they have similar overall performances.
Sam Villa Hair Dryer vs Dyson Supersonic – Will You Pay for Dyson's Design?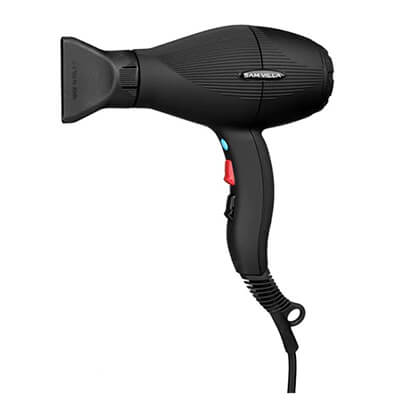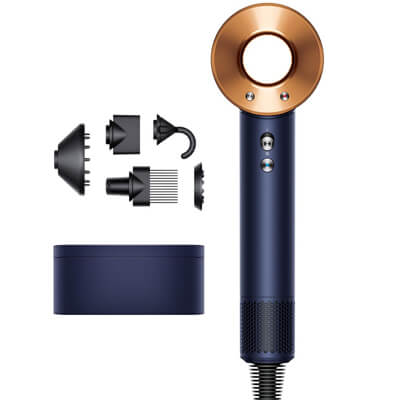 When you see a bunch of hair dryer, the Dyson Supersonic always stand out. The sleek and smooth metal finish with which the Dyson hair dryer is considered to be a beautiful and luxurious hair dryer even if you don't know its price. Most obviously, Dyson Supersonic is the one and only hair dryer that has a 100% hollow dryer body.
Generally speaking, the Sam Villa inherit the design of traditional handheld blow dryers, but it has improved the shape of the dryer and the handle to make sure it is more balanced and comfortable to hold.
Design-wise, the Dyson Supersonic still takes the lead. But if you want a low-profile dryer that does not look too shiny, the Sam Villa is definitely fine.
Which Is More Ergonomic – Sam Villa or Dyson?
Sam Villa claims that their blow dryers are pretty lightweight and you won't have uncomfortable feelings even if you hold it all day. After we tested the dryer, we are confident to say – it's true!
According to the specs, the Sam Villa is slightly lightweight than the Dyson Supersonic. But this is not the key – actually I didn't feel much difference when holding them with my left hand and right hand.
What is crucial is that the Sam Villa has a nice curvy handle that can make my hand less tired. Although the straight handle of the Dyson Supersonic dryer is aesthetic, it does not help when I need to change the heat/speed settings. And you need to practice a few times to get use to the airflow angle coming from the special Dyson drying component.
Feature Comparison – Simple & Traditional vs. Fancy & Innovative
What helps Dyson to be the top hair dryer brand is the patented technologies and premium drying features, which are rarely found on other blow dryers. As one of the smartest hair dryer, the Dyson hair dryer features its digital v9 motor with intelligent heat control to achieve healthy and satisfying looks. Plus the advanced heat setting and its various magnetic attachments for different hairstyles, you have tons of options when blow drying your hair.
If you take a look at the features of the Sam Villa, there's not much to talk about: the dryer is equipped with a ceramic/tourmaline ion generator and it has its Patented Evolution Turbo-Compressor Technology, which is designed for delivering powerful airflow without causing noisy sound. And you have standard dryer buttons that control 3 heat settings, 2-speed settings, and cool air.
One common downside of these two blow dryer is that they are not very quiet when you set it on the hot setting, even though both brands claim their dryer are extremely quiet.
Blow Drying Performance – They are both excellent, but different
Well, here is what I think in terms of their performance in the blow drying process: The Sam Villa is more powerful than the Dyson after you attached the nozzle on while the Dyson hair dryer is more effective for blow styling.
Here is the reason – To cope with different styling needs, Dyson includes multiple attachments, so that you are able to create volume for curly hair with the diffuser, detangle hair knots with the comb attachment, or even hide flyaway with the latest flyaway attachment.
However, Sam Villa does not lose to Dyson when it comes to the power. Although it only has a 1750w motor and it is not a bulky model, the Sam Villa still gives me pretty strong and fast airflow. Surprisingly, the Sam Villa dried my hair even a little bit quicker than the Dyson hair dryer with its concentrators. So using the Sam Villa dryer on thick hair types like 4C natural hair is great.
But what you can trust me is that both hair dryers are decent for drying your hair on a daily basis, and they don't have damage or burn your hair at all. According to my result, both hair dryers gave me a shiny and soft look that I like a lot.
Pricing in 2022 – Sam Villa Hair Dryer vs Dyson Supersonic
Well, if the price is a thing, Dyson is not a good choice for you. It's great as a high-end hair dryer, but it is definitely not the most worth-trying one for the money. Priced at $190 and $429 for the Sam Villa hair dryer and Dyson Supersonic respectively, you may get discounts when they are on sale in holiday seasons.
Dyson Supersonic is too expensive, is the Sam Villa worth it? Um…it's a good-quality hair dryer, but it is worth $190? I don't think so. If you can raise your budget to about $230, I believe the ghd helios and T3 Cura are better go-to models in 2022.