The Shark HyperAIR blow dryer is definitely one of the special high-end hair dryers that just came out in 2021. What impressed us the most was the Shark's adjustable and smart attachments with which you can have various options for styling your hair, and none of the hair dryers on the market has the attachments like Shark. Today, we are back with another innovative Shark blow dryer attachment – The IQ AirWave Waver Attachment. Let's see what you can do with it in this Shark Hyperair IQ AirWave Attachment Review.
What Is The IQ AirWave Attachment?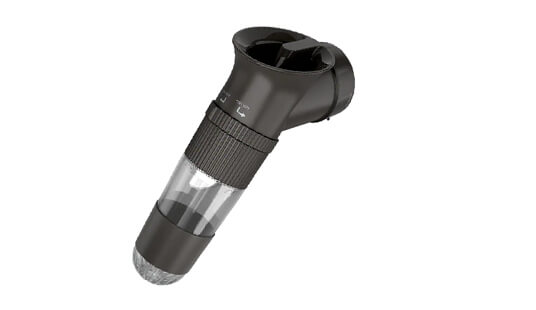 The IQ AirWave is a blow dryer attachment that allows you to create waves and curls using the Shark Hyperair hair dryer. Unlike a curling wand, the IQ AirWave attachment utilizes the hair dryer's airflow and heat to curl your hair, which reduces more heat damage, makes your hair healthier and you can finish your styling routine with just one blow dryer.
How to Use The Shark Hyperair IQ AirWave?
It's easy to use the IQ AirWave attachment: You attach the attachment to the Shark dryer, and you can choose the curling directions on the attachment. Then put a section of your hair into the chamber of the attachment, turn the hair dryer on and set it to high settings. The IQ AirWave attachment will automatically curl your strands with the airflow produced from the dryer, you can adjust the curling time accordingly to determine the wavy looks.
IQ AirWave Attachment Review – Styling Performance
Unlike any hot curling tool, the IQ AirWave only delivers natural waves on hair ends instead of tight and bouncy curls. If you want very small curls, this attachment may not be the best choice. But this is the one and only hair dryer attachment that can curl your hair without causing severe heat damage
Here's the styling result – it did give my damp hair waves effectively, the beach waves were pretty natural and my hair did not have any burnt smell that can be caused by traditional hot styling irons. The waves were not super voluminous but decent to me, the final look was similar to what I can achieve with my hair dryer and brush.
However, the attachment did work too well on dry hair. I've tried to hold the dryer for more than 30s to curl a section, but it turned out that I can simply make these small waves disappear with my brush. Since using this attachment on dry hair is not much good, a hair spray or cream is needed if you don't wanna wash your hair immediately.
IQ AirWave Attachment Review – Styling Experience
Convenience is probably the first thing people are interested in this IQ AirWave attachment look for, and it's perhaps this attachment's most unremarkable feature. It is true that you don't need any skills and extra tools to get beach waves. And you can simply curl your hair and dry your hair without drying your hair first and using too many hair products for styling. You don't have to worry about dry, burnt, or lifeless hair since the temperature inside the chamber is not enough to damage your hair.
But, I also found some problems when I was using this attachment to curl my hair. Compared to regular curling irons, the dryer with a huge attachment is a little bit heavy to hold and operate, and it's difficult to change the curling results with the big buddy. Although using the airflow to add waves is healthy for hair, it also makes the curling time longer than using a curling wand. Another issue is that the blow dryer's noise is kind of annoying when you put the AirWave attachment close to your head.
Verdict – Is It Worth The Money?
Should you buy the Shark IQ AirWave attachment if you've already had their hair dryer?
Well, it depends. As an innovative blow dryer attachment, the Shark IQ AirWave is not expensive at all. If you choose to buy the premium bundle on their site, you will get the dryer with all the attachments including this Shark IQ AirWave. If you only purchase the IQ AirWave, the price is $49.95. For people who need natural waves easily and healthily after a shower, the attachment is a go-to option without questions.
Nevertheless, you probably should not buy this attachment if you need professional curling results as this attachment only delivers loose waves and does not have settings for you to adjust the waves precisely.
Shark Hyperair IQ AirWave Hair Dryer Attachment Review
Easy to Use

Curling Performance

Styling Experince

Price
Summary
Shark Hyperair IQ AirWave Hair Dryer Attachment Review
FORS:
Easy to Get Waves
Curls Hair Healthily
Reasonable Price
Work with Shark Dryer Nicely
AGAINST:
No Portable
Curls Hair Slowly
Limited Wave Patterns