Blow drying hair is easy, but achieve voluminous blowouts is not. Blow drying thin hair without proper techniques can result in flat, dull hair. So how can we make our thin hair have more volume when blow-drying? These are some tips that I wanna share with you to blow dry thin hair for more volume.
How to Blow Dry Thin Hair for Volume – Preparation
Volumizing Shampoo & Conditioner
Fine hair is easy to clean and wash, but it can't handle grease and hair products that weigh down hair. So lightweight volumizing shampoo and conditioner are recommended.
You don't have to go for a shampoo that has extreme power in smoothening every strand, those products will make your hair very shiny but oily as well. I would advise people with thin hair to purchase a nice hair body builder such as BOLDIFY's hair thickening shampoo and volumizing biotin shampoo designed for thin hair.
Volume Spray/Heat Protectant
Besides a hair washing product, another thing you need to know is that the heat caused by the hot airflow can shrink your hair volume, especially for fine hair that is easy to dry.
Thus, a product that helps fine hair to keep moistured and healthy during the blow drying process is vital for achieving great hair volume. Also, the heat protectant for blow drying thin hair for volume shouldn't be heavy, a lightweight hair spray is the best for gaining a fuller hair body.
Get a Blow Dryer with Powerful Speeds
Thin hair's volume is formed by strong airflow and hot temperature so the hair can be manageable and will stay in place. That's why some people can even straighten their hair with a blow dryer. So if your blow dryer is not powerful enough to form the volume, you probably should replace it first.
How to Blow Dry Thin Hair for Volume – Blow Drying Technique
Since everyone's hairstyle is not the same, there is not a fixed technique for blow drying all kinds of hair. And here are some of the common methods to create volume for thin hair, you can choose the right technique according to your hair's needs.
Remember to Scrunch When Blow Drying Thin Hair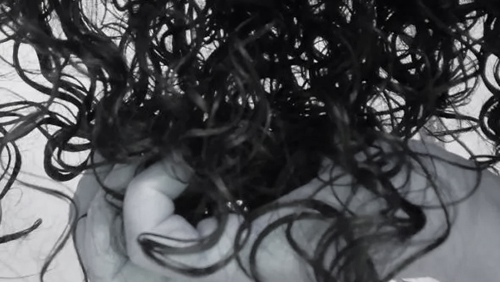 To make our hair look voluminous but not messy, a basic thing to do is to detangle all the twists and knots before blow drying. And don't forget to scrunch the hair with your fingers and palms while simultaneously drying it. This helps thin hair to build its body and get shaped by the hot airflow easier.
Blow Dry Thin Hair in Opposite Directions – How to Get Volume Quickly
When blow-drying thin hair for volume, we can blow hair in different directions to make sure it's not going to stick to our face.
For example, you can tilt your head to the right and blow your hair on the left side to the right, and vice versa. When blow-drying the hair at the back of your hair, you can turn your head upside down, and let your hair point to the ground, and blow-dry it while scrunching it.
A Round Brush Can Be Helpful for Volume
However, blow drying with bare hands is a bit tiring and not easy enough to control the volume.
A styling round brush can solve the problem in most cases. By rotating the round brush, you can lift thin hair to a certain level without moving your head frequently. And it's easier to direct airflow to the roots when you lift your strands up. If you opt for a hairdryer brush, sometimes you don't even need a blow dryer.
Plopping – A Healthy Way to Get Curls/Waves Volume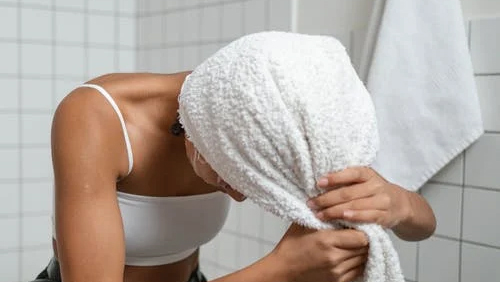 Plopping is a heatless drying technique, but you can also use it as a pre-dry technique. Basically, plopping is to use a towel or a T-shirt to secure your hair, and let them dry naturally. Plopping is a healthy way to form thin curly hair's volume. If you think it is too time-consuming, you can plop your hair for a shorter period, and fully blow dry hair after that.
A Diffuser Is a Good Tool for Thin Curly Hair
Besides plopping, a diffuser hair dryer attachment is excellent for holding curly hair and create more volume for the curls and waves. Diffusers are great for lifting those thin curly hair on the side and boosting its volume with its air vents and big holding area.
How to Blow Dry Thin Hair for Volume – How to Maintain The Volume?
Lock in Your Style with Cold Air
After the blow drying process, locking in your hair with cold air helps the perfect result stay longer. But thin fine hair is easy to get stiff and not resilient by the cold wind, so make sure you deliver the cold air at the last step to keep the style and volume intact.
Hairstyle Lock-in Spray
Usually, I'm not a fan of locking sprays as they will make thin hair not as natural as it is. But if you want to keep the hair volume throughout the day, you may try a locking product. The rule is always the same: don't go for those heavy creams or serums that weigh down thin hair's volume.