Some people like using different curling barrels with different shapes to achieve various curly hairstyles. With more diverse styling needs, a reverse tapered styler is becoming more and more trendy in the whole world.
These days, many people who are tired of uniform curls decide to start their day with a reverse tapered curling wand. If you have not purchased one, I am glad that you are here.
We will go through the pros & cons of the reverse tapered curling wands, and we will see what difference it can make compared to other regular curling wands.
1. What Can a Reverse Tapered Curling Wand Achieve?
A reverse tapered curling wand has a narrow base and it becomes wider towards the top. By having a reverse tapered curling wand, you can create curly hairstyles that have small curls on top of your head and big wave ends. You can see the result that a reverse tapered delivery in the picture below.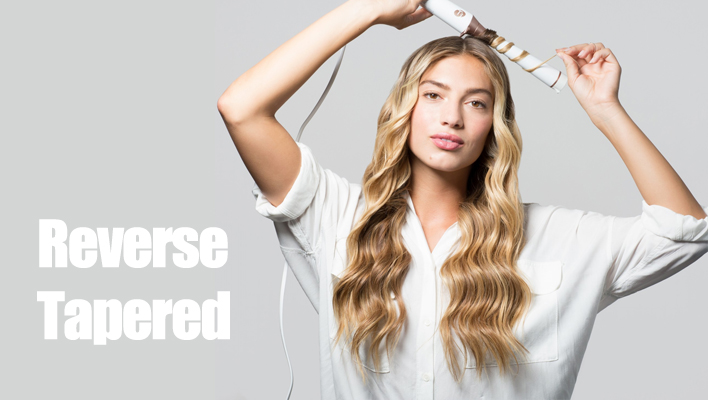 2. Reverse Tapered vs. Tapered vs. Regular Straight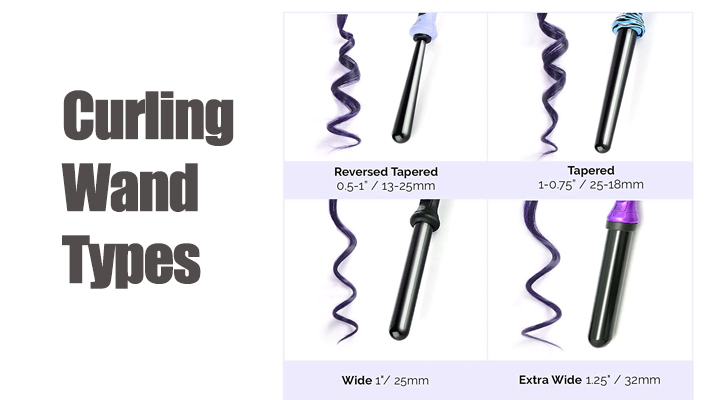 Like we have mentioned above, the reverse tapered curling wand has a very narrow base that gets thicker towards the wide tip. The tapered curling wand is exactly opposite, it has a wide base and it gets more narrow to the end.
That is to say, a tapered curling wand will add more loose curls on your top hair and it will also create small curls to your hair ends. This is just like the upside-down version of reverse tapered curling wands.
Although reverse tapered curling wands and tapered curling wands are versatile and they are good at making your strands have more types of beauty. They are not suitable for creating curls that are the same size.
What do you need to create uniform curls? That is the reason we need a regular straight curling wand! Even though a regular curling wand is not going to give you big and small curls with one barrel, it is still the most effective curling wand type that creates standard hair curls.
With a regular curling wand that is straight, you don't have to worry if you are wrapping your hair around the wrong place of the wand since the barrel's diameter is fixed. And a regular straight curling wand is easy to create large waves, it is foolproof for beginners. But if you are looking for a tool that gains hair volume, a curling wand with a conical barrel is still the best choice.
3. Our Favorite Reverse Tapered Curling Wands in 2020
1. HOT TOOLS Professional Black Gold Reversed Tapered Curling Iron/wand
If you've never heard of the Hot Tools, I must tell you that it's a solid hair tool brand that produces high-performance products from blow dryers to curling wands. This Hot Tools reversed tapered curling wand with black and gold finish is very cool to look at and comfortable to hold in your hand.
Unlike other regular reverse curling iron/wands, the Hot Tool Professional reverse tapered curling wand has an extra large and longer barrel.  Combined with titanium and Micro-Shine finish, the barrel is going to reduce tearing and snagging and provide you with consistent heat to achieve perfect curls.
Moreover, it carries a 2-Hour Auto shut-off and a universal dual voltage feature, making this hot styling tool is safe and great for travel. There are variable temperature settings up to 455 degrees for you to choose from. Without spending much, you can get a very effective reverse tapered curling wand.
2. Bed Head BH311 Blue Raspberry Conical Styler
Another extremely competitive reverse tapered curling wand that comes in a very fresh blue color. We all know that the Bed Head is considered to be a symbol of good quality when it comes to curling wands, and this reverse tapered wand won't let you down as well.
The Bed Head BH311 Blue Raspberry is one of our favorite curling wands since it comes from a rapid heat recovery, which minimizes heat-up times. And you don't have to wait a long time before you getting started.
Also, the reverse conical barrel is made of Tourmaline and ceramic materials, providing high, even heat. Just like the brand says, this reverse curling wand won't give you clamping and frizz, your hair is going to be protected by a shiny finish after using this styler.
Additionally, the curling wand comes with a heat glove. To protect your hands from burning, I highly suggest you wear the glove when using any heat styling tool.
3. Le Angelique Reverse Tapered Curling Wand
The Le Angelique Reverse Tapered Curling Wand achieves great performance and it is pretty affordable! Both stylists and hair enthusiasts will love this reverse tapered curling wand as its ceramic barrel maintains 430 degrees even heat while getting hair curled.
The barrel is 6 inches long, and it comes with an 8 feet tangle-proof swivel cord to solve the problem with cord hassle. To ensure your safety, the curling wand packs a light indicator, which will tell you what temperature the styler is on.
Just like other travel stylers, the reversed tapered curling tool also comes with a dual voltage setting, allowing you to use this product anywhere in the world. And it even has 2 hair clips and a heat resistant glove in the box to make sure you don't have to purchase anything separately.