T3 Micro has launched the new T3 Curl ID, a luxury curling iron that is way more expensive than the T3 existing curling wands. The T3 Curl ID has a similar design to the T3 classic SinglePass Curl curling iron but carries some advanced smart features that you have never seen before.
If you are interested in trying this new curling iron, you've come to the right place. Let's review this newly launched curling iron and see if you should spend your money on it.
T3 Curl ID – Specs Review
Image
Model
T3 Curl ID
Dimension
13.25 x 1.6 x 2.5 inches
Weight
14.24 Ounces
Barrel Width
1.25 Inches
Heat Settings
9
Technology
T3 Rapid HeatIQ Technology
Ceramic Barrel
Ion Technology
Auto-Off
1 Hour
Universal Voltage
Yes
Cord Type
9 Feet, 360˚ Swivel Cord
Where to Buy
Buy at Amazon
T3 Curl ID Curling Iron Review – Design
White body plus rose gold fittings, the T3 curl ID looks pretty similar to their SinglePass curling iron. And it also features the T3 digital buttons like they always did. When the power of this curling iron is off, the whole curling iron is very compact and beautiful. You won't see any extra elements on this product.
The T3 Curl ID is a 1.25-inch curling wand, so it can achieve most of the curly styles effortlessly. However, it does not give you different-sized barrels to fulfill all the styling needs. To know what the best curling iron size for your hair is, see our buying guide on the size of curling tools.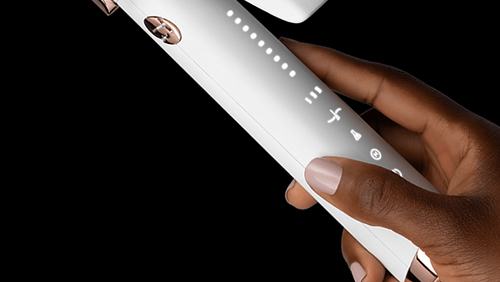 What I've noticed is that The handle of the T3 curl ID curling iron is slightly changed. The lower part of the T3 curl ID is more like a rectangle instead of a cylinder and it seems more robust compared to other T3 curling irons. The new handle makes the iron is easier to be placed on a flat surface and it won't slip off your hand as it becomes wider.
There are five icons for T3 HeatID inputs and a heat setting bar on the handle, and all of them are digital. You don't need to physically press anything, the touch interface will help you to get what you want perfectly.
Overall, the design of the new T3 Curl ID smart curling wand does not surprise me very much. But I have to admit that the traditional white and gold T3 design already makes the curling wand a beautiful hair tool.
T3 Curl ID vs. T3 SinglePass Curling Iron, What Are The New Features?
T3 HeatID Technology
Unlike any other old curling irons, the T3 Curl ID has a fully game-changing technology, which automatically adjusts the heat according to your hair condition without making your strands damaged.
Although ghd's curling iron can also change the temperature for you, the new T3 Curl ID can do more than that.
Further Reading:
ghd Curling Iron vs. T3 Curling Iron
Dyson Airwrap vs T3 Whirl Trio
Compared to the ghd curling irons, the T3 Curl ID allows you to input your hair profile so it can diagnose your hair to provide the most suitable setting. You can input your hair profile by selecting your hair texture, color-treated condition, and chemically-treated condition.
The curling iron will cause less heat damage without sacrificing the curling performance, and you can expect to get a more healthy styling result with this hair tool.
Additionally, you can switch the curling iron to the "Manual Mode" so that you can use it as a traditional curling iron. The difference is that this luxury hair curling iron features 9 heat settings, which beats almost all the curling irons on the market.
No Dial, Only Touch Screen
Compared to the old T3 SinglePass Curling Iron, the T3 Curl ID is no longer using a dial to adjust the heat. When you change the mode to Manual, you tap the handle to get the temperature that you want.
An obvious advantage of this is that you can operate it with a single hand, which makes it more convenient in day-to-day usage. But it might take some time to get used to the iron, you need to remember the steps to lock your settings also, this could be a small downside of this curling iron.
Better Ionic Technology
We all know T3's ceramic barrels are good for creating smooth and sleek curls. Besides using a ceramic barrel, the T3 Curl ID has a built-in ion generator inside. This is a big improvement for minimizing frizz and boost hair shine. The negative ions can neutralize the positive ions on your hair, which means less static and less dryness.
Conclusion: Is The T3 Curl ID Worth The Money?
Besides their official store, there are many platforms that you can purchase the new T3 Curl ID. And the current price for the T3 Curl ID is $235.
It is a very expensive hair tool, but the T3 Curl ID curling iron has huge improvement over the old T3 curling irons. It's also the smartest curling tool that I have ever seen. It provides a whole new curling experience and the 9 heat settings are the most precise temperature control ever.
However, if you are looking for the most cost-efficient model, the latest T3 Curl ID may not be the best fit since it is way pricey than other models. If the advanced technologies are not attractive to you, you can also achieve great curly looks manually by using cheaper models like theT3 SinglePass Curl.
T3 Curl ID Curling Iron Review
Design

Technology

Performance

Price
Summary
The T3 Curl ID is worth the money if you want to experience the latest hair curling technology, and it is one of the smartest curling irons on the market.
Buying this high-end curling iron may cost you more money, but it is definitely the best curling iron that simplifies your curling process with lower heat damage.