How big a curling wand should you buy? 1 inch? 1.25 inches? 1.5 inches? If you have not used a few curling wands in different sizes, this question may sound a bit difficult to answer.
If you go search the most popular curling barrel model on the market, you will find they are either 25mm (1inch) or 32mm (1.25 inches). They probably look exactly the same, and the only difference is that the 32mm barrel looks slightly wider.
But, this tiny discrepancy sometimes can affect your hairstyle significantly. Here, you will see their curling results comparison and how to figure out how big you can go when choosing a curling wand.
Styling Results Comparison: 25mm vs 32mm Curling Wand
The short answer: When we say the barrel size, we are talking about the diameter of the curling wand. Your hair will have bigger waves if you choose a 32mm model, and a 32mm curling barrel can handle longer hair compared to a 25mm barrel.
On the other hand, the curls are more defined and more spiral by using a 25mm curling wand, and the curling result is more obvious. Unlike tapered curling wands or reverse stylers that have a conical barrel, these curling wands with fixed diameter are great for creating uniform curls.
The picture below that will show you the final styling results of using a 25mm curling wand and a 32mm curling wand separately.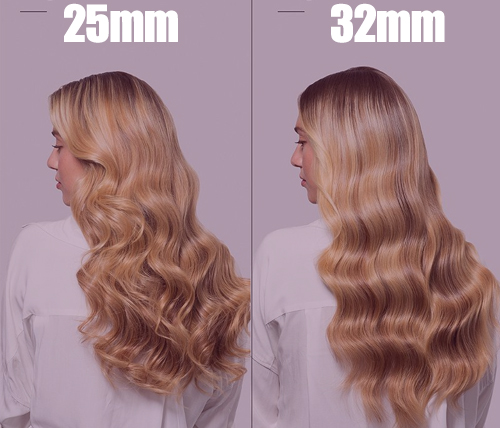 25mm vs 32mm, Which Size Is Your Type?
Who Should Buy 25mm Curling Wands
Being the most commonly seen size, a 25mm curling wand is perfect for adding standard curls to hair. A 25mm curling wand is easy to buy, and it is suitable for most hair lengths. If you are new to curling hair, I suggest you start with a 25mm barrel first.
Performance-wise, 25mm curling wands can give you more curls and the shape of curls are more glamorous. Most importantly, it has a better styling result when you want to add more volume to the curls.
So, if you are a beginner and don't have extra long hair, a curling wand with a 25mm barrel is definitely your best choice.
Who Should Buy 32mm Curling Wands?
With a 32mm curling wand, you can achieve a more relaxed and natural-looking curly hairstyle. As shown in the picture above, you will get loose beachy waves with a 32 curling barrel easily.
And another reason why people love 32mm curling wands is that a wider barrel can curl long hair. Thanks to the wide diameter, the 32mm barrel has nearly 30% more space than a 25mm barrel.
But there is one thing you should know, usually, the curls lasting time of a 32mm curling wand is shorter than a 25mm curling wand.
The conclusion is: 32 curling wands are designed for people who are longing for relaxed waves, or those with long hair that a regular 25mm curling wand can't handle.