2020 is a year of blow dryer brushes! In July, Amika's first hair dryer brush was just freshly launched onto the market. And it became super popular and the product was even sold out in September.
But is the popular hair dryer brush from Amika really worth it? As far as I know, the Amika's brush styler is much more pricey than many regular brush stylers such as Revlon One-Step brush and Hot Tools blow dryer brush.
If you have the same question, welcome to this Amika hair blow dryer brush review. We will see how effective the styler is and we will also see if this Amika hair blow dryer brush is a good fit for hairstyling lovers.
Design – Eight Out of Ten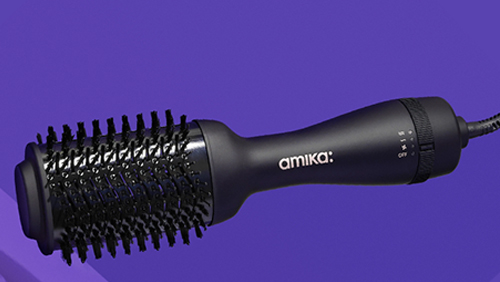 Buy at Sephora 
The hair dryer brush is Amika's new product, competing against other competitors like the Revlon One-Step styler, Hot tools 24k Gold Blowout Styler, as well as Drybar Double Shot Blow-Dryer Brush.
However, this new expensive hair dryer brush does not come with an amazingly colorful look that will attract people's attention at first sight. The Amika blow dryer brush is mainly coated with pure black color and there is a light orange "Amika" text on the handle. At the bottom, there are three temperature indicator lights and a dial with which you can adjust the temperature & speed.
It is a compact model that does not have any extra design. And the brush feels very comfortable in the hand. If you ever stylized with a Revlon One-Step brush, the size of this Amika is almost the same as the Revlon One-Step brush. But the handle length is a hair longer than Revlon's. In one word, It is a very big brush with ergonomic design and you won't feel tired when holding it.
Power & Heat Settings – Seven Out of Ten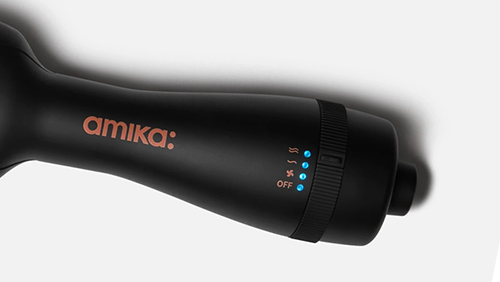 The Amika blow dryer brush is a model with a 950 watts motor, so it is considered to be a low wattage heat styling tool that brings less heat damage to your hair.
And there are 3 adjustable heat settings in total, and it is suitable for every type of hair. But curly hairstyles are the most suitable hair for this hair dryer brush, the oval body and the bristles are designed for creating glamorous curls and waves after all.
When it comes to the styling flexibility, this hair dryer brush with three heat settings is not the most precise one, but it is enough for most people to style their hair quickly and easily.
Styling Result – Eight Out of Ten
The Amika hair blow dryer brush performs admirably. It drys your hair fast and leaves your strands pretty shiny. According to Amika, the hair dryer brush is clinically proven to give your blowout 2x the shine. And it can eliminate frizz and static with its specially-made bristles for smooth and sleek hair.
The most interesting part of the Amika hair blow dryer brush is that they say the styling result is compared to the leading competitor. They better not be talking about the Revlon One step brush 🙂
During our test, the dryer brush indeed got the job done really fast, even though it only featured a 950-watt motor. You can expect to get wet long hair completely dry within 25 minutes.
Other than that, the large oval is perfect for creating volume and curls. You just need to slightly roll your brush when brushing your hair, the hot airflow will help you get your hair curled effortlessly.
Revlon One Step Styler or Amika Blow Dryer Brush?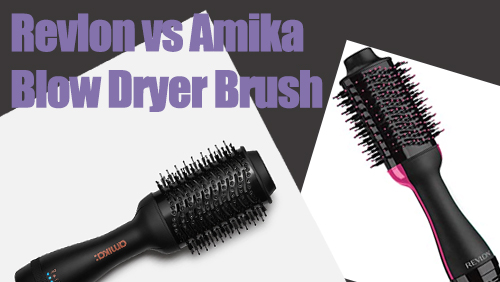 This is many people's concern, which hair dryer brush is more worth-buying?
First off, Revlon One Step Styler and Amika Blow Dryer Brush, their overall formats are the same, but I prefer the low-key design of the Amika brush and its modern indicator lights. Other than that, these hair stylers are almost identical.
The Amika says their blow dryer brush is proven to be more powerful in protecting hair and adding shine compared to the Revlon One Step hair dryer brush. But this is not something that we can see obviously with our eyes. Both Revlon and Amika hair dryer brushes did a great job in blow-drying hair and making hair smooth.
Other than the performance, the pricing is a big problem for the Amika hair blow dryer brush. The sales price of the Amika styler is $100, but the Revlon one step brush costs less than the half price of the Amika counterpart.
If you pursue an upscale hair dryer brush that has a more classic color and advanced protective features, the Amika should be a good fit for you. If you don't want to spend extra money on unnecessary stuff when buying hair tools, the Revlon One Step blow dryer brush is still the most cost-effective model in 2020.
Amika Hair Blow Dryer Brush Review
Design

Power & Heat Settings

Styling Result

Price
Summary
Amika hair blow dryer brush is a high-performance hair tool that gives your hair shine and smoothness, and it also dries wet hair very fast. With a classic design, the blow dryer brush is a popular item on the market. However, compared to regular hair dryer brushes, the Amika blow dryer brush is a bit more expensive.