What can you buy in 2023 to make blow drying curly hair more effective? A blow dryer and a round brush? A hot air styling brush? A premium diffuser? Now, you have a new option – the Bellissima Diffon DF1 5000 is a combination of an innovative hair dryer and a giant diffuser that provides you with a simple and neat drying method for people with curly hair. Will this new hair tool be a game-changer? Here're the pros and cons that we found.
Easy to hold and operate than regular dryers
The convenience and the ergonomics, the unique shape and handle of the Bellissima Diffon curly hair dryer will please tons of people who are sick of holding a bulky dryer with a diffuser. It's easy to maintain vertically in the blow drying process, giving curls and waves more volume and bounce. It's also a lightweight tool, and it only weighs 1.1 pounds even with the diffuser. If you have hand or wrist fatigue when controlling a traditional blow dryer, the Bellissima Diffon DF1 5000 is a nice solution indeed.
Drying power is okay, but not strong though
Compared to normal blow dryers, the Bellissima Diffon DF1 5000 is less powerful in drying. Unlike regular dryers that have a concentrated nozzle and strong drying motor, which tend to get your hair dried as fast as possible, the Bellissima Diffon's airflow is more even and more gentle, which is okay for drying short to medium hair, but people with thick hair will suffer with a long hair drying time.
For heat settings, the biggest problem of the Bellissima Diffon DF1 5000 is that it lacks flexible temperature control. With the combined settings, you only can choose from two temperatures/air speeds. And there's no cool shot button on this product.
Even though Bellissima also launched an upgrade version of the Diffon DF1 5000 – Diffon Supreme Ionic XL, which comes with multiple separate settings and a cool button, the drying power is still not that strong because of the limit of its motor.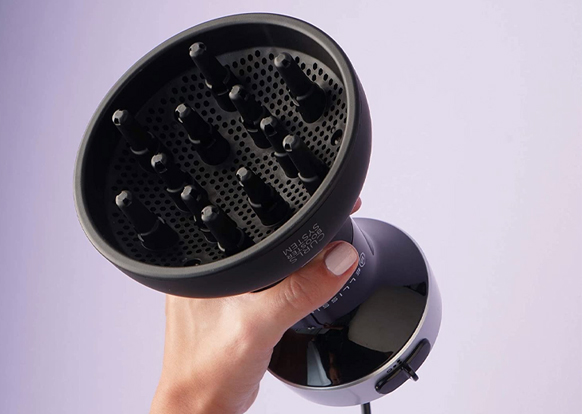 Styling result – It defines curls well
As a 2-in-1 styler + dryer, the Bellissima Diffon did a pretty good job to my hair ends where the ringlets are. The diffuser with an easy-to-hold base, which helps your hand to hold the dryer firmly, is effortless to lift your curls and waves up and add more volume to them while blow drying, giving your hair a healthy and vibrant look.
Without using a strong heat protectant, I didn't see obvious heat damage on my hair and my curly hair still stayed in a good condition. It's great for minimizing frizz, and my hair was not dried out, which often happens when I use a traditional hair dryer. Frankly, I really love this new Bellissima Diffon dryer when it comes to styling.
Not flexible enough
Since the Bellissima Diffon dryer is only designed for drying curls, there're some difficulties that you need to overcome when you use this hair tool. Unlike regular dryers that direct airflow to your hair roots, the Bellissima Diffon dryer requires extra work to dry your hair roots without weighing them down. The diffuser can't go into your hair deeply and it's not that comfortable to adjust the angle precisely to style a certain part.
Pretty costly
The Bellissima Diffon DF1 5000 costs $99, and you can buy at their official store or Amazon. They sell the upgrade version – Diffon Supreme Ionic XL for $169. If your hair is not that long, there no compelling reason to purchase the advanced model. However, for a hair dryer, even the basic model is fairly pricey.
Bellissima Diffon vs traditional hair dryer + diffuser
Will I replace my blow dryer with this Bellissima Diffon forever? My answer is no. The Bellissima Diffon can't be a full substitute for a blow dryer that quickly dries hair with a concentrator and strong airflow. But it's a better choice for taking care of my curls by offering more protection and curl-defining ability.