A heat protectant is a must for maintaining relaxed hair in its peak condition, and you should make the most of it to protect your hair from high heat damage, hair frizz, and breakage.
To get a perfect relaxed hair look, your hair has to undergo heat and damage to be straightened. So protecting your hair from any extra damage and keeping your hair straight while blow-drying and flat-ironing is very important.
That's where a heat protectant comes in – it can protect your relaxed hair, and some even bring shine & nourishment to your strands too.
Content:
Top Picks of Heat Protectants for Relaxed Hair
FAQs about Relaxed Hair Heat Protectant
Best 5 Heat Protectants for Relaxed Hair
If you need suggestions for a great heat protectant for relaxed hair, you're in the right place. We've put together a list of the best heat protectant for relaxed hair of 2022.
1. JuniorLabs Straight Silk Spray with Moroccan Argan Oil
To the shop
One of the best heat protectants available for relaxed hair today is JuniorLabs straight silk spray protector.
It is a heat protectant that contains a salon-grade formula that provides the 450-degree ultimate heat protection for silky and straight hair, and your relaxed hair will be protected well with this product.
This heat protector has no flammable formula so it will not give your skin and scalp any harm. Besides, this sulfate-free heat protectant is infused with natural Moroccan Argan oil, which can give your hair beneficial vitamin E and make your hair healthy and bouncy.
According to the product description, the thermal heat protector can give you silky straight hair in 1/2 the time. And it also comes with color-safe protection formula that won't make your hair color faded.
2. Fantasia High Potency IC Heat Protector Straightening Serum,
To the shop
To protect your hair effectively, this heat protectant from Fantasia is a good fit if you just had relaxers done.
Fantasia IC heat protectant offers you full protection for your relaxed hair as it is a serum designed for straightening. It is made to add shine and moisture to your strands while using heat styling tools like a blow dryer or flat iron.
As a nice heat protector for relaxed hair, this product can also polish your hair with decent heat protection, and it is not going to weigh your hair down.
3. Moroccanoil Perfect Defense – Heat Protectant for Relaxed Hair
To the shop
This heat protectant from Moroccanaoil is one of the top products for relaxed hair.
The spray offers excellent protection and it protects against the damaging effect of heat styling up to 450°F.
It has won many beauty awards and it is a reputable heat protectant for all types of hair. The product has rich vitamins and fatty acids, ensuring your hair can be hydrated and nourished effectively.
You can use this product on your relaxed hair no matter whether it is dry or damp. You just need to apply the product and comb through it, then you will find your relaxed hair will look healthy and silky after using a heat styling tool.
4. L'Oréal Paris SLEEK IT Iron Straight Heatspray
To the shop
If you are looking for the most affordable heat protector for relaxed hair, then this product is right for you.
This L'Oréal Paris heat protectant is an argan oil-infused, dry aerosol spray. It is made for relaxed hair as the product is very lightweight and healthy.
For people who have relaxed hair, this weightless heat protectant spray offers 450-degree heat protection but won't cause any buildup.
Additionally, the heat protector comes with a special formula that helps you to tame hair frizz and seal the shine of your hair. When it comes to the ability to maintain your hairstyle, the brand claims that this product can keep a sleek style for 3 days.
5. Premium Nature Argan Oil Hair Protectant Spray
To the shop
All natural ingredients with powerful heat protection? Did this product catch your attention yet?
Keeping hair straight and smooth is key when it comes to finding a good heat protectant for relaxed hair. The argan oil can dive deep into your hair to make your strands silky and tangle-free.
But it does not leave your hair feeling oily and heavy with its lightweight formula, which can give your hair ultra-protection during blow-drying & flat ironing.
To make your relaxed hair vibrant and shiny, the protector offers ultimate nourishment that can be rubbed into both your hair and scalp. And you can get thorough conditioning from hair roots to ends.
Besides, this hair product is an affordable choice and you can use it as a leave-in conditioner in your daily routine.
Frequently Asked Questions About Relaxed Hair Heat Protector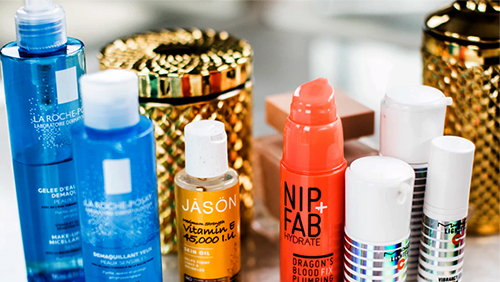 1. What is the best type of heat protectant for relaxed hair?
It mainly depends on your hair texture. Keeping your hair light and burden-free is one of the best advantages that heat protectant spray can provide.
But spray-typed heat protectors are not as powerful as a serum or a thermal protection cream when it comes to smoothing & styling hair.
Although serum or cream can make your hairstyle last longer, they are usually considered to be heavier hair products.
2. Will a heat protectant strip my relaxed hair's color?
Some inferior heat protectants may have problems with colored hair.
To pick the right product that can protect your relaxed hair's color, you should go for a color-safe heat protectant.
Also, make sure the color-safe heat protectant has UV protection. So the sunlight won't change the color of hair when you use the product as a leave-in conditioner.
3. How can I make my relaxed hair last longer with a heat protectant?
If you just get your hair straight & relaxed – you'll want it to last a long time.
You can use some heat protectant that is made for straightening hair such as straightening serum & cream. They are heavier than heat protectant sprays, but they can maintain your hair's look much longer.
After picking the right heat protectant for relaxed hair, you can maintain the straight hair look every day by using the right blow drying method. and lock the style by giving your hair a blast of cold air.