Studies have shown that bee propolis can help increase the number of hair growth cells, and the Gisou has put it into their heat protecting spray. According to Gisou, their propolis infused heat protectant contains Mirsalehi Propolis and the product can fortify hair with natural ingredients including oils, vitamins, minerals, and flavonoids. And it is a very healthy one as it is free from sulfates and silicones. Will these propolis ingredients reset the expectations for a heat protectant? Let's take a look.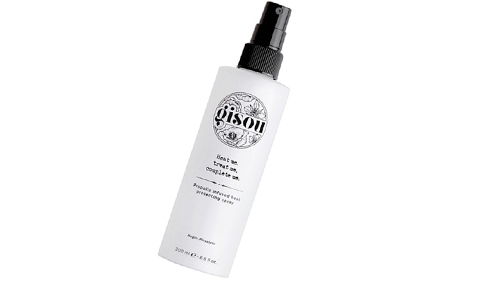 Buy at Sephora 
Fragrance – Pleasant Smell (Slightly Strong)
I've been testing many kinds of heat protectors for the past few years and I am confident to say that the smell of this Gisou Propolis heat protectant is pretty fragrant. The scent of the fragrance is abundant, and you can't describe the smell with one word. What I can tell you is that it's sweet, fruity, and rich.
Although I've seen people say this heat protectant's scent is faint and mild, I do think it's a bit strong for me. If you have read my previous posts, you know that I am not a fan of heavy perfume-like hair products. My personal opinion is, this heat protectant's scent is acceptable to me, not extremely overpowering, but it would be better if they made it less scented.
The Heat Protectant's Got A Nice Little Spray Nozzle
For heat protectant spray products, it's important to have a spray nozzle that emits even and fine mist so users can control the spray precisely while blow drying, flat ironing, or curling their hair.
The Gisou propolis infused heat protecting spray's nozzle works pretty good and it won't weigh down your hair since the mist is very lightweight. And the nozzle seems durable and it does not shake or wobble on top.
Heat Protection – Reliable and UV-Protective
According to the info on the back of this product, the Gisou propolis-infused heat protecting spray can protect your hair from heat damage up to 230°C/446°F. And it also protects your strands from sun damage thanks to a UV-filter. This looks pretty decent and it's a nice fit for people who need to use hot tools like straighteners and curling irons.
Styling Results – Decent and Sleek
The bar for a heat protectant that is destined to be just a blocker for heat damage is actually not enough. It needs to nourish and smoother your hair so you won't see obvious frizz and split ends, dull and lifeless curls and waves, and tangled knots that make your hair look messy.
The Gisou propolis heat protectant does a good job in managing and softening hair. My hair got extra sleekness and shine after using this heat protectant, and its lightweight texture easily created more volume for my roots. Overall, it's a solid choice for preventing high heat and it can handle all kinds of hot tools. However, I didn't find anything particular about the infused propolis when blow drying my hair, it is just like another competent and protective hair spray.
Price – It's an Expensive Hair Spray
At $41(Price on their official store, the price may vary on different platforms) it's considered to be a pretty pricey heat protectant on the market. Honestly speaking, I think this is a bit overpriced. It is indeed a good heat protectant, but it is worth the price with which you can buy 2 or 3 other heat protectants? I don't think so.
How to Use The
Gisou By Negin

Propolis Infused Heat Protecting Spray
First off, this heat protectant contains many natural ingredients and it's not hypoallergenic, make sure you are not allergic to the formula and the listed ingredients here.
After washing your hair, towel dry hair roughly. (It can also be used on dry hair)
Part your hair into sections so that each part can get sprayed evenly.
Spray the heat protectant on your hair sections from an arm's length, and gently rub your hair to make sure each strand is sprayed.
Start your blow drying or styling routine.
Gisou Propolis Infused Heat Protecting Spray Review
Fragrance

Heat Protection

Styling Result

Price
Summary
Pros:
Great Heat Protection
Propolis Infused
UV Protection
Fine Mist
Cons: