Searching for the best hair dryer for kid? Wondering how to safely dry the babies' hair with a hair dryer? In this post, we'll look into all these and more.
Drying baby's hair is so much more than just keeping them neat. Leaving babies' heads wet can lead to body heat lost right through their heads. If it's cold out, a hair dryer for baby can be a game-changer.
For everything, you need to know about the best hair dryer for kids & babies and the safe way to dry your baby's hair after a bath, read on!
Contents:
1. Best 5 Blow Dryer for Kid & Baby
2. Hair Dryer for Kids – Is It Necessary?
3. Hair Dryer for Baby – What to Look for?
4. How to Dry Baby's Hair with a Blow Dryer?
Best 5 Hair Dryer for Kid & Baby in 2020
Since kids' and babies' hair is typically fine and their skin is undoubtedly sensitive, you definitely will want to look for a hair dryer that will give babies gentle care and blowouts.
Read on for more info about the best hairs dryer for kid & baby, each is able to dry the baby's hair safely and quickly.
1. BaBylissPRO Ceramix Xtreme Dryer – Protect Baby's Hair
To the shop
Don't be afraid of its 2000w high wattage, the hair dryer can achieve six heat & speed settings as it offers two buttons for controlling temperature and airflow velocity individually.
To protect your kids' hair from getting damaged, the Babyliss model uses ceramic technology that gives you extra-gentle and quick blowouts.
So it is actually more healthy than other blow dryers.
The design of this hair dryer is compact and neat. With a lightweight body, you can effortlessly get your baby hair dry without any pain. Also, the 9-foot salon-grade cord is a helpful feature for maneuverability, conveniently drying kids' hair is a piece of cake.
2. Deogra Travel Mini Hair Dryer for Kids
To the shop
If your kids are old enough and capable of drying hair themselves, this cute hair dryer is designed for them.
This is a small hair dryer with a motor whose wattage is 1000w, and it only has high and low two settings.
As a baby hair dryer, it is not something that provides you with the most professional salon blowouts. But, you can tell by the cartoon and the lovely color that it is customized for children.
This hair dryer comes with a dual voltage for international travel use and it's compact and quiet.
To protect children's safety, it is equipped with an ACLI plug and an auto shut off protection, preventing any accidents from happening.
3. Premium Hair Protection for Kids – Dyson Supersonic
To the shop
I guess I don't have to say anything to compliment this hair dryer, it's a Dyson!
Coming with the most adjustable heat and speed settings, the Supersonic hair dryer from Dyson has won so many rewards.
As a professional stylist's choice, Dyson's hair dryer can provide a perfect drying experience for you and your baby.
With a bladeless design, it's much safer to use this dryer as a kids' hair tool.
There are no exposed heating wires that have fire hazards. Besides, Dyson's intelligent heat control will measure air temperature over 40 times a second, regulating the heat and giving you the most secure drying environment.
Although this dryer costs a fortune, Dyson can really be a reliable family guard when it comes to hair drying.
4. Conair 1600 Watt Compact Hair Dryer
To the shop
Keeping a baby's hair healthy does not require too much work. If you don't want to spend a lot on a kid's hair dryer, Conair might be your best choice.
One of the advantages of Conair products is that their prices are so friendly. This affordable mini hair dryer is extremely lightweight and small. But it will also get the job done quickly and conveniently.
The dryer does not have many fancy technologies and features, it's a plain blow dryer. However, with a 1600w motor and different heat settings, you can still get a quick blowout for your child. If you are looking for an affordable baby hair dryer, this is a good fit.
5. T3 – Cura Hair Dryer
To the shop
T3 hair dryer is a professional & popular hair dryer, and it's also many hairdressers' favorite.
Its digitally-controlled heating button is modern and offers precise heat management.
The hair dryer is a great fit for every type of hair texture, giving you and your loved one the most comfortable drying experience
If you need a hair dryer for all your family members, this powerful T3 dryer is highly recommended.
Hair Dryer for Kids & Babies – Is It Necessary?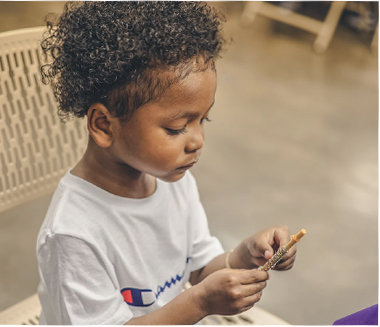 Is hair dryer bad for kids? Can a hair dryer be used for babies? Should you blow-dry the babies' hair? Actually, the choice is up to you.
It is surely okay to blow dry boys' and girls' hair with a hair dryer for kids & babies, but to dry your baby's hair with a blow dryer or not is absolutely a personal preference.
If it's a newborn with few stands, you could just use a soft towel to dry baby's hair after a bath.
If your baby is older than 2 years of age, and in a situation where they can benefit from a hair dryer for baby kids, you certainly will feel more grounded having a child hair dryer at the ready, especially during cold days.
The main challenge lies in how to safely dry kids' hair with a proper blow dryer for kids.
Read on for the quick guide on what to look for when choosing the hair dryer for kids, and how to blow dry kids' hair properly with a hair dryer.
Hair Dryer for Baby – What to Look for?
If you're on the market for a proper hair dryer for kids, babies or children, you will need to extremely cautious.
You will come across a wide range of hair dryers for babies and kids out there, and it can get tricky to pick the right one amongst all.
Keep reading below — I've rounded some buying information that matters for a hair dryer for kids & babies.
Gentle Airflow. The higher wattage the hair dryer operates at, the quicker it will dry the hair.
However, when choosing a blow dryer for kids, you should look for a hair dryer that will produce a gentle airflow.
Look for hair dryers that operate under 1500W or so to protect your baby's sensitive scalp.
Heat Settings. To protect baby's fine hair from any damage, look for child blow dryers that emit mild heat. Hair dryers with gentle heat are ideal for kids' fine hair and thin-skinned scalp.
You will want to find a hair dryer with at least two heating levels, and more ideally, with an auto shut off protection feature when the temperature is getting too high.
Weight. When you're on the market searching for a hair dryer for kids, you definitely want to consider opting for at kids' blow dryer that is light in weight.
A heavy blow dryer won't help to create a satisfying experience for you or your baby. And when your kid is old enough to use a blow dryer on their own, you won't want your child to carry something too heavy, for it could lead to a mishap.
Noise Reduction. Make sure to pick out a kids' hair dryer won't be too loud for babies.
Noise reduction technology used in blow dryers will lower the noise produced during blowing out, which can shed the risk of damaging baby's hearing while giving them a quiet and nice drying experience.
How to Safely Blow Dry Kids' & Babies' Hair?
Be warned: Babies have sensitive scalp, which means it requires extra care when using a hair dryer. If you blow dry babies' hair in a wrong way, your babies' sensitive skin can burn by the heat emitted by the hair dryer very easily.
To ensure the best safety, here's how to properly blow dry your baby's hair:
Step 1. Use a hair dryer designed for kids
Generally speaking, hair dryers designed for adults generates too powerful an airflow or blow out too high a heat for kids and babies to endure. It's advisable to use kids' hair dryer on kids and babies under all circumstances.
Step 2. Set the hair dryer to a suitable temperature
Make sure to blow dry baby's hair at low temperatures, so it won't burn baby's sensitive skin.
We'd highly recommend to test the temperature on your skin first before applying the airflow to baby boys or girls.
And by all means, avoid sudden temperature changes, because it would cause hair damage on baby's fine hair and it could hurt baby's sensitive skin as well.
Step 3. Keep a proper distance between baby's hair and the hair dryer
It's crucial that you should keep the hair dryer from your baby's head at a distance of 12 inches at least.
If you keep the hair dryer too close to the kids, chances are babies will get uncomfortable under such a strong airflow and loud noise.
Wrapping Up
Hopefully, all the information provided in this post will help you to confidently select the best hair dryer for your baby and to safely blow dry baby's hair after a bath.
If you have any other questions about blow dryers for kids, baby or teenagers, let us know in the comments!