There are tons of Hot Tools curling irons that people are crazy for on the market. Since each Hot Tools curling styler has different features & sizes, the curling results that they deliver are not alike.
Here I will show you some ways to curl your hair with some popular Hot Tools curling wands. And it is pretty easy if you follow the steps, let's get started.
How to Turn On a Hot Tools Curling Iron
Hot Tools curling irons don't have a traditional on/off button. When you plug the curling iron in, the small red indicator light will be on. And you need to change the position of the small knob below the indicator light to set the temperature. Hot Tools curling wands have fast heat-up time, you only need a few seconds to start curling hair after you adjust the heat settings.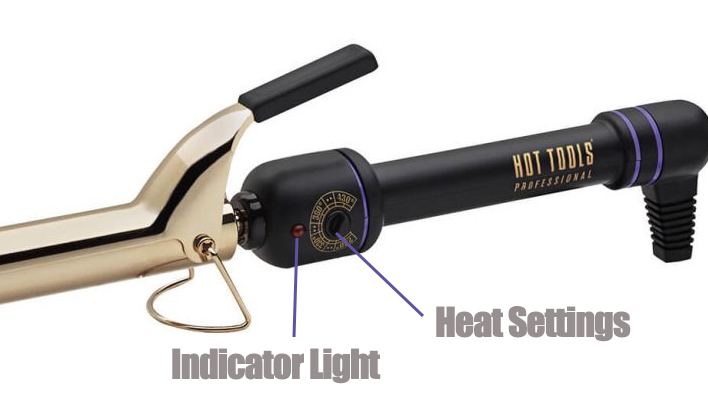 The highest temp setting for Hot Tool curling iron is 430 degrees. To avoid heat damage, I usually will go for 410 degrees instead. If you prefer a quick curling process, you can increase the temperature but always be careful with the hot barrel as it can burn your hair easily.
How to Use Hot Tools Curling Iron to Create Uniform Curls
Recommended Models: Regular Straight Curling Irons
To create nice curls, I suggest you start with curling wands that are 1 inch (25mm) wide. You can also choose a 1.25 inch (32mm) barrel if your hair is long. You can see our previous post about the comparison between 25mm curling wand and 32mm curling wand.
So, the first thing you need to do is to turn on your curling iron and let it heat up.
When the curling iron is heating up, part your hair into several hair sections that you need to curl. To fix the hair section position when styling, you can use hair clips to make sure they are manageable.
When your curling iron is ready, open the clamp and point the barrel tip to the ground. Hot tools curling iron series have a built-in clamp for better curling experience.
Take a hair section and wrap the section around the hot barrel towards the end of the barrel.
Close the clamp, but don't release your hair section with your hand since the clamp is only for helping to secure the position of part of our hair sections. To achieve perfect results, you should also keep the hair wrapped around the barrel with your hand. So a heat-resistant glove is highly recommended.
Hold your curling iron for about 7 seconds. If you want the curls to be more defined, you can hold it a bit longer.
Release the hair from the barrel and gently shake it with your hand to make the hair section more natural-looking.
Pick another hair section and repeat the curling technique until they are all good. Then a uniform curly hairstyle is finished. See the video below if there is anything unclear.
Which Hot Tools Curling Iron Is The Best For Relaxed Beachy Waves?
Recommended Models: Curling Irons Wider Than 1.25 Inches
I don't want those small curls, how can I have big waves? If you are planning to achieve beachy waves, you can choose larger models from Hot Tools. As far as I know, they have an extra-large curling iron that is 2 inches.
And the styling steps are almost the same. But there is one thing I'd like to mention, if you want to make your curls more natural-looking, don't use a very high heat setting. Big barrels are likely to make your hair overcurled if you stick to a regular curling technique.
I Want to Get Various Curls, What Should I Do?
Recommended Models: Tapered or Reverse Tapered Curling Iron
Well, you can buy several hot tools curling wands and curl your hair separately. But that is not an effective solution. Using a tapered curling iron can perfectly solve your problem.
Hot Tools also have many tampered models that have conical barrels that allow you to create big waves and small curls with only one curling iron.
You can have more styling flexibilities if you have a tapered curling wand. The curling technique is identical, but you can hold the barrel in different ways to achieve more looks.
For example, if you want to gain some hair volume on the hair ends and have defined small curl on top of your hair. You can try to hold the curling iron upside down and start wrapping around your hair sections from the tip of the barrel to the base.