Heat protectant is a non-negotiable for people who love their hair—and I believe we all agree that a high-quality heat protectant spray should offer even and fine mist. There are a few advantages that aerosol heat protectant sprays have, and we'll show you why we adore aerosol heat protectants and the downside as well.
Why Some Heat Protectants Use An Aerosol Can?
Aerosol heat protectants usually come with a mental can that safely contains pressurized liquids. After you press down the button, the valve will open. After that, the propellant and the liquid in the can will be forced out of a small opening and leave the nozzle, forming an aerosol mist of liquid particles.
Aerosol Can vs Liquid Pump
Compared to regular heat protectants with liquid pumps, aerosol heat protectants are more even and finer because liquid pumps (AKA misters or atomisers) don't have propellants. Also, you don't need to rub your hair with an even heat protectant as the evenly dispersed mist is fine enough to penetrate your hair quickly. The downsides? Aerosols can are usually more pricey and it is a pain in the neck if the aerosol nozzle is broken or clogged. For people who want to know more about the mechanisms, you can see how aerosol can and liquid pump work exactly here.
Best Aerosol Heat Protectant for Hair
QUAI Aerosol Heat Protectant Spray
"Way more than just another heat protectant." This is what QUAI says about this product on their site. The OUAI heat protection aerosol spray has a floral fragrance, and you can smell the prominent White musk, violet and gardenia immediately when you spray the product on the air.
We love that the aerosol heat protectant offers great heat protection up to 450 degrees, which is adequate for almost all hot stylers. And it can be applied to wet hair and dry hair both. The product is clean and lightweight, so it won't weigh down your hair. Although it doesn't make hair very hydrated like serums and creams, it still delivers softness and shine to hair shafts effectively. The downside? It's really a pricey heat protectant.
Moroccanoil Perfect Defense Dry Aerosol Spray
This argan oil-based heat protectant is a solid choice for people who needs an aerosol spray to make their hair fully protected. The natural formula contains antioxidants, vitamins, and nourishing oil, making it a perfect product for smoothing your hair in the styling process.
Moroccanoil claims that this heat protectant has a memorable and addictive signature Moroccanoil scent. The most special thing about this heat protectant is that the product is a dry aerosol spray, it doesn't get your hair wet and it's weightless on the hair. But what is good is that it still protects hair up to 450 degrees, and it's suitable for working with all kinds of hair tools such as blow dryers, flat irons, and hot curlers.
Bumble and Bumble Glow Blow Dry Aerosol Accelerator
Created with a specially designed formula, this heat protectant is made for blow drying hair particularly. It gets many thumbs up from people who want their blow-dry time reduced.
The blow-dry heat protectant spray comes with an aerosol can and it's infused with honey and blow dry accelerate complex, making the product has a sweet and pro-salon scent.
However, this is a heat protectant only for blow drying so you can only spray it on damp hair, so it might not be a perfect choice for people who want a heat protectant that also works as a wet leave-in conditioner.
DrybarDrybarDrybar Hot Toddy Heat Protectant Aerosol Mist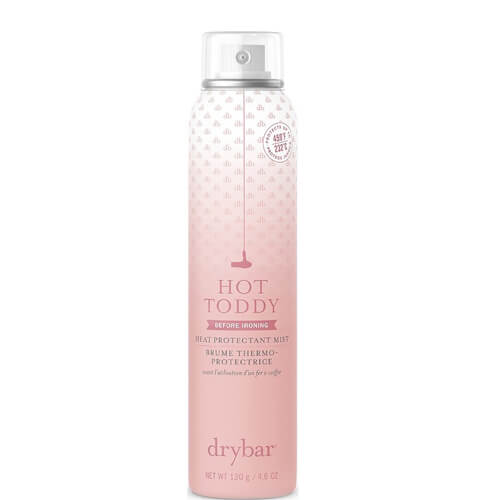 I actually reviewed this product a few days ago. This heat protectant aerosol mist works well over styling products as an extra layer of protection. It contains several natural ingredients such as Marula oil, and fire tulip extract. The scent is coconut-based, and many people love the fragrance, it's a bit strong for me though.
Unlike a blow dry heat protectant, on the contrary, this aerosol heat protectant from Drybar only shields dry hair from excessive heat and UV damage. That is to say, this heat spray is only suitable for working with tools that directly touch your hair including hot irons and curling wands.
dpHUE Color Fresh Thermal Protection Aerosol Spray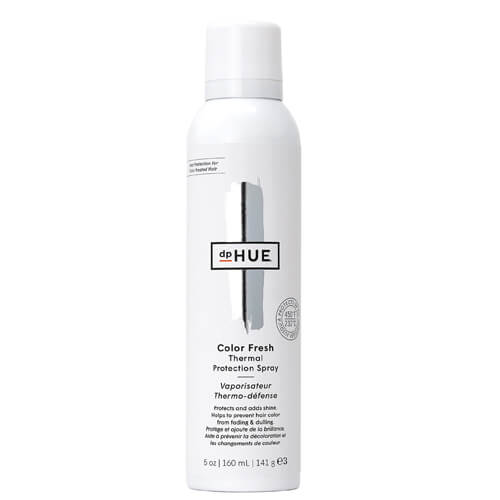 You may have not heard of this heat protectant before, but this aerosol thermal spray is one of the best ones for dry hair on ULTA. If you're looking for a water-soluble and lightweight heat spray for dealing with the heat caused by irons and curlers, this is it. The lightweight, silicone-free formula comes in an aerosol can, making the spray extremely fine and easy to spray. Like most solid protectors, It's color-safe and provides 450-degree heat protection. The biggest advantage of this product is that it leaves no buildup on hair.