If you have thought about getting a modern styling brush, there is a good possibility you need more than a regular brush that works with your blow dryer. The good news is that Drybar has multiple brushes that are versatile and they can do much more than brushing your hair. But, should you get the Drybar The Brush Crush or Double Shot? There is a bit of nuance to the question.
Drybar The Brush Crush vs Double Shot – Differences
Design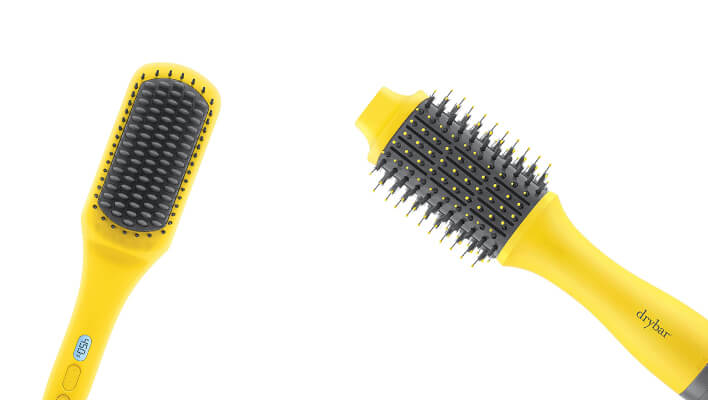 The Brush Crush and Double Shot are two brushes that totally from each other functionality including the appearance of them. You can see that the Brush Crush comes with a paddle brush design that has coarse bristles, which are fully heat-resistant and safe for straightening hair. And the Brush Crush has a traditional flat handle, what is special is that the Brush Crush has a small display on the handle, which allows you to see the current temperature of the brush.
As for the Drybar Double Shot, it has a pretty big oval brush that comes with finer bristles than the Brush Crush. And the most obvious difference is that the Drybar Double Shot has many vents that provide hot airflow on the barrel. Besides, the big oval handle is more comfortable to hold. On top of that, the way that you control the heat is different from the Brush Crush – you rotate the bottom part of the Double Shot to get different temperatures.
Temperature & Settings
The Brush Crush straightening brush is made to primarily straighten hair like a flat iron and eliminate tangles in hair, the paddle brush can become extremely hot and its setting can be adjusted from 200 degrees to 450 degrees. On the other hand, the Double Shot is used to style various hairstyles, so you are able to set brush settings to cold, warm, and hot, which is something you couldn't achieve with the Brush Crush.
They're Made for Different Styling Needs
There are plenty of choices on the market for straightening your hair, but the Drybar Brush Crush is a special choice between a hot flat iron and a traditional paddle brush. The Brush Crush is a product that is powerful and safe for getting strands straight without directly heating your hair with metal plates and causing too much heat damage. Meanwhile, it's also effective to keep your hair healthy and shiny in the straightening process, thanks to its ionic technology.
But the Drybar Brush Crush is not as versatile as the Double Shot. With a round brush and airflow vents, you can get more jobs done with the Drybar Double Shot brush including drying your hair, adding hair volume, delivering curls, detangling hair knots, and straightening slight curls. Although the Double Shot brush is not as powerful as the Brush Crush when it comes to straightening ability, it is a better choice for most hair types.
Price – Almost the same
As the Drybar Brush Crush and Double Shot are two products targeting people with different hair textures, there is no huge difference in their prices. Their original retail prices are both about $150, and you're much more likely to find better pricing on online shopping sites like Amazon and ULTA. With a quick search, I found some of them are having a 15% off.
Which Should You Buy – Drybar Brush Crush vs Double Shot
There is no winner in this battle, what you need to do is to pick the most suitable brush based on your styling routine. Both brushes are great in styling and they offer reliable performance, natural shine, and softness.
For me, I will definitely go for the Drybar Double Shot, which is more healthy for hair and has more functionality as a combination of a blow dryer and round brush. And there's a smaller version of the Drybar Double Shot, which is called Single Shot. Even if you have pretty short hair, you can still style your hair with a Drybar blow dryer brush.
However, if you love straightening hair, the Drybar Brush Crush is a solid option that replaces your old-school flat iron. Compared to regular irons, the Drybar Brush Crush straightening brush does not burn your hair and smoothes your hair nicely with bristles with a specially designed finish. And the Drybar Brush Crush also has a smaller-sized travel model which is called The Baby Brush Crush.
Reasons to buy the Drybar Double Shot
Curls and straightens hair gently
Dries hair with hot/cold airflow
Comfortable handle
Who Should Buy It
People who looking for a tool for achieving various hairstyles without using high heat
Reasons to buy the Drybar The Brush Crush
Healthy straightening experience
Detangles hair while styling
Safer than flat irons
Who Should Buy It
Straight hair lovers who want a new tool that doesn't burn their hair and makes hair smooth and frizz-free.