Eva NYC's hair dryer is a niche hair product brand as you don't see many influencers have tried their products. But their blow dryer with galaxy coating is quite attractive to me and I have never seen any blow dryer like that before.
So, to find out how great their blow dryer truly is, we decide to provide you guys with a review on Eva NYC's healthy heat pro-lite hair dryer. And here is what we think:
1. Design Review: Beautiful But Can Be Improved
Eva NYC did a great job with the blow dryer's design, and the most attractive part is the coating of their hair dryers. The galaxy coating is a big improvement compared to other regular boring blow dryers on the market, making your drying process is pleasant and soothing.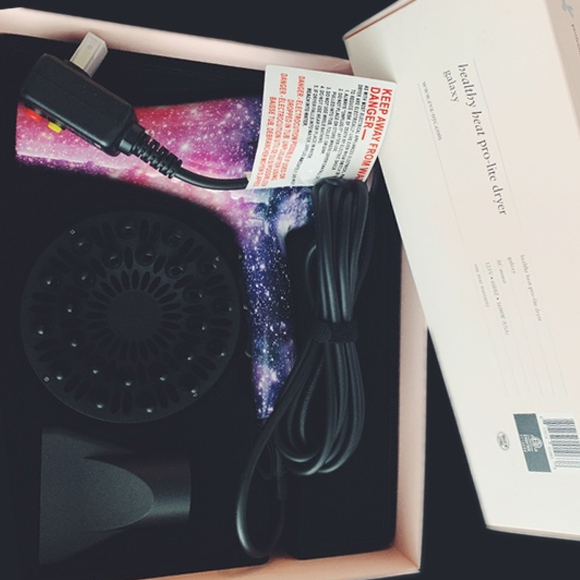 However, besides its coating, the shape of the Eva NYC dryer is still like a traditional blow dryer design. And you can easily find many models from other brands are using the same mold.
Generally speaking, the coating is the only thing that catches people's eyes. And I hope they could change the dryer body a little bit to make it thinner and longer so the look of the dryer could be more stylish and cute.
2. Power and Heat Settings: Average
Let's start with the power: the Eva NYC Pro-Lite blow dryer packs a 1600w AC motor. To be honest, a 1600 watt motor is not going to give you the hottest airflow. but luckily, the AC drying motor is still more powerful and quieter compared to other DC hair dryers. We can not say it's the best option for a drying motor, but it's a safe move from Eva NYC.
Not surprisingly, the Eva NYC Pro-Lite blow dryer has 3 heat settings and 2 speeds, just like we thought. It is a standard temperature setting and the buttons are just like other regular hair dryers.
3. What Technologies Does The Eva NYC Blow Dryer Have?
The blow dryer is an ionic hair tool, so the ionic technology is a built-in feature. The negative ions emitted by the airflow are helpful for smoothing your strands and making your hair less frizzy.
According to Eva NYC, the dryer has tourmaline-infused ceramic components. The tourmaline is often used to boost the ionic effect that gives our more moisture to get rid of frizz and split ends.
And the ceramic materials are usually utilized to emit far-infrared heat, which can healthily dry our hair without causing too much heat damage. Also, the far-infrared heat is also going to help you to shorten the styling time as the heat is penetrable.
4. Accessories Review
There are two attachments in the box: a nozzle and a diffuser. They are enough for daily styling but you can not say this is the perfect combo.
Usually, you will get two nozzle concentrators when buying a blow dryer, a wide one for quick blowdrying, and a narrow one for precise styling.
But the diffuser is actually great: it has long teeth and a large area for you to put a large section into it, so defining your curls is pretty easy with this attachment.
5. Conclusion: Is It Worth The Price?
The Eva NYC almighty healthy heat pro-lite blow dryer price now is just $70 at their official store and you need to spend a few more bucks if you choose to buy it from other retailers.
Overall, although the blow dryer is not a salon-grade hair tool, it is a qualified hair dryer for families' daily drying needs. The price is acceptable and you get great technologies that protect your hair. It's definitely worth buying if you love the cute design of the coating.
Eva NYC Almighty Healthy Heat Pro-Lite Blow Dryer Review
Design

Power

Technology

Attachment

Price
Summary
The blow dryer from Eva NYC is aesthetic and the galaxy coating is innovative. It is not suitable for being used as a professional hair tool at the salon, but it is a great hair dryer for family uses as the price is affordable and the performance is qualified.