The Revlon Nutri Color Creme is designed for giving previously-colored hair new vibrant shapes and refreshing colors. If you want to refresh your hair color at home without going to the salons, the Revlon Nutri Color Creme is a great product series to turn to. However, many unprofessional hair enthusiasts can cause a disaster because of a lack of knowledge of how to use this type of hair product.
So, let's focus on the basics of usage of the Revlon Nutri Color Creme today. To make the coloring process go smooth, follow the instructions below.
What Do You Need to Prepare?
Styling Comb
Container for Mixing Colors
Disposal Glove
Hair Dyeing Brush (Optional)
Blow Dryer
How to Use the Revlon Nutri Color Creme?
First Step: Wet Your Hair
You can use a spray to make your hair moist or go use the Nutri Color Creme directly after towel-drying after a shower. This is because we want the pigments can go deep into every strand evenly and smoothly. If your hair is too dry, it is pretty hard to apply the coloring cream on your hair later.
Step Two: Detangle Hair with Your Comb
After getting your hair wet, you'd better detangle your hair knots with a styling comb with fine teeth. This is for making your every strand can be colored evenly also. My advice is that you can part your hair into sections to unwind those twisted knots, and this is also great for applying the cream afterward.
Step Three: Mix the Colors
Pick a color that you want to achieve on your hair. You can mix several colors according to your needs, and you can add shine with the NUTRI COLOR CREME 000, which is white. Stir the container until the mixture is dense and even.
Don't know anything about color toning? It's okay, the Revlon Nutri Color Creme series comes with many specific colors and you can just choose one of them directly. And you can see the complete color chart at the end of this post.
Step Four: Apply the Coloring Cream
Put on your gloves and use your brush to apply the coloring cream to your hair. Don't rush and apply too much each time. Otherwise, the mixture will drip from your hair. Try to make it slow and gentle. I have seen people using their hands to apply toning products, so you can also do it without a brush if you are confident enough.
Important Tip: Do forget to apply the creme on each side of your hair, not just the surface.
Step Five: Rinse It Out & Blow Dry
According to Revlon, you should let the cream stay on your hair for 3 minutes at least so that your cuticles can fully absorb the ionic pigments. For me, I usually rinse it out after 10 minutes to ensure the coloring results. After you rinse it out, blow-dry and style your hair with a hair dryer.
If you like to know the options when buying a Revlon Nutri Color Creme, see the chart below.
Revlon Nutri Color Creme Latest Color Chart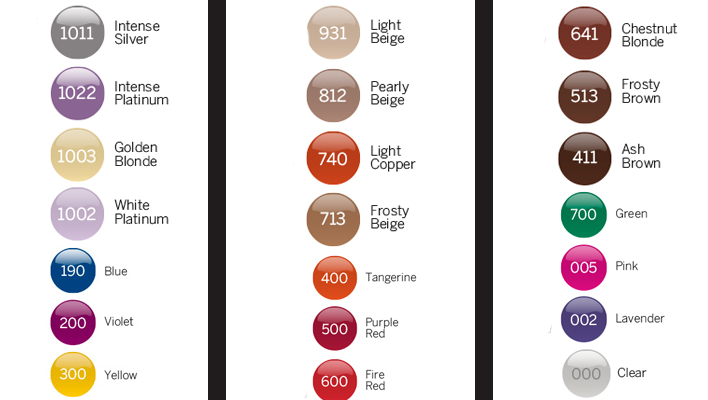 CLASSIC SHADES
| | |
| --- | --- |
| Color Code | Color Name |
| 1011 | Intense Silver |
| 1022 | Intense Platinum |
| 1003 | Golden Blonde |
| 1002 | White Platinum |
| 931 | Light Beige |
| 812 | Pearly Beige |
| 740 | Light Copper |
| 713 | Frosty Beige |
| 641 | Chestnut Blonde |
| 513 | Frosty Brown |
| 411 | Ash Brown |
FANTASY SHADES
| | |
| --- | --- |
| Color Code | Color Name |
| 190 | Blue |
| 200 | Violet |
| 300 | Yellow |
| 400 | Tangerine |
| 500 | Purple Red |
| 600 | Fire Red |
| 700 | Green |
| 005 | Pink |
| 002 | Lavender |
| 000 | White/Clear |