You may not know Dyson has two editions of its Corrale straightener because the professional edition is not listed on most of their websites. However, you can still find some info about the professional Corrale straightener online. For example, the Corrale straightener pro edition is still visible on Dyson's website in Ireland.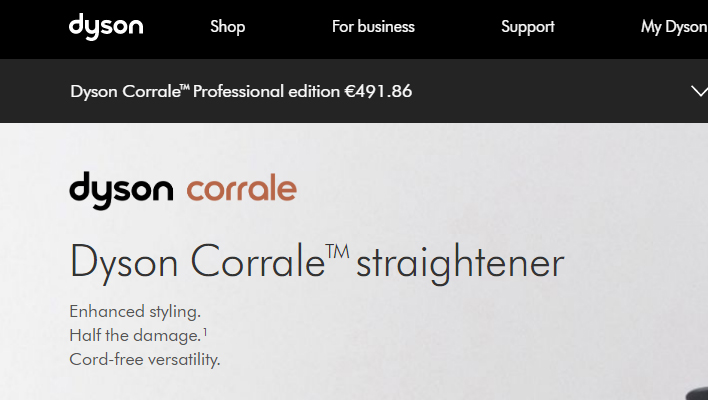 What's the difference between Dyson's new professional Corrale straightener and the regular Dyson Corrale straightener? And what model of the Corrale straightener is more cost-effective? Here you will see the answer.
Comparison Chart – Dyson Corrale Straightener Professional vs Regular
| | | |
| --- | --- | --- |
| Dyson Corrale Edition | Professional | Regular |
| Watt | 200w | 200w |
| Weight | 0.561 kg | 0.561 kg |
| Color | Purple/Black | Various |
| Charge Time | <70 Mins | <70 Mins |
| Cordless Run Time | 30 Mins | 30 Mins |
| Heat Settings | 3 | 3 |
| Intelligent Heat Control | 100 Times/Second | 100 Times/Second |
| Universal voltage | Yes | Yes |
| Cable Length | 4.7m | 4.34m |
| Pricing | Negotiable | €491.87/$499.99 |
Dyson Corrale – What's The Difference Between The Professional & The Regular?
There are only a few tiny differences between them two, just like the Dyson Supersonic hair dryer.
When it comes to the design & the core technologies, the Corrale straightener professional edition is exactly the same as the regular edition. They both feature a 4-cell lithium-ion battery, which can let the cordless straightener run over 30 minutes. And you only need 70 minutes to charge the straightener.
The professional Corrale straightener and normal Corrale straightener both are equipped with 3 heat settings, and you have three different heat levels to style your hair – 165°C (330°F), 185°C (365°F), and 210°C (410°F). Thanks to the intelligent heat control that detects the temperature of the flexing plate 100 times per second, the manganese copper alloy plates will not be overheated while using. The OLED screen will show you the current temperature so you can adjust the heat conveniently, and the product can be used in any countries thanks to its universal voltage feature.
Regular Edition Has More Color Options
One difference that we notice is that the professional Corrale straightener only has one color (Black/Purple) to choose from while you have more color options (Nickel/Fuchsia, Purple/Black, Black/Purple) when buying a regular Corrale model.
Hybrid Charge Mode for Professional Edition
Although their power is the same, the professional edition of Dyson Corrale has a more advanced charge mode, allowing you to maximize run time by using the magnetic charging cable in hybrid charge mode. This is a very useful feature for professional stylists who work in a salon.
Professional Dyson Corrale Has A Longer Cable
Besides the charge mode, the power cord of the professional edition is slightly longer than the regular version, giving you more style flexibilities. For a professional salon, the hair tools should be equipped with a durable long cord to make it easy for stylists to take care of customers' hair. And we also have a buying guide on hair dryers with a long cord.
The Dyson Corrale Pro Edition May Be More Budget-Friendly
People may think the professional edition is must be more expensive than the regular edition since it features more functions.
However, if you have read our old post about Dyson Supersonic's editions, you will know that is not necessarily true. If you are running a salon business, you might get a nice discount on Dyson's professional hair tools. On the product page of the professional edition Dyson Corrale straightener, there is a phone number for "Dedicated sales for professional stylists". And you might need to submit your salon license to get the final price for the professional Dyson Corrale straightener.