Summer is coming, what can be better than a spray with sweet summer fragrance when buying a new heat protectant for hair? Infused with special formulas, the Foxybae Cool AF heat protectant spray with sunflower scent is a popular hair product that protects your hair effectively.
We've reviewed the Foxybae Cool AF heat protectant spray in several aspects, and we believe you will be interested in knowing how great this heat protectant is. If you are wondering what heat protectant spray to buy for this summer, let's see if the Foxybae heat protectant is a good fit for you in this review!
Foxybae Cool AF Heat Protectant Spray – Beautiful Bottle Design
As of 2021, the Cool AF heat protectant spray is the only thermal protector that Foxybae has currently. Similar to Foxybae's hair products, the Cool A heat protectant has a marble-pattern finish on the upper part of the bottle. And the bottom is in light orange color, which just looks like the color of muskmelons. Unlike Foxybae's other sprays and cream products, the heat protectant has a long nozzle on its spray head and it has a grip that allows you to quickly and conveniently use the spray on hair before using your hot styling tools.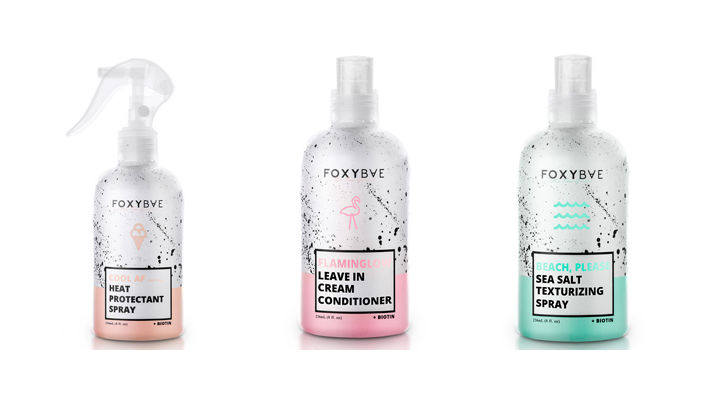 Generally speaking, the design of this heat protectant is quite beautiful and it is a very easy-to-use product. The only thing you need to pay attention to is that you should protect the spray head and the grip well when you use the spray. Otherwise, it going to be a pain in the neck if the spray head is broken.
Foxybae Cool AF Heat Protectant Spray – Scent
According to Foxybae, the scent of this heat protectant is like Sunflower fragrance thanks to its sunflower seed oil ingredients.
If you have read my previous review on heat protectants, you will know that I am not a big fan of hair products with a strong scent like perfume. Luckily, this Foxybae Cool AF heat protectant spray did not give me any unpleasant feeling when I sprayed it in the air. The spray smells like a tropical, fruity mixture. Although the hair spray has an amazing smell, for people who need a hair protectant that does not have any scent, this is not the one.
Foxybae Cool AF Heat Protectant Spray – Heat Protection
Infused with biotin and keratin, the Foxybae Cool AF heat protector spray is a great product for softening hair shafts and protecting the follicles of your hair. Foxybae claims that the natural hair spray can be used on all hair types including natural hair, colored hair, and curly hair. It has alcohol in its ingredient, but it does not make your scalp irritated.
From my experience, the heat protectant spray did a really good job in making my hair smooth and soft. And I loved the way that it moisturized my hair when I was blow-drying or flat ironing my hair. It did make my hair silky and easy-to-manage, and it can significant reduce the burning smell caused by the hot flat iron and curlers. You can easily create more hair volume with the help of this heat protectant spray. And I would use it as a leave-in conditioner without any worries.
However, it did not make my hair extremely shiny and sleek. It did not give my hair a whole new condition that makes people say "Wow!" instantly, I guess I should keep using it for a longer period. And I also found out the smell and the soothing effect will fade after a few hours.
Foxybae Cool AF Heat Protectant Spray – Price
If you are familiar with Foxybae's hair tools, you will know their products are not cheap. But, this Cool AF heat protectant spray is actually affordable. Compared to those luxury brands like ghd and Moroccanoil, Foxybae offers a very friendly price. You can get this 8oz (236 ml) heat protectant spray for only around 14 dollars. I'm not going to say it is a huge bargain, but the spray is definitely worth trying.
Conclusion:
For the price and performance, it is no doubt that the Foxybae Cool AF heat protectant spray is a great value. It is a healthy and natural product that is sulfate-free and paraben-free. And it is infused with biotin and keratin that helps hair grow faster and strong, repairing damaged hair and protecting hair from heat damage effectively, which is a major win for a great heat protectant spray.
Foxybae Cool AF Heat Protectant Spray Review
Package Design

Scent

Heat Protection

Safety

Price
Summary
The Foxybae Cool AF Heat protectant spray has great scents and it smoothens your hair quickly with a few sprays, and it even protects your hair from the sunshine and maintains your hair color safely. The natural ingredients won't make your hair and scalp uncomfortable, so you can use this product even if you have sensitive skin. If you're in the market for a heat protectant spray at a reasonable price and reliable heat protection, this is definitely a product to consider.