Andis, as an innovative and leading hair dryer brand, is known by worldwide stylists and hairdressers as the brand offers great quality blow dryers and excellent drying performance. If you are interested in purchasing an Andis blow dryer, I must say you have a good taste. But, before we go to the shop, learning some knowledge about different Andis hair dryer models and find out the one that is your best fit is an essential step.
Let's cut it short. We have reviewed 5 Andis hair dryers, and each of them has its unique features and style. We are going to introduce these 5 best-selling Andis hair dryers to you and hope it helps you to make a smart choice. ps: You can also skip the long paragraph and see our comparison chart directly.
#1. Best 5 Andis Hair Dryer Models
The 5 top-selling Andis blow dryers are:
1. Andis 1875-Watt Fold-N-Go Hair Dryer
Andis Fold-N-Go is the hottest Andis item that has the most positive reviews and feedbacks online. With a black and white elegant finish and a powerful motor, the dryer becomes a classic one that performs amazingly.
2. Andis 1600-Watt MicroTurbo Hair Dryer
If you are looking for some mini portable hair dryer that is perfect for travel, then this super lightweight and small hair dryer from Andis will impress you with its minimalist design and compact function.
3. Andis 1600-Watt ProStyle Hair Dryer
You can tell by its name that there are no better model than this Andis ProStyle when it comes to styling with a hair dryer. The special rocket shape delivers airflow precisely and makes straightening or curling your hair become easy and simple.
4. Andis 1600-Watt Quiet Wall Mounted Hangup Hair Dryer
A wall-mounted hair dryer will always make your drying process more convenient and neat. You do not have to worry about the cord organization after drying your hair out. The Andis Wall Mounted Hangup blow dryer saves you more space and gives you a more secure environment for drying hair.
5. Andis 1875-Watt Styling Hair Dryer
Coming in a professional styling dryer shape, the Andis styling hair dryer has 3 types of comb and brush attachments to detangle and smoothen your hair. Styling with this hair dryer will be pleasant and more efficient than regular blow dryers.
#2. Feature Comparison Chart
Check out the table below to see the specifications of these 5 Andis Hair Dryers that we collected.
PS: if you are browsing this page with a cellphone, you can scroll the table to get more info.

| Model | Andis Fold-N-Gold | Andis Micro Turbo | Andis ProStyle | Andis Wall Mounted | Andis Styling |
| --- | --- | --- | --- | --- | --- |
| Power | 1875 Watts | 1600 Watts | 1600 Watts | 1600 Watts | 1875 Watts |
| Weight | 1.5 LBS | 1.05 LBS | 1.2 LBS | 2.6 LBS | 1.3 LBS |
| Heat/Speed  Settings | 3 | 2 | 4 | 2 | 3 |
| Cool Shot Button | YES | No | YES | No | YES |
| Attachments | 1 Concentrator Nozzle | None | None | None | soft-bristle, wide tooth comb, fine tooth comb |
| Ionic Technology | YES | No | No | No | YES |
| Ceramic Material | YES | No | No | No | YES |
| Dual Voltage | No | YES | No | No | YES |
| Restractable Cord | YES | No | No | YES | No |
#3. Andis Hair Dryers' Reviews & Performance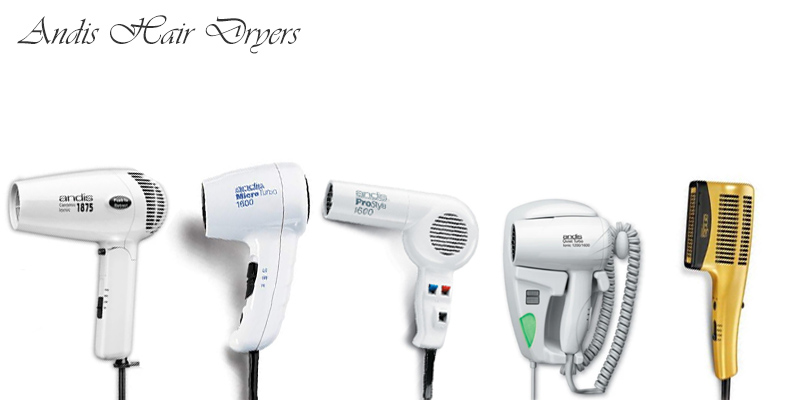 If you want to know more about these Andis hair dryer separately, you are in the right place.
Best Overall – Andis Fold-N-Go Hair Dryers
If you are looking for a model that can dry your hair quickly meanwhile it gives the ultra protection to your hair. The Andis Fold-N-Go is definitely the best choice among all the Andis blow dryers. With a powerful 1875 watt motor, you have 3 flexible settings to dry and style your hair. The included nozzle is a great tool with which you can direct the airflow more precisely.
Besides, it is the best Andis hair dryer when it comes to solving frizzy and static problems. They claim this Fold-N-Go model has ceramic materials in its internal components, which can generate healthy infrared ray that penetrates your hair strands and dries your hair shaft evenly from inside out. The famous ionic technology enables you to remove the static on your hair and have shiny and sleek hair strands by generating negative ions.
Best Compact Travel Hair Dryer – Andis Micro Turbo Blow Dryer
What is the first thing when you think of a travel hair dryer? Right! The dryer has to be small and easy to carry. The Andis portable Micro Turbo is the smallest one among all the Andis hair dryers and it only weighs 1 pound. With a pretty lightweight and compact design, the dryer is a top travel hair dryer that is renowned by worldwide stylists.
Another significant pro of this dryer is that it has a dual voltage setting, which is extremely important when you are traveling overseas with your hair dryer. Without a dual voltage setting, your dryer can not be able to function in countries whose home voltage is 220v.
Best Blow-Drying Styling Dryer – Andis ProStyle
Coming in a long airflow front-end, this Andis ProStyle is all about giving you a stylish look by blow-drying. The model has separate buttons that control the temperature and the airflow speed. No matter whether you want to straighten your hair by blow-drying or create waves and curls by using a brush, the hair dryer will work great.
Moreover, it comes with a contoured and ergonomic handle that alleviates your tiredness and hand fatigue when blow-drying.
Best Bathroom Wall Mounted Hair Dryer – Andis Hangup Dryer
For people who need to dry their hair in the bathroom, a safe wall mounted hair dryer is the only and best option. The Andis wall mounted hang up dryer has a lifeline shock protection which extends the lifespan of the dryer. And the hair dryer has a long-lasting LED night light that you can easily spot the device in the dark. The hanger loop on the base ensures the retractable cord will not touch the ground. Thus, this Andis wall mounted dryer is perfect for hotels, gyms.
Best Styler – Andis Styling Hair Dryer
Styling hair with a standard blow dryer sometimes can be tough if your hair is thick and voluminous. The process can be crazy and messy if you are not really good at controlling the airflow. Guess what? The Andis styling hair dryer solves the problem!
Usually, you may need to use a brush with one hand and hold your blow dryer with another hand to style and maintain your hair. However, the styling hair dryer from Andis allows you to style and blow dry your hair in the meantime. The technologies of this model are advanced because it is a tourmaline ceramic ionic 3 in 1 styling hair dryer. To prevent your hair and cuticles from getting heat damage, it may not have a super high temperature that makes your hair dried immediately. But, it's a 100% hair styling helper when it comes to hair dryer for daily use.
Summary
Well, these 5 hair dryers from Andis are totally different. We can not simply judge which one is better. For example, if you want to take your hair dryer to Europe, then there is no an Andis model that can beat Andis Micro Turbo. But if you are buying hotel equipment, a steady Andis wall mounted hangup dryer is something that you should turn to.
In one word, there is no such thing as the best hair dryer. Figuring out what kind of dryer you need is the way to find your best fit.