Until recently, cordless hair tools were a risky bet since there were not many reliable cordless options out there. However, things have changed. In 2020, you may have seen that more and more cordless hair curlers are stepping into our homes.
Hair curlers without cable may sound fresh to you. But please don't rush to the store immediately before we tell you something about the cordless hair curling tools. We are going to let you know if a cordless hair curler is a good fit for you. And we've selected various great cordless hair curlers to help you choose the right one for your styling needs and your budget.
How Do Cordless Hair Curlers Work?
Unlike a standard curling iron that you need to plug into the outlet, the cordless hair curlers have the ability to work without any power cable.
A cordless hair curling tool usually comes with one or two batteries, which can provide power & heat when working on your strands. Although all these cordless hair curlers rely on their batteries to work, the battery types of nowadays cordless curlers are different.
Commonly used batteries are built-in lithium batteries, which are also the most popular battery type for portable devices. Lithium batteries are powerful and rechargeable, but the con is that you will need a long time to get them fully charged.
And some cordless hair curlers will use Thermacell battery as their power source. Thermacell battery is a liquid and cordless hair curlers that use Thermacell are considered fuel-powered. So you need to buy refill or buy new cartridges when the power is getting weak.
Some cordless curling iron will pack AAA batteries. The good thing about these batteries is that you can replace them anytime and they are available everywhere. However, these batteries are not cheap. Most importantly, when it comes to curling experience, AAA batteries can not be as effective as lithium batteries.
Related Posts:
Cordless Hair Dryers Buying Guide
Cordless Hot Air Brush Reviews & Guide
Types of Cordless Hair Curlers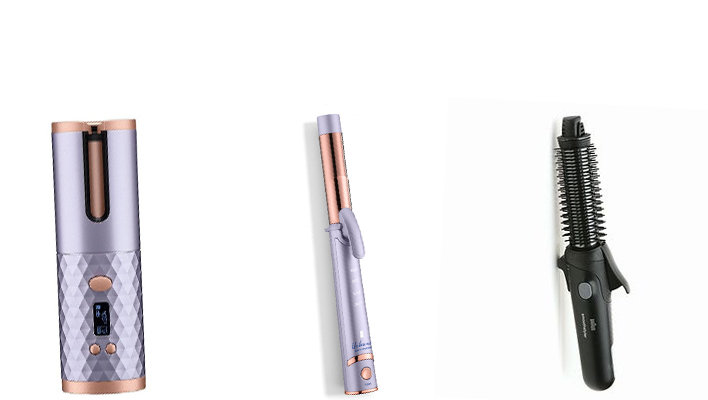 Cordless Auto Hair Curler
The lithium-battery operated hair curlers are the most popular cordless hair tools of 2020 in the industry.
One massive advantage that these auto hair curlers have is that they will automatically curl your hair, you don't need to wrap your hair around barrels. This saves much styling time and you can achieve perfect curling results even if you are a beginner.
Cordless Hair Curling Iron
The advantage of cordless curling iron is that you can control the holding time and the way you wrap your hair precisely to achieve various curling results. Compared to auto hair curler, curling irons require more manual work, and using a curling iron may lead to a longer styling time. But if you are experienced in curling hair, cordless hair curling irons are definitely a great choice for you!
Cordless Hair Curling Brush
A hair brush is deemed as one of the best versatile hair tools on the market nowadays. It has been designed to straighten or curl your hair both. Using a hair brush to get hair curled is going to make your hair looks natural and less stiff.
Unfortunately, there are no many true cordless hair curling brushes that can meet our styling needs. Their performances are either not effective or not long-lasting enough.
Best 5 Cordless Hair Curlers of Today
Conair Unbound Cordless Auto Hair Curler
When looking for a cordless rechargeable auto hair curler, the unbound cordless auto hair curler from Conair is something that you can't miss. The Conair unbound auto curler is capable and reliable.
The auto hair curler comes with 3 heat settings and 4 timer settings, allowing you to adjust the styling results freely. And its highest heat can reach up to 400°F. Although the max temperature is not as high as other wired curling tools, it is enough for most curly hairstyles. Besides, you can choose your desirable curl directions including right, left, and mixed with anti-tangle protection. The LCD digital display will show all the settings and you can change them directly on the panel.
Using this cordless hair curler is easy too, you do not need any curling skills. Just place your hair in the chamber and press the start button, then your strands will be curled perfectly. It is quicker and safer than regular curling irons. You won't be accidentally burning your fingers anymore.
When it comes to battery lasting time, Conair says this product can be used cord-free for up to 60-minutes and it takes 3 – 5 hours to get fully charged.
AMZGIRL Cordless Auto Curler
The AMZGIRL cordless auto curler is a great alternative to your old hair curler. Similar to Conair Unbound auto curler, this product is another rechargeable curling tool with USB charging design. The batteries can be battery capacity can be used for 60 minutes as well and you need 3-4 hours to charge the batteries.
The auto hair curler packs an LCD display too, which will show all the setting details when getting hair curled. You can adjust the temperature from 300 ℉ to 390 ℉ and set the timer from 8-18 seconds.
With nano ceramic+tourmaline coating, this hair curler can protect your hair from high heat and frizz better, leaving hair smoother and shinier.
Compared to the Conair cordless curler, this product only has left and right curling directions. But the good thing is that this AMZGIRL cordless auto curler is more affordable and it has 2 more time settings. It is a very good replacement for your existing hair crimper.
ThermaCell by Conair Cordless Curling Iron
If you want to get a cordless hair curler but prefer a traditional curling iron design, this Conair cordless curling iron should be the best option.
The Conair ThermaCell cordless curling iron does not come with regular lithium batteries, it is powered by ThermaCELL butane cartridges and you can replace the butane cartridges anytime. The fuel-powered curling iron is designed for traveler so the product includes a travel case as well.
It gets hot in just two minutes and the heat can curl your hair just like regular curling irons. And most surprisingly, this cordless hair tool costs less than $20. However, the downside of this product is that you are not able to change the temperature.
Unplugged Beauty Cordless Clipless Curling Wand
The Unplugged Beauty curling wand is ideal for people who require a cordless curling tool that is battery-powered and rechargeable. The product looks nothing different from a regular 1-inch curling wand except it is completely cordless.
This cordless curling wand uses a titanium barrel to gives your hair even heat and less frizz, making the curling process quick and neat. The highest temperature can go up to 400 degrees and you can change the temperature by pressing the control buttons.
The charge time is about 2 to 3 hours, which is pretty fast compared to other cordless hair curlers. But the drawback is that the batteries only work for 35 to 40 minutes.
LQTTEK 2 in 1 Cordless Hair Straightener & Curler
We know you want to make your curling tool more versatile. What's the best option then? This LQTTEK 2 in 1 is probably the one you are looking for. The cordless hair tool is not only a hair curler but also a flat iron. Most importantly, it is 100% cordless.
With 4800mAh batteries, the versatile cordless curler has 3 heat levels and the highest heat is around 400 degrees. According to the manufacturer, you just need 2.5 – 3 hours to get this tool fully charged. And it can be used for about 45 minutes.
Unlike a regular cordless curler, this 2 in 1 hair tool can straighten your hair and curl your hair at the same time. When you close the plates, the rounded edges make this product a normal curling wand immediately.
Conclusion – Are Cordless Hair Curlers Better Than Regular Hair Curlers?
Performance-wise, hair curlers with power cord are more powerful than cordless hair curlers. But it does not mean that cordless hair curlers are useless.
In 2020, many auto curlers are becoming more and more popular since they can get the job done perfectly as well. Some of the cordless hair curlers can even curl your hair better and faster than your old curling tools.
The only problem is that you will need to recharge these cordless curling tools frequently. To me, these cordless are very necessary if you love traveling as they are mini-sized, lightweight, and portable.