The price of a bladeless Dyson Supersonic hair dryer is always a reason that pushes customers away. Spending $400 on a blow dryer sounds unacceptable for most of us after all.
So, is there a way to experience a Dyson-grade drying performance at a friendly price? Don't worry, we've already found the best alternatives to Dyson Supersonic.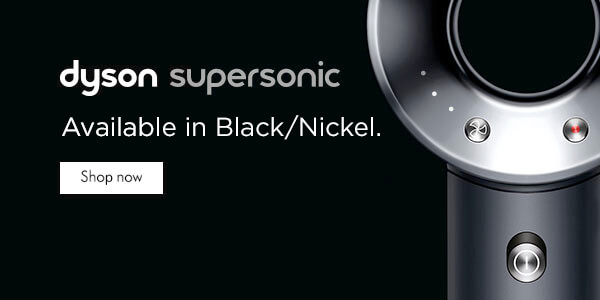 Content Updated on January 7, 2021:
We will divide this article into two parts, you will see the top 5 great hair dryers with fancy drying features like Dyson in the first part, and there are some hair dryer models that look like the Dyson Supersonic in the second part.
Best 5 Hair Dryers As Good As the Dyson Supersonic
T3 – Cura LUXE Hair Dryer
If you ask me to name a few of Dyson's competitors, the T3 Cura LUXE would be the first.
With T3's digital temperature control system, you can have 5 heat settings and 2 speed settings, which is amazing.
The digital ionair technology allows you to dry your hair quickly and healthily, and it will deliver softer and moister airflow to your hair so that your strands won't be frizzy at all.
To faster the drying time and create more hair volume, it comes with a special volume booster, which you can not find on other T3's hair dryers.
The T3 Cura LUXE is one of the most expensive hair dryers in the world, but it is worth the price for sure as a hair dryer comparable to dyson.
ghd Helios Hair Dryer
If you're looking for something high-end like the Dyson Supersonic, the ghd Helios hair dryer is the most popular choice for a dyson hair dryer substitute in 2022. The blow dryer may look average on the outside, but it is a top-selling upscale hair tool for reasons.
Thanks to the Aeroprecis technology, the ghd helio blow dryer can dramatically speed up the blow drying process, leaving your hair 30% more natural shine. According to ghd's info, the concentrated airflow can reach 75mph, and it won't hurt your ear as they feature the bespoke acoustic system technology to make it a very quiet dryer.
Compared to other fancy hair dryers, the blow dryer may not have a perfect look, but it is the winner of "Best of Beauty" in 2020. And I believe its performance will not be beaten by the Dyson Supersonic.
BaBylissPRO Nano Titanium Portofino
When we think of Babyliss hair dryers, we always think of the lightning speed that they dry your hair. Usually, their hair dryers are not stylish on the outside, but the infused titanium would give your hair very powerful airflow and heat.
Unlike regular dryers, the BaBylissPRO Nano Titanium Portofino dryer is a professional product with a high-performing 2000-watt motor, if you're looking for a dryer with amazing drying power and lightweight design at the same time. This is the one.
Wanna know how powerful it is? BaBylissPRO claims that its drying performance can perfectly handle thick and coarse hair without causing damage, and it gives your hair sleekness and softness effectively. If you are complaining about the Dyson Supersonic drying power but can not sacrifice the stylish design, this BaBylissPRO Portofino 6600 dryer is a good alternative.
BIO IONIC 10x Ultralight Speed Dryer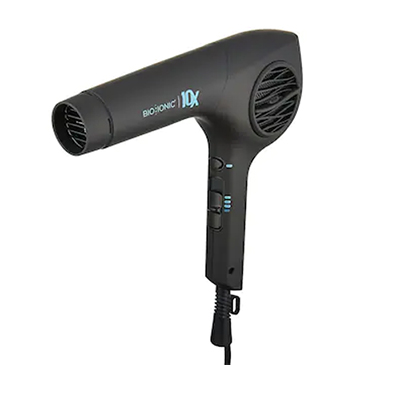 The BIO IONIC speed dryer is an ideal alternative to the Dyson Supersonic. Although it does not come with the most advanced temperature and speed control, it is definitely a worth-buying high end blow dryer in 2021.
The hair dryer is extremely lightweight, but don't underestimate its power. The 1800W EcoDrive brushless motor can be 50% effective than a regular drying motor. Moreover, this compact hair dryer can deliver the same airflow power with 75% less energy usage. It has a pretty vintage and retro style design on the dryer's body, but the modern technology of volcanic rock and mineral complex will prevent your hair from heat damage effectively.
For people who have frizzy and damaged hair, this BIO IONIC 10x Ultralight Speed Dryer is a perfect fit.
SKANWEN
Brushless Motor Ionic Blow Dryer
The SKANWEN Ionic hair dryer is another similar dyson hair dryer equivalent that has a Dyson-similar design and smart integrity.
Just like Dyson, the SKANWEN Ionic hair dryer also has a thin handle design. And it has 3 Speed & 3 Heat Settings to give your blow drying more options to choose from.
Besides, they claim that the dryer comes with magnetic molding nozzles that can do 360° rotatable. The best part of this hair dryer is that it has dual protection and constant temperature function and the decent ion generator can emit 20 million negative ions. However, this hair dryer is also pretty expensive. If you want to find some affordable Dyson hair dryer alternatives, we also want to share some with you in the next part.
Best 5 Hair Dryer with Similar Design to Dyson Supersonic
Updated in Nov 2021:
We've replaced some new dryer models that have a similar design to Dyson, and they are much cheaper.
Here is the roundup of hair dryers that look like Dyson. All of them have tons of positive reviews on their store pages, and you can buy these great models for under $50. All of them have a pretty similar design to Dyson hair dryers, and you can start your drying journey with ease. Some of them have powerful temperature and speed controlling features like Dyson hair dryer. You can see if the dryers can meet your needs according to your hair type, which is also the most important thing to consider when buying a dryer.
1. Budget-Friendly Choice – Karrong Ionic Hair Dryer
Undoubtedly, The ZoeeTree hair dryer is another competitive model like Dyson. The dryer comes with 1800W powerful motor, which can blow your hair out as quickly as a Dyson does. Although it does not have an extremely excellent temperature & airflow speed controlling technology, it's a solid hair dryer for kids and for pregnancy as it's radiation-free and safe.
The dryer from 1800W is a lightweight and low-noise dryer that can protect your hair from getting static electricity and splits as it features a negative ions generator. Unfortunately, this dryer is only equipped with 2 concentrator nozzles. For more advanced hair drying & hairstyling, you probably need to purchase other attachments separately.
2. Lpinye Professional 1800W Blow Dryer
Apparently, the Lpinye dryer took its aesthetics from a Dyson. But, As a family hair dryer, the Lpinye blow dryer will not disappoint you. With its motor that has high rotating speed and high torque, the dryer can give you a quick drying time and a better blowout result.
The Lpinye hair dryer has a standard 3 heat & 2 speed settings, which is not as perfect as Dyson, but it still works great and fine. With U-shaped heating wire and ionic technology, the dryer can dry your hair more evenly, keeping your hair healthy and clean. With constant temperature protection and overheat protection, fighting heat damage now becomes easy. Also, the reliable low magnetic wave technology enables you to use the dryer safely without worries.
3. Slopehill Lightweight Hair Dryer – Low-Cost Dyson Alternative
Coming with a pretty similar design to Dyson Supersonic, the Slopehill hair dryer also has a cute cylinder dryer body and a graceful straight handle. Although it's not a completely bladeless hair dryer, the dryer still can dry your hair professionally.
The dryer is slightly heavier than Dyson, but it's a safe and reliable choice. This Slopehill hair dryer, with ionic and bio-ceramic hair care technologies, can make your hair smooth and soft after blow-drying. Besides, the durable hair dryer has 3 free attachments in the box, giving you more options to style your hair while drying.
4. CONFU 1875W Professional Ionic Hair Dryer
If you are looking for a fantastic value model that can deliver powerful and precise airflow without a shocking price tag like Dyson, the Confu hair dryer is definitely made for you.
The design is pretty similar to other Cylinder-shaped blow dryers, and the seller claims that the low EMF and low noise will level up your drying process beautifully.
The best feature of this hair dryer is that it has superb infinity speed settings that even Dyson Supersonic hair dryer can not achieve. You can adjust the airflow speed by twisting the button, and it's really impressive.
5. Salmue 2000W Professional Hair Dryer
No products found.
The most classic color of Dyson hair dryer is iron/fuchsia. To get something new and creative, you should see this Salmue blue hair dryer. This dryer has an elegant design like Dyson Supersonic, but with a different color.
The 2000w motor in this blow dryer is powerful and high-performance. With negative ion technology and constant temperature, your hair can achieve glossy and shiny without special care. In addition, this compact dryer can also be a helpful styling tool as it provides several magnetic attachments.
Summary
For people who like Dyson's hollow & bladeless design, you do not need to spend a lot of money on it just for the look.
Although these Dyson-like dryers listed below might not be the top-rated ones when it comes to some advanced features & technologies, they are still stylish and worth trying since they have a pretty beautiful price and performance, allowing you enjoy blow-drying like a pro.